Scouts lose a tough game to rival Libertyville, look to bounce back against Zion-Benton.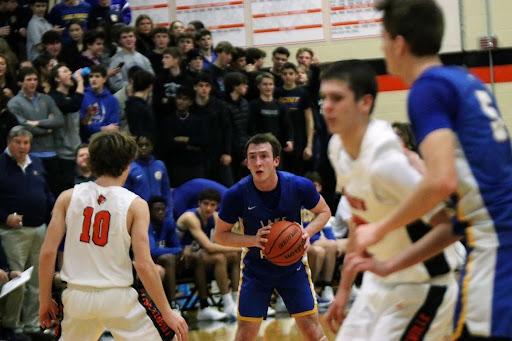 On Tuesday, January 24th, the Lake Forest Scouts visited the Libertyville Wildcats in a key NSC game. This was a much-anticipated game for both teams, as the big rivalry has been brewing for the past couple of years.
The Scouts fell behind 4-2, but after a thunderous slam from senior Asa Thomas, they got going. Thomas drove, made a nice backdoor cut, and got a perfect pass from Bolurin Taiwo that was right on the money. He went up with two hands with a defender draped on him and slammed it down. It got the bench and the student section going crazy and brought new energy to the team. 
"It was electric, you don't see too many dunks like that in our conference and when one like that happens it gets the teams going. When it gets the crowd going as well, it brings us more energy on the court," said senior forward Henrik Goldsberry. 
The Scouts were up 12-10 after the first quarter of play. They were able to keep their lead throughout the second quarter with big shots from seniors Noah Portalatin and Asa Thomas. Along with the big shots, the Scouts were playing great defense. They were getting into the faces of Libertyville seniors Jack Huber and Cole Bonder forcing multiple turnovers. They extended their lead to four points and led 27-23 at halftime. 
Coming out of halftime, the Scouts had trouble getting going and the Wildcats took advantage. The Scouts four point lead vanished and the Wildcats tied the game at 27, then they never looked back on the Scouts. After the third quarter, the Wildcats were up 42-35. They then pulled away in the fourth quarter. The Scouts got as close as six points down the stretch after a little burst, but it was too little, too late. The Wildcats won 57-45 after a very hard-fought game with the Scouts.
"We worked on communication a lot. We did a lot of transition defense in practice on Thursday, but our communication was key," said senior guard Noah Portalatin. 
The Scouts are going to try and have a bigger focus on the defensive side of the ball and look to slow down Zion Benton in a bounce back game against the Zee Bees this Friday the 27th at 7:00 at home.