Remembering "Native Voices": Local initiative recognizes Indigenous history and heritage
Long before McKinley Road and Market Square, Lake Forest was inhabited by the Potawatomi Native American tribe. However, after the 1833 Treaty of Chicago, Native tribes across midwestern territories were forced to cede their land to the US government. 
Centuries later, the Lake Forest Open Lands Association is preserving Indigenous history through leading a year-long initiative, Native Voices. 
Native Voices was inspired after Open Lands wanted to incorporate Indigenous history in their programs, following a Land Acknowledgement statement. 
Land Acknowledgements are becoming widespread across the US as more institutions create statements recognizing the Native Americans who were original stewards of the land before current settlers.
On Jan. 17, the City of Lake Forest recognized the programing in their Proclamation of Native Voices at the City Council Chambers. These efforts aim to educate the community to highlight the contributions of Indigenous peoples and their cultural heritage. This is the first time the city officially issued a declaration representing the Native tribes who were here before the Presbyterians who founded Lake Forest in 1857. 
Community members can learn about the legacy and current life of Native Americans by engaging in many different events hosted by over 15 partnering institutions. Whether listening to presentations by award-winning Native authors at Lake Forest Library or watching documentaries at Gorton Community Center, all ages and backgrounds are invited to participate in diverse activities, performances, and more. 
A highlight of the Native Voices initiative is the partnership with the History Center of Lake Forest-Lake Bluff: a three-part lecture series titled Indigenous Connections to the Land. Each presentation highlights a unique practice that focuses on how Native Americans interacted with the environment surrounding Lake Forest and Lake Bluff. 
History Center Executive Director Carol Summerfield not only wants audiences to understand the history of Native American traditions through presentations, but also how they influence the Lake Forest community today as well. She says one of the benefits of attending these events is that it "drives awareness of how integral Native experiences are in everything we do."
"Music, art, film, storytelling — all of these are a vibrant part in Native American voice," said Summerfield.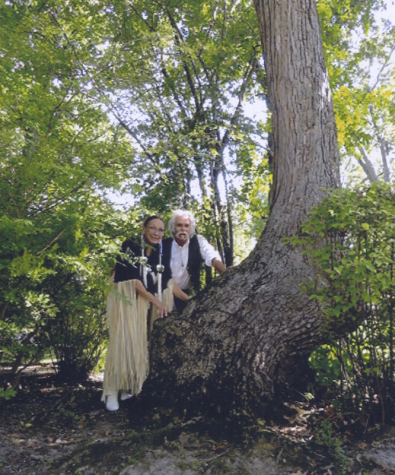 On Jan. 19, the History Center introduced the first edition of Indigenous Connections to the Land, featuring Dennis Downes, a local artist and documenter of Trail Marker Trees. These trees were intentionally bent by Native tribes to create landmarks for land and water navigation — what Downes calls "America's first road signs." Many are located in Lake Forest as well as other surrounding suburbs in Lake County, such as Winnetka and Highland Park. 
Inspired by his Basque heritage, Downes has dedicated his career to preserving the legacy of Trail Marker Trees and how Indigenous people utilized them. Having spent about 30 years of research, he's created realistic sculptures of Trail Marker Trees, wrote a book, and even created the Great Lakes Trail Marker Tree Society, an organization which documents Downes' work. 
Downes has also practiced altering Trail Marker Trees in the Great Lakes area. However, beyond the cultural practice, he focuses on creating connections with others.
"My goal is as the [new] trees grow, the bond between the Indigenous people and local people will grow as well," said Downes. 
Even before the Native Voices initiative, the History Center has emphasized the Potawatomi Tribe's story. When starting the museum only four years ago, succeeding the Lake Forest History Society, they looked beyond the traditional founding story, going back thousands of years to feature Indigenous people.
"The very first people here were settled after the glacier," said Summerfield. "To tell that story, we have a map that shows where the glacier was, where the lake lines were and to be inclusive of everyone who's called this area home."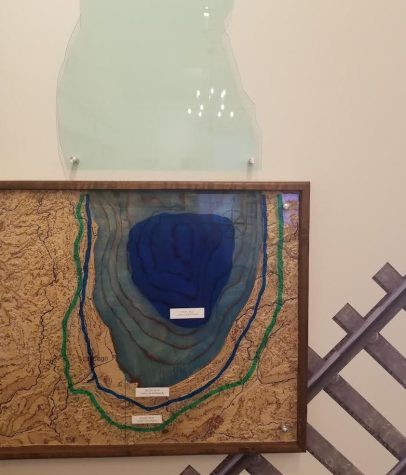 Social Studies teacher Ms. Kelly Mckee teaches Native American Rights in her Modern Global Issues class and takes students to the museum to learn the local Indigenous history of Lake Forest. She believes that the Native Voices exhibit "historically contextualizes who was here before us."
Both Summerfield and McKee agree that awareness is the best way for citizens of Lake Forest and Lake Bluff to continue educating themselves. The Native Voices initiative features a wide-range of perspectives to learn from, something that Summerfield values in these efforts.
However, community members also believe that Native Voices is a start to a long journey in representing Indigenous heritage. Summerfield thinks that while the campaign celebrates traditions of the past and present, it's imperative that people understand a history "that has suffered such incredible damage."
"How do we know what we know about a peoples' whose history we've tried to eradicate?" said Summerfield.