Boys Basketball Preview
The Scouts are set to face off against the Bulldogs tonight at 7:00.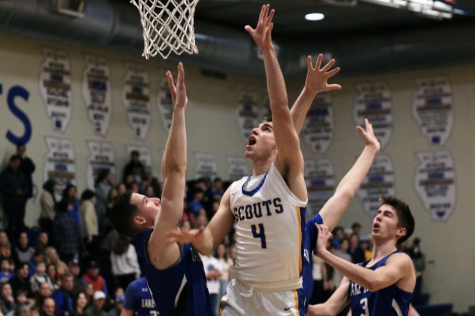 Boys Basketball has had an eventful year thus far, and coming off winning the championship in the MLK Tournament Classic at Deerfield, the Scouts hope to continue that energy into their coming games. The Scouts have done well so far this season, winning seven of their last eight games and five in a row, they are definitely looking to continue the streak with a road matchup against Waukegan tonight.
The Bulldogs have had a tough season, taking four conference losses and only walking away with two conference wins with an overall record of 8-10,  but they should not be counted out of this Friday night matchup. They have faced the Scouts once already this season and almost came out with a win, but ultimately came up short, losing 53- 46.
The Scouts, on the other hand, have been very strong, especially towards the second half of the season so far. The Scouts had some challenges with injuries towards the start of the season but have ultimately prevailed so far this year, having won six games and only losing one in the new year thus far. 
"We've only been getting better as the season has gone on. We had some issues at first, but we've dealt with a lot of them and have started to flow really well into this season. I am really excited to see what regionals and sectionals bring," senior and recent Ohio Wesleyan basketball commit Anthony Mordini said. 
After today, the Scouts look to another away matchup at conference-rival Libertyville Wildcats, a team they lost to open the season, so this Tuesday night matchup is gearing up to be a serious redemption game for the Scouts. After that, the next home action for the Scouts will be against Zion-Benton the following Friday.