Senior Bella Ranallo commits to play Division 1 Basketball at Clemson University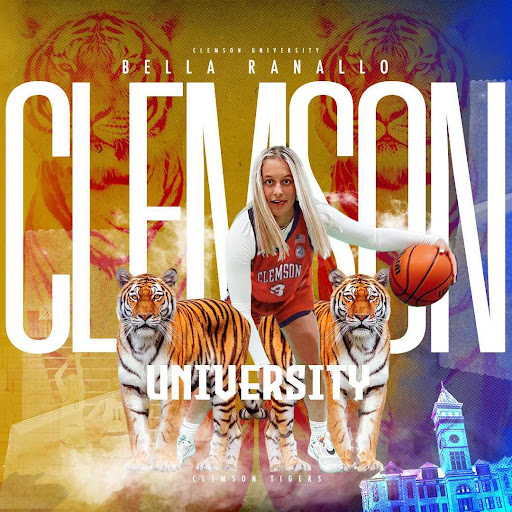 Bella Ranallo could not contain the nerves and excitement when she played in her first ever basketball game for the Scouts as a freshman in 2019. The team was set to play at Vernon Hills, which was particularly personal for Ranallo given that it was her hometown. Surrounded by the people she grew up with, Ranallo found her groove the moment she stepped foot on the court. She scored 12 points, a fitting start for the rest of her special high school career.
Four years later, Ranallo is lacing up for her final weeks as a Scout, ready to begin the next chapter of her basketball career at Clemson University.
While many know Ranallo for her impressive basketball accolades, she is also a member of two other varsity teams here at the high school.
While undergoing rigorous off season training in the Fall to prepare for basketball season, Ranallo simultaneously juggles volleyball. This past season, she was recognized for her contributions to the team.
Volleyball coaches Tia Rebecca and Ray Werner selected Bella to receive the  "Dr. Christine Eiserman Award for Perseverance and Excellence."
This award recognizes an athlete who is not only extremely dedicated to their team, but also has the characteristics of a leader.  Presented to one selected member of the varsity volleyball team, this award is to honor Dr. Christine Eiserman, who dedicated her life to promoting young women's participation in sports. Ranallo is passionate about supporting women's sports, reflecting Eiserman and her perseverance to bring women's volleyball to Lake Forest High School.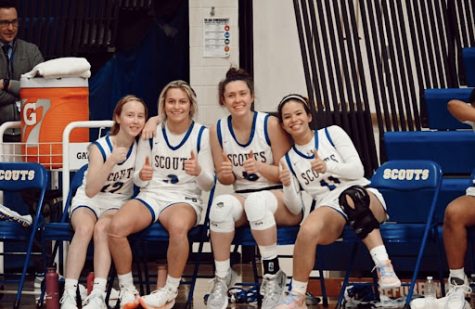 In the spring, Ranallo plays for the varsity softball team, which she has been on since her freshman year.  Her years of experience playing travel softball have allowed her to excel as a Scout, where she picked up an impressive .425 batting average her junior year, earning her a spot on the NSC All Conference Team.  
According to Ranallo, the skills she acquires in her other sports "carries on" to the basketball court, allowing her to thrive in three different sports.
While her countless awards speak for themselves, Ranallo's character in and out of sports is what sets her apart, according to her teammates.
"Bella is the definition of a competitor. I can always count on her to bring fire to the field because of the love she has for the game," said senior and softball teammate Savvy Smothers. "She is a great leader on the field but is a better leader off the field."  
While it is clear that Ranallo achieves excellence in both volleyball and softball, basketball has always been very special to her. She has been playing basketball for nearly 12 years, starting at the age of six.
"When I was younger my favorite sport was always softball but once I became a freshman that changed and my love for basketball took over," said Ranallo.
Being one of only two freshmen to make the varsity team four years ago, Ranallo has created a name for herself these past years. She was selected as an NSC Conference Honorable-Mention her sophomore year and earned All Conference honors her junior year.
"Bella is someone you want to always have on your team, with her drive to be better and make the team better every day," said senior co-captain Rachel Kaus. "She is so competitive on and off the court and pushes everyone to be better all the time."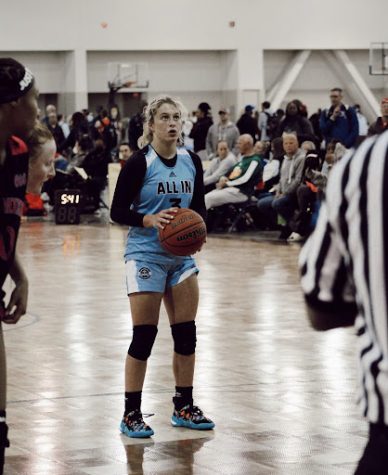 Since she was just six years old, basketball has been an "outlet" for Ranallo, who lives for competition and playing alongside her friends. It was a priority for Ranallo to find a school where basketball would continue to have such a positive impact on her life. 
"The first time I was at Clemson, it instantly felt like home. When I went to the camp this summer I connected right away with the coaches and team," said Ranallo. "Right then and there I knew that it was the team I wanted to play for."
 Ranallo acknowledges that she is most grateful for her parents, siblings, coaches, trainers, and God for supporting her throughout her recruiting process, and most importantly throughout her life.
"My support system is something that I will forever be grateful for," said Ranallo. "Through all the ups and downs they have all been there for me. I am so thankful for everyone."
Ranallo's time as a member of the LFHS basketball team, as well as the hours of training she endures on her own time, has certainly prepared her for Division 1 college athletics.
Ranallo dedicates hours a week to shooting hoops on her own time at Lake Forest College, as well as working on her plyometric skills and strength training with her trainer in Lake Bluff. While her athletic skills are surely up to par, she has gained many intangible skills from her time on the LFHS basketball team that she will be able to bring with her to Clemson. 
"Bella has evolved as a player and a leader so much throughout the years," said Kaus. "To see her flourish as a captain and evolve her game to be super effective has been so cool. I'm so happy for her achieving her dream of playing basketball at Clemson next year, and I'm looking forward to seeing my best friend crush it in the ACC."
Since Ranallo's first game as a Scout years ago, she has shined as not only an athlete, but as a positive contributor to the athletic community here at LFHS. Beyond the stats and recognitions, Ranallo will be remembered for her one of a kind work ethic and her ability to have a positive impact on those around her.