Intramural Power Rankings- Week 2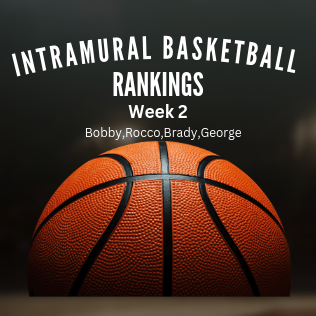 Check out our podcast for everything Intramural! Including recaps, teams to watch out for, weekly special guests, and notable performances – link here
Boys Rankings
Team Coht (2-0)

– Following Steven Sinclair's season debut and another dominant defensive performance, Team Coht was on the winning end of the second-most lop-sided game this week.

W.I.G. (2-0) ↑2

–  Posting 22 points for the second straight week, Team W.I.G. shut down the high-powered offense of the Cherry Up Men and held Jack Kaplan to just six points.

Funkytown (2-0)

– Funkytown posted the third highest point total at 43 for the second straight week following a 31 point joint performance by the Carter-Goodman tandem.

Cherry Up Men (1-1) ↓2

– Surprisingly, the Cherry Up Men were held to just 18 points after putting up 72 last week. Jack Kaplan was nowhere to be found in this game, a credit to Team W.I.G.'s defense.

Butter Burger Hoopers (2-0)

– The Butter Burger Hoopers had an impressive showing, winning by 18 on a respectable junior squad. Braden Thiergart and Marty Hippel are looking lethal this year after scoring 26 combined points this week. 

TKN (2-0) ↑2

– Considering that their schedule is an absolute cake walk, this team will have trouble proving themselves before the tournament. They were able get an edge on the Big Basketball Champs with their "physical" play. 

Chinless Hooligans (2-0) ↑5

– Rounding out the undefeated teams, the Chinless Hooligans edged out the Knickerbockers, winning 23-16.

Steph with Too Much Curry (1-1) ↓1

– Despite the dynamic guard duo of Torian James and Colin Blocki, Steph with Too Much Curry couldn't handle Funkytown's ability to run the court.

GSU Antelopes (0-2) ↓3

– The GSU Antelopes is the highest ranked winless team. Despite not having won a game yet, they are a competitive team when they are on their game.

Handlers (1-1) ↓1

– The Handlers took a bad loss to the Butter Burger Hoopers this week. It is fair that they dropped a few spots, even with a good roster.

Caillou's Boys (1-1) ↑5

– Calliou's Boys scored the second most points this week, putting up 45 points this week. Finn Goodman accounted for 23 of them.

Brick Boys (1-1)

– The Brick Boys won a thriller against Kramer's Kids by 2. Their one loss comes from a forfeit in week 1. This could be a promising team.

Puck Bandits (1-1) ↑7

– The Puck Bandits beat the O-Blockerz by 10 this week. They were helped with a dominant paint performance from Danny Van Camp.

Jugg Messiahs (1-1) ↑7 –

Despite Cogan Manley's horrendous showing, the Jugg Messiahs pulled through for the win following Steegs's stellar performance.

 

Ball Boys (1-0) ↓2

– Luke Cheng and the Ball Boys win the award for the biggest flakes of the week. The Ball Boys opted out of a matchup with Funkytown for fear of losing. It is apparent from their schedule that the Ball Boys like to beat up on sophomore and freshman teams. Watch for a bad loss to Calliou's Boys next week as they smoked the team that gave the Ball Boys a lot of trouble.

Taj Tusslers (1-1) ↑1

– The Taj Tusslers beat West Side Dynasty in the final game of the day by a score of 36-33 this week.

Kramer's Kids (1-1) ↑1

– Kramer's Kids rounds out the .500 teams, barely losing to the Brick Boys by 2 in a very exciting game.

Knickerbockers (0-2) ↓8

– The Knickerbockers lost to the Chinless Hooligans by 1 point, making their game the closest of the week. They should be on their way to an 0-3 record after a date with Funkytown next week.

O-Blockerz (0-2) ↓8

– The disappointing O-Blockerz lost to the Puck Bandits by 10. Bobby Alzamora scored or assisted on all 20 of the points for the O-Blockerz. They could not put up with the paint presence of Danny Van Camp.

Brown Shirts (0-2) ↓6

– The Brown Shirts got blown out by Calliou's Boys this week, losing by 25. This team did not match the expectations for this week in the slightest and have really fallen off in terms of their ranking.

Big Basketball Champs (0-2) ↓6

– The Big Basketball Champs were on the wrong end of the biggest blowout of the week, losing by a whole 43 points. The Big Basketball Champs lost by more points than most teams can even score.

Legends of Ga'Hoole (0-2) ↓3

– The Legends of Ga'Hoole at least put up a fight this week, losing by 4 to the Jugg Messiahs. This team could be on their way to a result similar to week 1 when they were blown out by the Cherry Up Men. They have TKN next week, a team that puts up a lot of points.

West Side Dynasty (0-2) ↓1

– The West Side Dynasty lost by 3 to the Taj Tusslers in the final game of the day despite putting up 33 points.

Dawgs Elite (0-2)

– We are not even sure if this team is part of the league anymore after forfeiting both of their first two weeks.
Girls Rankings
The Kennedys (2-0) –

The only 2-0 team in the female/coed division. They had a dominant win against the Bofa Ballers winning 33-5. They move up from #3 last week.
Ballers (1-0) –

The Ballers did not play this week but after their performance last week, dropping one spot, they are still very deserving of the #2 ranking. 
Homie Hoopers (1-0) –  

The Homie Hoopers did not play this week but they showed in week 1 that they are very capable of shutting down a team on defense, dropping one spot to #3. 
Babytron's Finest (1-1)

– The Babytron's Finest had a dominant win again the Ballstars winning 16-2. Lexi Berrentini had a game high 10 points. 
Passers (1-0) –

The Passers did not play a game this past week. They stay at #5 this week in the power rankings. 
Shooting Deez (1-1) –

Shooting Deez won their first game after forfeiting during week one. They earn a respectable #6 ranking after week 2. 
Slayups (1-0) –

They did not play this week and remain 1-0 on the year. Their only win came on a forfeit.
Bofa Ballers (0-2) –

Bofa Ballers are 0-2 and lost in a blowout to the Kennedy's. 
Barty Parties (0-2) –

The Barty Parties had a much better game this week compared to last week when they lost 51-2. Via Conopeotis had a game high 16 points for the Barty Parties this week. 

 Ballstars (0-2) –

The Ballstars are 0-2 and have been dominated by the other teams in both weeks of the season so far.