Get your intramural basketball information here!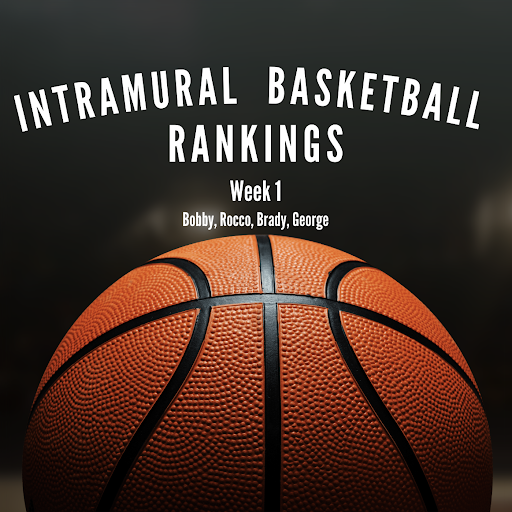 Check out our podcast for everything Intramural! Including recaps, teams to watch out for, weekly special guests, and notable performances – link here
Boys Rankings
Team Coht (1-0)

– After a dominant defensive performance and only letting up 8 points even without their best player, Steven Sinclair, there is no question that this team should be feared.

Cherry Up Men (1-0)

– Following Jack Kaplan's stellar 30 point performance, and after dropping a league high 72 points, this team is very deserving of the #2 spot in the power rankings.

Funkytown (1-0)

– Propelled by Brady Goodman's 27 points, Funkytown strolled past the Big Basketball Champs and scored the third most points in the league this week.

W.I.G. (1-0)

– Following a close victory against the Taj Tusslers without their best player, Robert Pasinato, this talented roster should make some noise this year throughout the league.

Butter Burger Hoopers (1-0)

– Brayden Thiergart, Lucas Kroner, and Marty Hippel carried the Butter Burger Hoopers to a thrilling 1-point victory over the GSU Antelopes. This outcome came as a surprise to many, but look out for this highly-talented sophomore team.

GSU Antelopes (0-1)

– After a 1-point loss to the Butter Burger Hoopers, this team should not be counted out, especially with one of the strongest junior rosters.

Steph with Too Much Curry (1-0)

– Although not quite a championship contender, this team should be taken seriously after adding star free agent Torian James before their week 1 game.

TKN (1-0)

– After a strong performance from this senior team against a mid-tier sophomore team, the #8 spot is a fair ranking for this squad. 

Handlers (1-0)

– Clayton Trevino's 18 points (according to the team's Instagram)  led this talented team to a 10 point victory over the O-Blockerz. Watch out for this team, as they have arguably the best junior roster.

 

Knickerbockers (0-1)

– Following a very disappointing game from their starters, this team scored a league-low 8 points against the #1 team in the power rankings. This abysmal offense needs to step things up going forward.

 O-Blockerz (0-1)

– The O-Blockerz were short handed against the Handlers and it caught up to them as the game went on.

 

Chinless Hooligans (1-0)

– The Chinless Hooligans defeated the Jugg Messiahs by 5 points this past Sunday, earning them the #12 spot.

 

Ball Boys (1-0)

– Perhaps the biggest surprise of the week, the game of the week ended with the Ball Boys edging out the Brown Shirts by a score of 40-38.

 

Brown Shirts (0-1)

– This team has undoubtedly the best freshman roster, and it showed against the Ball Boys this week, only losing to this junior team by 2.

 

Big Basketball Champs (0-1)

– The Big Basketball Champs fell way short against the #3 team in the power rankings, losing by 21, but still have a solid junior roster.

 

Calliou's Boys (0-1)

– Despite Finn Goodman's 16 points, Calliou's Boys fell short of beating Steph with Too Much Curry team this week, but this team is not one that you would want to come across in the tournament.

 

Taj Tusslers (0-1)

– The Taj Tusslers came up short this week, only posting 17 points against Team W.I.G.'s big defense.

 

Kramer's Kids (1-0)

– Kramer's Kids beat West Side Dynasty by 4 this week.

 

Legends of Ga'Hoole (0-1)

– After a complete collapse on defense, the Legends of Ga'Hoole let up a league-worst 72 points, losing by 52 to the Cherry Up Men.

 

Puck Bandits (0-1)

– The Puck Bandits got blown out by 20 to TKN this week.

 

Jugg Messiahs (0-1)

– The Jugg Messiahs lost by 5 to the Chinless Hooligans, only putting up 17 points.

 

West Side Dynasty (0-1)

– The West Side Dynasty lost by 4 to Kramer's Kids in the final game of the day.
Undetermined: Brick Boys (0-1), Dawgs Elite (0-1) – Both of these teams forfeit this week, and we cannot rank teams that have not yet played a game.
Girls Rankings:
Ballers (1-0)

– Massive 51-2 win over the Barty Parties. The Ballers showed that they could score points. Caroline Keil had a game high 27 points in the win. The Ballers also had great team defense. 
Homie Hoopers (1-0)

– This junior squad had a solid win against the Bofa Ballers, a senior team and had double their points. Kendall Snodgrass is definitely someone to look out for this year after a strong Week 1 performance. 
The Kennedys (1-0)

– The Kennedys put up 30 points this week, but they were a senior team playing a freshman team. We are going to have to see more from them before we can rank them any higher.
Babytrons Finest (0-1) –

Babytrons Finest won this week 14-13, but they had to forfeit the game because they only had 4 players. Elsa Dahlgren led the team with 6 points. 
The Passers (1-0) –

The Passers lost this week 14-13 to Babytrons Finest, but got the win because the other team forfeited. 
Bofa Ballers (0-1)

– The Homie Hoppers doubled the Bofa Ballers score. The Bofa Ballers only put up 9 points this week and are going to have to pick it up and start scoring more points before they can be ranked any higher.
Slayups (1-0) –

The Slayups won this past Sunday on a forfeit.
Ballstars (0-1)

– The Ballstars lost 30 – 6 this week, but they were also playing a senior team. Maybe once they play fair competition they will win some games.
 

Shooting Deez

– Forfeited their match against the Slayups.
Barty Parties (0-1)

– lost 51-2 to the Ballers and were held scoreless for the first 20 minutes of the game. Terrible performance overall.
Undetermined: Super Hoopers – They did not play a game this week due to an odd number of teams in the league.