With rise in antisemitism, Jewish students, staff concerned but not surprised
Two months ago, graffiti that included threats and a swastika was found in a school bathroom. While this act of antisemitism might be the most visible at LFHS in years, it is certainly not the first.
"Seeing swastikas drawn on desks or spray painted uptown, seeing people using 'Nazi' to joke about somebody, people making Holocaust jokes – it adds up," said senior Vivi Hirschfield.
National antisemitism is on the rise, especially in the past five years, according to social studies teacher Mrs. Laura Flangel and English teacher Mr. Lance Ferges, along with data from the Anti-Defamation League.
The increase was sparked in 2017, with the far-right neo-Nazi "Unite the Right" rally in Charlottesville, along with the election of former President Donald Trump, a regular user of antisemitic tropes. The Highland Park shooting, which happened 15 minutes from downtown Lake Forest, may have been  motivated by antisemitism, with the town having a comparatively large Jewish population. As a result of the spike in threats the past few years, Hirschfield said her synagogue has placed armed security guards at the entrance.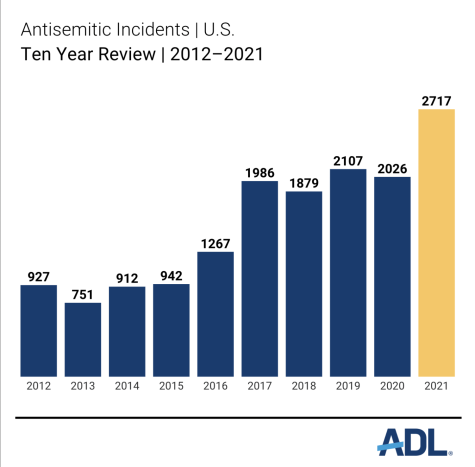 Rapper Kanye West (now known as "Ye") sparked another one of his infamous controversies when he made antisemitic comments. It began Oct. 3 when he wore a "White Lives Matter" shirt, a phrase commonly used by white supremacists and neo-Nazis. He doubled down on antisemitic rhetoric on social media and in an interview with Tucker Carlson later that week.
Ye received public backlash and massive financial losses after being dropped by companies including Balenciaga and Adidas. A masked Ye praised Adolf Hitler on The Alex Jones Show (the now-bankrupt Sandy Hook denier) Dec. 1, saying, "The Jewish media has made us feel like the Nazis and Hitler have never offered anything of value to the world," and "We've got to stop dissing the Nazis all of the time."
And while the backlash has been prominent in the public sphere, several Jewish students and staff interviewed by The Forest Scout say they have not felt a similar atmosphere opposing antisemitism here at Lake Forest . They say some students have even been defending West on Instagram or wearing his merchandise after the Dec. 1 interview.
A Spike in Anti-Semitic Hate
Hirschfield, who wrote a column voicing her frustration with West, said she received significant criticism after it was published.
"I got so many comments in the hallways, so much backlash. I've gotten messages saying that Kanye was right," Hirschfield said.
In addition, Jewish students and staff said they feel increasingly nervous since the swastika graffiti in October, which occurred only a few days after West's "White Lives Matter" shirt.
"I was really nervous," said senior Sydney Rubinstein. "It felt like the Jewish community was really being called out. It felt like there was a really big target on your back."
Ferges and English teacher Mrs. Jane Eccleston, who are married and have a daughter preparing for her Bat Mitzvah, said they have been locking their classroom doors since the graffiti.
"I feel like I've got a responsibility not only to my students, but also to myself and my family," said Ferges. "[Our daughter] would be left with no one."
After West's remarks, there has been a marked increase in public acts of antisemitism. A banner was hung over an L.A. freeway reading "Kanye is right about the Jews." White nationalist Nick Fuentes dined with West and Trump at the former president's invitation. Nets player Kyrie Irving promoted an antisemitic film on social media. Comedian Dave Chappelle joked about West with antisemitic tropes. After Twitter's purchase by billionaire Elon Musk, hate speech, including antisemitism, has been rapidly growing. 
"
It felt like the Jewish community was really being called out. It felt like there was a really big target on your back."
And where is the rise coming from? It's not a newfound hate, Rubinstein said.
"With any sort of instance when hate speech occurs, it's less of people deciding they want to hate something and more people realizing that other people are saying this, and therefore it's okay for me to say this," Rubinstein said. "People are getting the impression that this is a normal thing to say now."
However, this rise in antisemitism is more a rise in visibility, said many Jewish students and staff. That is, antisemitism has always been present. Now, it's just louder.
"Teens are hearing it more because it's coming from people that teens respect," Flangel said. "Adults know that this has been a quiet undercurrent that's always there."
At Lake Forest, Jewish students and staff feel (or at least felt) safe, but must always remain "careful," as Flangel said.
"I don't think any Jews are surprised with what they're hearing in the news," Flangel said.
Several years ago, Flangel, who put up holiday decorations for Christmas, Diwali, and Hanukkah, found her Hanukkah decorations missing.
"I talked to my students about it," said Flangel. "And some of them were so sweet. That was an 'aha' moment for them"–a moment of understanding the prevalence of antisemitism, she said.
"The Hate is Always Wrong"
The administration has not released a public statement condemning hate, but Principal Dr. Erin Lenart did state that the graffiti included "hateful imagery" in an email last month. Lenart was not immediately available for comment Wednesday.
"There's a right and a wrong. The hate is always wrong. There's no gray area to something like this," said Eccleston. "The school has to be very publicly on the side of what's right. It can't stop."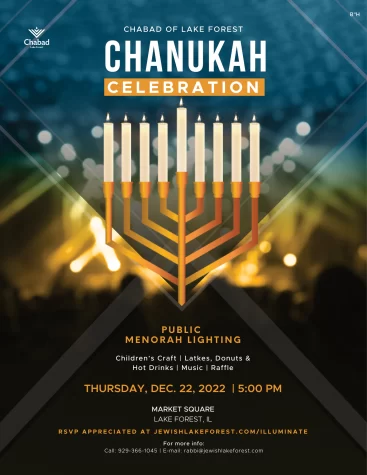 Since direct acts of antisemitism have occurred at the school, Jewish students and staff believe "it needs to be called out," as Eccleston said. 
"I think the school needs to specifically address antisemitism, homophobia, say that threats are not welcome at this school," said Rubinestein. "I think because of how much of an impact the community has on the school…the school can get really scared of saying things, and [the administration] needs to listen to their students and the people directly impacted."
The City of Lake Forest has a very small Jewish population, especially compared to neighboring towns like Highland Park, and even refused to show Jewish people real estate as recently as the 1950s, according to Flangel. 
At LFHS, Jewish holidays are not given as whole school holidays, but students and staff can take the religious holidays. 
However, in light of the Highland Park shooting, a Chabad Center will soon open  in Lake Forest, and is hosting the town's first Menorah lighting Dec. 22.
How can antisemitism be stopped?
For many, the answer to stopping antisemitism lies in education.
One solution is "programming in education to break down that protectionism to allow and to reestablish inclusivity and diversity as being key to America's identity," Flangel said.
There is also a significant lack of awareness of the Jewish faith and culture in Lake Forest and in America, said sophomore Hannah Belenkiy.
"I think our country needs a lot more education in general about standing up to antisemitism and Jewish pride," said Belenkiy. "I feel really strongly about LFHS giving off Yom Kippur. I've had experiences like tests and homework assignments on a holiday where I'm supposed to be fasting, and I've actually had to not fast because of the amount of schoolwork I've had."
"
I think our country needs a lot more education in general about standing up to antisemitism and Jewish pride."
There is also a lack of awareness regarding the stereotypes that cause antisemitism, Eccleston said. 
"Research what started these antisemitic tropes. Where did these come from? It's very interesting, and it's very troubling," said Eccleston. "You see the breadth of the way these things have been weaponized, and it's the same with any form of hate. If you can start to see them used as tools, and why they might be used, I think it's easier to see the intention behind them."
Discussion, especially after the graffiti, is also important, Ferges said.
"After the fact, there was not enough discussion. There was not enough bringing to the forefront the issues that come with people feeling threatened," Ferges said. "I had Jewish students who said they felt very threatened by what happened, and said they didn't want to come back to school for a while."
Ferges said the graffiti gave the school an opportunity for education, but wasn't acted upon.
"We could have made it a priority to create educational endeavors within the school for the students, faculty, administration, and the community–and that didn't happen," Ferges said.
In addition, and on a broader scale, hate must be denounced, said Eccleston. "As a teacher, it needs to be called out, and called out loudly. It's the same thing nationally. You cannot let these voices be louder than voices that will counter them."
But hate is never isolated to one group, and Lake Forest is no exception.
"It's really important to remember that this is one form of hate. There's racism, there's homophobia, there's transphobia, there's ableism. These are all tools to exert power," Eccleston said. "Affording everyone respect for their individual identities doesn't mean you get less respect. It's not a pie. It's not a zero sum game."