10 Questions with Ciara Carroll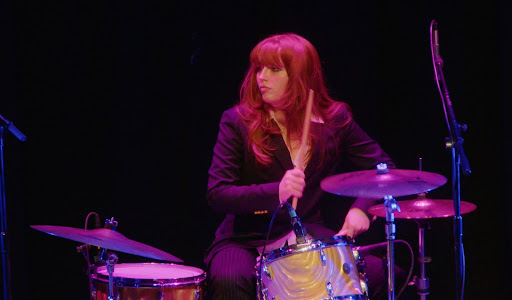 Senior Ciara Carroll is a dedicated musician whose talent ranges from drumming, singing, keys, bass and guitar. You may see her performing on stage or involved in the music department at LFHS. If you thought all of her musical accomplishments were impressive, Ciara will also be attending Berklee College of Music next fall. Here are 10 questions to get to know her:
When did you become interested in music?
"I started piano lessons when I was very young and became interested in drums when I was 6 years old."
What are all of the music activities you're involved in?
"I am involved in honors band, honors choir, orchestra, Madrigals, marching band, School of Rock, Talent Show pit band, I TA for the freshman percussion class, I'm band president, and All-State pit orchestra."
What's your favorite music activity and why?
"I like everything but I like playing with my bands outside of school because it feels more independent and I enjoy playing music with my friends."
What instrument do you enjoy playing the most?
"Drum Set!"
What are you most looking forward to at Berklee College of Music?
"I attended their summer program for 5 weeks and the environment was so nice. It was very different being surrounded by people who have the same common interest in music and I love Boston."
What are you majoring in college?
"I got my scholarship for a performance major in drum set but once I get there I will probably try to do a minor in production as well."
At what age did you start performing?
"I started doing School of Rock performance programs when I was 6."
Who is your musical inspiration?
"Older artists, specifically The Beatles, I particularly love 70s and 90s music and my drum teacher is a major influence." 
Who is your favorite music artist?
"I love Snail Mail, The Garden, and System of a Down."
What genre of music do you prefer playing?
"I definitely am a rock drummer but I want to get more into jazz because it is cool and challenging."