The Forest Scout Friday Five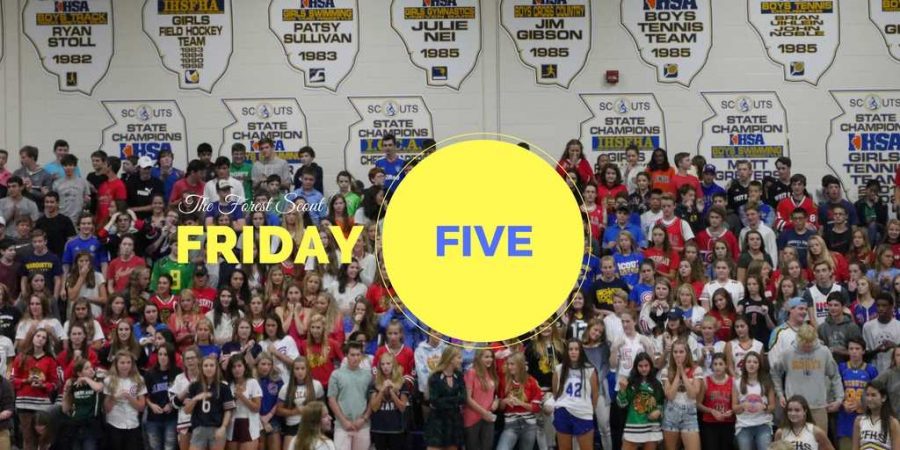 The Forest Scout Friday Five is a weekly segment that celebrates five people making a distinct, profound, and positive difference in the Lake Forest High School community. To visit our most recent installment, click here. To recommend a student, teacher, support staff, or community member for inclusion in The Forest Scout Friday Five, please email [email protected]
Tyler Guttman: Anyone who's lucky enough to know junior Tyler Guttman knows that her personality and sense of humor are infectious. Tyler finds the humor in all situations and can make anyone around her smile with a crazy story about the latest conundrum she was in or an anecdote on how, she too, has been there. "Whenever I'm having a bad day, I talk to Tyler. No matter what's going on in her life, she listens to my stories and never fails to make me laugh," a friend of Tyler's, Megan Sek, explains. Among her friends, Tyler is known as the outgoing one, one who enjoys talking to everyone and seems to have a friend in every social group and grade. "I can always count on Tyler to give me her honest opinion, even if it's hard to hear," Megan added. Having a person like Tyler–outgoing, honest, funny, and caring–in your life is an invaluable gift, especially in the crazy world of high school.
It is rare to find a teenager who is so open and caring about the people around her. Many people may not know this about Tyler, but she spent 72 hours of her summer volunteering at a camp for adults with Autism around our community. While most teenagers clocked into a job at the public pool or a local restaurant to make some money over the summer, Tyler spent her days selflessly helping people have an experience they would enjoy and remember forever.
On top of her already busy schedule, Tyler volunteers with the same organization to spend time with developmentally disabled children each week. Most seventeen year olds do not have the patience and emotional intelligence required to be in that environment, but Tyler uses what she has to frame her life's purpose and direction.  A friend of Tyler's, junior Kailey Helter, said, "I've always looked up to Tyler for her service and generosity towards others. I'm lucky to be surrounded by someone who wants what's best for those around her." 
Mrs. Andrea Lemke: In the oft-confusing world of Mathematics, especially that of the AP Calculus BC variety, help is key. Students often need someone approachable to assist them in arriving at the right answer. For that, LFHS students have Andrea Lemke, perhaps the most "approachable, kind, helpful teacher there is," according to one of her senior students. 
Mrs. Lemke knows just what it's like to be a student at LFHS. Her first child, Olivia, graduated from LFHS just a few years ago and her youngest son, Nathaniel, is a junior at LFHS. In addition to that, Mrs. Lemke has raised her family with her husband Bob within shouting distance from the school, a mere handful of houses away from where she parks her minivan in the school's faculty lot each morning. As evidenced in her roles as a parent and community member–not to mention her constant desire to improve as a teacher–it is safe to pronounce that no one (and we mean no one!) is more invested in Lake Forest High School than Mrs. Andrea Lemke. "She's not just an ambassador for Math teachers," added Mr. Kyle Wilhelm, her colleague. "She is an ambassador for the school as a whole."
As her own students would testify, Mrs. Lemke's classes may look different on a week to week basis. "She is constantly employing new strategies and styles, placing us in the position to figure things out on our own with her assistance as a guide. She knows exactly what's awaiting us at the next level and prepares us as if we were her own children [Olivia or Nathaniel] readying for college," shared one senior student. Not only is she changing her own strategies, but unlike many veteran teachers who employ the trusty, tried and true styles of teaching from decades ago, Lemke is always on the cutting edge of change. "She'll try anything if it works for us," senior Avery Robbins added. "She's there for you every step of the way." For every unit, algorithm, or quadratic formula, Lemke also seeks the feedback of her own students, a lost art in the world of teaching. "Her willingness to improve is inspiring, even after such a successful career," shared Alec Brandel, a senior, "which is where her approachable nature comes from."
Aside from derivatives, applications, integrations, and functions, Mrs. Lemke is also firm on her morals and ethics in the classroom environment. An avid supporter of LGBTQ students as well as students with disabilities, Lemke takes the time to hear the voice of each student, showcase their individuality, and apply their strengths to better themselves not only as a student, but as an individual. 
It goes without saying that in high school we all need help at various times. The impact that a person can have on you often resides in how you get help and, more importantly, how you give it. For LFHS veteran Math teacher Mrs. Andrea Lemke, help + care = the best of what's around. 
Brooke Stride: Like the many Strides who came before her, sophomore Brooke Stride is embracing individuality and opportunity more with each passing day. "You won't find a happier person in this school," assured senior Tegan Morcott. "It's a running joke on our dance team that Brooke Stride has never had a bad day."
Only a sophomore, Brooke has already made clear her passion for the outdoors, a love she expresses each summer in her trips to Camp Manito-wish, a camp in northeastern Wisconsin. Whether it be canoeing, hiking, rowing, or cooking couscous on an open flame, Stride wears a smile within each daily activity. Stride also participates heavily in NOLS (National Outdoor Leadership School) to fully embrace her passion for the outdoors. Like her older siblings Jack and Britta Stride, Brooke has become known for her ability to liven the atmosphere and enjoy high school "the right way." Brooke has a reputation at LFHS for being a sweet kid, always sharing hellos in the hallway with students she knows in various capacities. 
Senior Maddy Moore, a student who precedes Brooke in age by nearly two years, still looks up to and admires Brooke for all she has come to represent. "She's so positive and so friendly," Moore shared, "and it's a genuine, considerate kindness. Not one that is overbearing and showy." For a senior to share those words about someone two years her junior speaks for itself–the subject is obviously pretty special. Although all of the Strides before her have left their own indelible marks on LFHS, the last one through, sophomore Brooke Stride, just might be the one that leaves those in her path smiling for years to come. 
Sean Trkla: As a student, you may know Sean Trkla for his hair–quaffed to perfection whether he is in the middle of an AP Lang test or finishing a box out for the boys basketball team. The teachers of LFHS, however, know Sean Trkla for his usage of PLT time on Thursday mornings. Whether it's Mrs. Grzesik, Sean's chemistry teacher, Mr. Kotlarczyk, Sean's US History teacher, or Mr. Wanninger, Sean's AP Language teacher, Sean is always working somewhere long before most of his friends wake or arrive at LFHS for their routine Thursday school day. "Sean is a positive student who works very hard to be successful," shared his Chemistry teacher, Ms. Molly Grzesik, "I think he is already seeing at a young age that hard work and positivity go a long way in life. He comes in to class every day with a smile and it rubs off on me and his classmates. Sean is also one of the most polite and respectful students I have." His US History teacher, Mr. Doug Kotlarczyk added, "He makes the whole class more fun. Simple as that."
Aside from dedication to his studies and an his omnipresent cordiality with his elders, Sean is an active, energetic member of the junior class. "I'll be walking in a hallway with him for two minutes, and he'll greet 7 people–it's incredible," shared Mr. Austin Scott, one of Sean's basketball coaches for the Varsity basketball team. "There are plenty of kids with energy, but Sean's is pure excitement coalesced with a genuine enjoyment of life. Whatever he is doing, he'll get the most out of and have others enjoy it with him." His teammates, such as senior captain Connor Hanekamp, also enjoy what Trkla brings to the team. "He's always talking, always having fun, and just enjoying being a part of it all," mentioned Hanekamp with a smile. "He keeps people feeling good." This behavior continues and is reinforced in the relationships Sean has built with LFHS' younger students through TA'ing Ms. Catanzaro's Wellness for Life class. "He's pumped about the swim unit," one freshman mentioned. "It's hard not to feed off of his excitement."
Trkla, like many others, is a second generation LFHS student. His dad and uncles attended the high school in the 80's and have clearly imprinted what a special place our high school is to Sean, who is seemingly enjoying every minute. As an upperclassmen, it is often the norm to carry yourself aloft of the freshman and sophomores and bring about an air of superiority with the younger students of the high school, but Sean bucks that trend. "He is a great mentor for his little brothers [the basketball program's mentoring program], and he's my son's favorite player," articulated the Head Coach of the basketball team, Mr. Phil LaScala. "What's not to like?" Indeed, Sean is a very likable student, classmate, and friend. We're with you (and your son), Mr. LaScala. 
Will Schlachtenhaufen: A clarinet, a piano, and a hockey stick don't normally fall in the same sentence, but for freshman Will Schlachtenhaufen, it fully encapsulates the diversity in his interests. "Schlachtie," to which he is affectionately referred to as by his classmates, represents a wide variety of interests and talents. Although he is intelligent and athletic, his persona is what is providing a positive connotation for the young man with a last name that you can easily remember but would be hard-pressed to spell. "He's, like, the best person ever," shared one female freshman classmate while another group of girls praised him for his outgoing personality and sometimes awkward jokes. "He's very outgoing and is always stirring up fun conversation in the band room."
In the hockey rink, Will gives you much more to remember than just his last name almost coming full circle on the back of his jersey. "He's a gentle giant," added Hunter Dee, a teammate of Will's on the Lake Forest Junior Varsity Hockey team. "He'll crush kids on the ice, but once the game is over, he's the same nice, positive guy who is always willing to help out a friend or teammate." Will is a unique representative of what it means to be a true student-athlete at LFHS while dually involving himself with the arts in a way most brut-natured hockey players would shy away from. "He's certainly not afraid to be who he is," shared a sophomore. "And that is a pretty cool thing. Especially for someone who is just coming into high school." 
It is clear that Will is doing an admirable job balancing a high-level academic course load with his true passions, but isn't leaving his purest self, his personality, far behind. "Schlachtie's the best," Teddy Oline, Will's neighbor, added about the freshman who is also heavily involved in SHYG (Senior High Youth Group) as well. "He's most definitely deserving of the Friday Five. He is someone everyone knows and looks up to. He makes you laugh and is very self-aware."
About the Writer
Ghost, Author
Ghost is a section of The Forest Scout that chooses to publish material anonymously in order to increase the depth of their investigative reporting. Ghost...