Landing: the new love of your life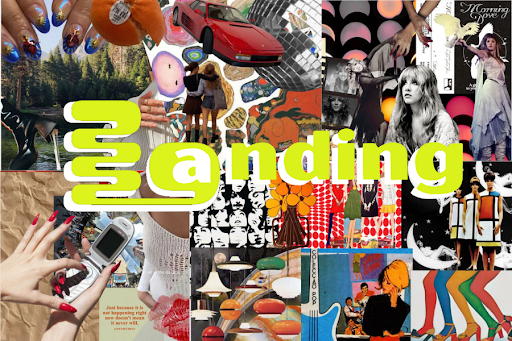 Bored in class one day, we first got hooked on making mood boards when Landing's colorful feed of collages drew us in. The unique website appealed to all our different creative interests, whether for Alia's supplemental fashion portfolio or Lakshmi's eye for fresh graphic design. 
Landing combines the fan-favorite features of Pinterest and Canva, but offers so much more to expand your creative horizons. There are countless ways to explore the platform, combining one-of-a-kind features to form creative, aesthetic, or social components found on Landing.   
WHAT IS LANDING:
Landing is an early-stage digital and social platform for you to design, curate, and share your very own collages. It's a place where you can create a visual representation of your most creative aspirations and desires, with mood boards ranging from fashion-school design boards all the way to collections of aesthetic pictures gathered from Pinterest. 
Landing is for everyone and anyone to express their individuality and creative side. But what makes it so different from Canva or Pinterest is its personalized artistic experience in tandem with the tools of our favorite social media. 
HOW TO USE LANDING: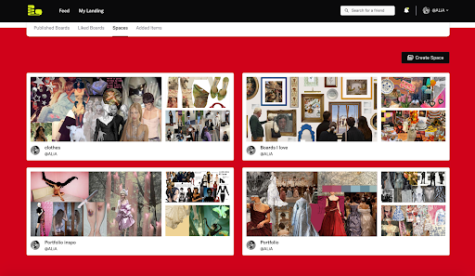 Creating mood boards on Landing is not just a user friendly experience, but also one that includes more than just your basic text and sizing features. One of the most unique qualities of the website is making a 'Landing Space' — compilations of your favorite creations. 
Landing Spaces distinguish the platform from other collage-based softwares: it highlights the social aspect, where you can both seek artistic inspiration as well as share your own.
Besides spending hours perfecting our creative visions on the platform, we love scrolling through Landing Space's Limelight, a featured selection of the best designs of the week. Not only does it highlight the work of creatives, but it also helps users connect with new people, ideas, and even images, ultimately making a place that truly celebrates the work of artists. 
Another feature we love to use is the Community Library, a collection of images uploaded by Landing creators. If you're looking for any specific picture that you can't seem to find from a simple Google search, the Community Library contains almost every single image uploaded to Landing. 
Remixing is another fan-favorite tool when it comes to creating boards, where users can take a board that they love, and adapt it into their own. Some creators base their whole profile around templates for others to reuse and remix, which provides an excellent way to engage in the Landing community.  
WHY YOU SHOULD START USING LANDING:
Landing provides an easy way to craft moodboards that cohesively represent various projects and interests in your life. Whether you want to showcase inspiration for an art piece (like for a portfolio) or advertise your up-and-coming small business, there are so many practical ways to take advantage of the artistic benefits of Landing. 
Another type of board we love to see are ones inspired by other forms of pop culture. From music to movies, these boards encapsulate both our favorite trends, as well as ones inspired by vintage media from decades of the past. 
Some of our best mood boards have sparked from random strikes of inspiration, like when bored in class. Although Landing is home to boards that focus specifically on portfolios or advertisements, it's also a place to create joy, where you can make collages that solely exist as a fun creative outlet. Innovation can come to mind even in our most impulsive moments.
"
There is a certain peace in logging onto Landing, hitting play on your favorite playlist, and getting lost in idealized images of what your life could be."
A bonus of the community found on Landing Spaces is the positive environment–unlike many other toxic social media sites. The core values of Landing include intention, empathy, diversity, and joy, all exhibited through the endless ways to connect and build with other creators.
The social element to Landing allows for its users to share what they create as well as gain inspiration from other creators. A relaxed form of social media, the platform allows users to comment and react to boards, but does not overemphasize validation for what you create.
Rather than gaining a following or focusing solely on the reactions to your boards, Landing focuses heavily on the social and creative benefits from interacting with others on the platform. There is a certain peace in logging onto Landing, hitting play on your favorite playlist, and getting lost in idealized images of what your life could be. 
THINGS THAT SHOULD CHANGE ON LANDING:
While we use Landing to express our creativity with a fresh take on social media, there are a couple of improvements that would enhance our experiences. 
A cropping tool would be a great way to simplify altering the pictures you choose. Cropping would make it a lot easier to use the program.
In the midst of the many layers of a Landing moodboard, there are bound to be readjustments and changes–but they can't easily be reverted. However, when using the program, we will sometimes accidentally grab the wrong image or move it incorrectly, so an undo button would greatly advance Landing. When this happens, there's no way to revert the board to its original position, and we are forced to rely on memory for how it looked before. 
As we love the positivity of the community developing in Landing, it could further thrive with the addition of direct messages. Connecting with people beyond remixes or the Limelight Space could make Landing's environment feel even more collaborative and communal. 
LANDING FOR THE NEW YEAR:
There is nothing that screams the new year quite like scribbling down a handful of resolutions, announcing them proudly and quickly losing sight of what you hoped for. It is hard to picture what you want to channel into your future when you cannot visualize it–but Landing makes it easy and even fun. 
The pictures within the Community Library on Landing alongside any images you pull from Pinterest or your personal library create endless opportunities for getting excited for what is to come. Landing has helped us to further understand what we want our futures to look like. 
Looking ahead to 2023, starting Landing could be the perfect way to try something new, expand your creative horizons, and experience the latest social media. Whether you're env
isioning your future goals for a fresh start or experimenting with a board to invent something brand-new, we highly recommend trying out Landing.