100-Word Stories: Favorite Holiday Traditions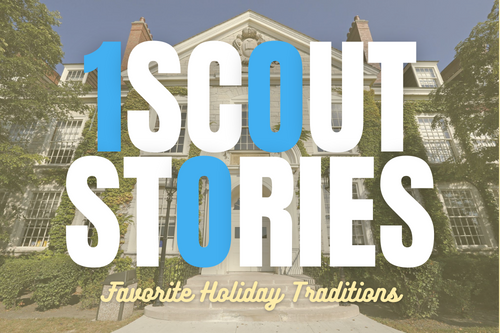 The Forest Scout has launched a new series: 100-Word Stories. We plan to share 100  funny, poignant, memorable stories from the students, faculty, and staff of LFHS. Each story will be exactly 100 words.
This week, we asked students to describe their favorite holiday traditions.

Senior Sidharth Jindal
One of senior Sidharth Jindal's favorite holiday traditions is making special dinner dishes with his family for  India's most important holiday, Diwali. One of his favorites is Aloo Gobi, which literally translates to potato cauliflower. He also enjoys lighting sparklers because Diwali, a Hindu celebration also known as the Festival of Lights, represents light prevailing over dark. Jindal says Diwali is like his version of an "Indian-Christmas," because it usually falls around October or November every year. He enjoy spending lots of time with family and celebrating what he believes is one of the most energetic holidays.  (written by Chelsea Tzau)
Senior Angela Karr
Every year on Christmas, Angela tries to ski 500,000 feet of Vail with her dad. After eating chocolate chip cookies for breakfast, they go to the locker room where there is always hot chocolate and peppermint to drink. They put our boots on, get in the gondola, plug in their Christmas music, and get moving towards their goal. Once they get ¾ of the way through, they get a snack but not lunch because they are preparing for a big dinner. After they complete their goal, they get free drinks at the restaurant on the mountain and celebrate their accomplishment. (Written by Lulu Flavin)
Austin Rice
It was December 2006 when the Rice family wandered into Bass Pro to entertain their two-year-old son Austin. They happened to run into Santa and decided to take an unplanned picture. The Rice family has retaken this picture every year as an ongoing joke and a unique Christmas tradition. It started in Colorado but now every year the family goes to the Gurnee Mills Bass Pro to carry on the tradition. Even though Austin and his siblings may not always be up for the picture, his dad won't let the tradition die, making his family take the photo.   (Written by Dennis Hickey)
Niki Singh
Although Niki Singh is a Sikh, she still celebrates Christmas with her family. It isn't the traditional Christmas that you might think of, however. Her family blends Indian culture with Western. They cook Indian food and have candles all around the house as a continuation of Diwali and Bandi Chhor Divas (the Celebration of Lights). Nikki's favorite part of the celebration is the fact that she gets to see lots of her family, and since she doesn't cook often, she really enjoys learning how to make Indian dishes. After they cook they watch Bollywood movies, share food, and tell stories. (Written by Will Baldwin)
Mrs. Metz
This holiday and "finals" season, who better to celebrate than the person who helps LFHS students survive their math final? Alongside Mr. Mergl, Mrs. Metz runs the show in the MRC. A member of the Jewish faith, Mrs. Metz credits her mom for making Hanukkah special. With a smile, she said, "All year, she works hard to buy every gift on our list." The best part of "the Festival of Lights" celebration is lighting The Menorah as a family. Whether it be having an indoor snowball fight or enjoying latkes–potato pancakes with applesauce and sour cream–there's nothing like being together. (Written by Amani Yousuf).