My Top All-Time Favorite Christmas Movies
Now that we have entered the month of December the Christmas season has officially begun! It is time to indulge in one of the best movie genres – Christmas movies. Here are my top ten recommendations for the Christmas season which include a wide variety of genres including; romance, action, comedy, and adventure, so stay tuned there is something for everyone.
Rudolph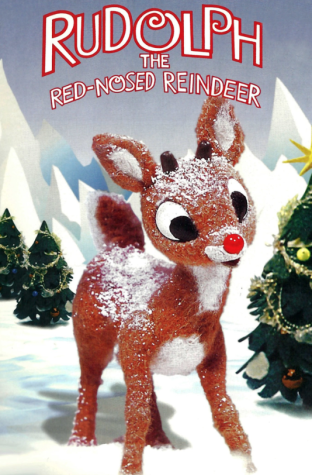 Rudolph the Rednosed Reindeer is a classic, heartwarming Christmas tale. Though this claymation film is targeted at children, its message resonates with all ages as it highlights the importance of values, friendship, family, and belonging. The storyline centers around a young reindeer, Rudolph, who is excluded from his peers because of his difference in appearance. As a result Rudolph runs away, in search of acceptance, to an island of misfits. His journey is fraught with danger, adventure, and opportunity. In the end he learns the importance of self-acceptance and his contemporaries come to discover and celebrate his uniqueness. This is a story that makes you realize the importance of perception, and how a small change in perspective can reveal a much greater truth about the value of others.
Home Alone
Home Alone is a classic, childhood Christmas movie. The premise of the movie centers around a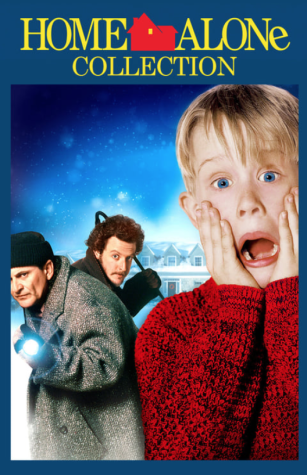 youngboy named Kevin McCallister who is left home alone when his family accidentally boards their flight to Paris without him. While Kevin is initially thrilled to be spending his Christmas break without parental supervision and his bothersome siblings he soon realizes that his situation is less than optimal. He becomes the target of two amateur thieves looking to rob the McCallister's home. Distraught by the idea of his house being burgled, Kevin devises clever traps and obstacles in order to thwart the thieves. This movie is the perfect option if you're looking for a fun, less serious Christmas movie. If you enjoy this movie there is also Home Alone 2: Lost in New York, which may even be better than the original.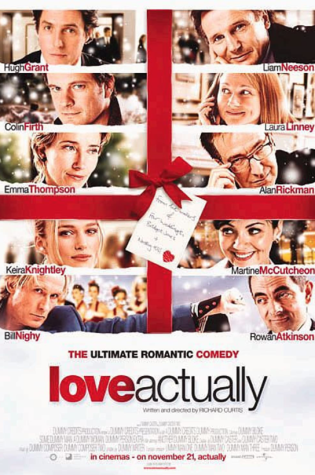 Love Actually
If you enjoy rom-com movies and Christmas themes, Love Actually is the perfect viewing combination. This movie follows the love stories of a variety of characters whose relation to each other is all somehow intertwined. At first the different characters' stories play out separately, but by the end of the movie we learn how they are all interwoven. This British movie showcases the complexities and joys of love and stars a fantastic cast, including: Liam Neeson, Hugh Grant, and Kiera Knightly.
Daddy's Home 2
Daddy's Home 2 is a light-hearted Christmas comedy sequel. The movie showcases father and son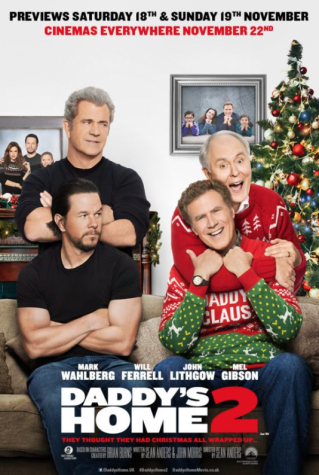 duos who plan a Christmas vacation for their families. After booking a remote luxury Airbnb in the mountains the group of fathers attempt to bring their families together, however, their attempt to plan a fun get-away soon turns into a giant nightmare, as they encounter one disaster after another including: gunshot wounds, wolf attacks, a blizzard, and much more. This movie is terrific and showcases amusing generational differences using the backdrop of the Christmas season.
Christmas Vacation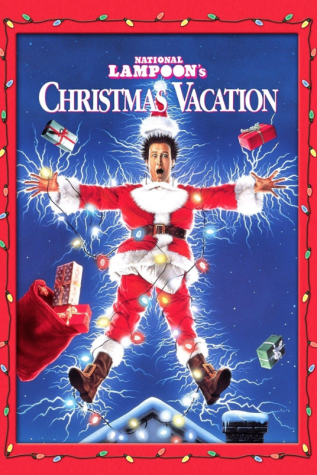 Christmas Vacation is a timeless Christmas comedy featuring Chevy Chase as Clark Griswold, a father who is dedicated to ensuring that he and his family have a perfect Christmas break. Unfortunately for him, things quickly go awry when his trailer park cousin and his family arrive unannounced to his house and start living out of a camper on his front lawn. The Griswolds' bad luck continues when Clark doesn't receive his expected bonus which he was counting on to pay for the pool he has already commissioned. This movie is a lighthearted play on stereotypes that will leave you highly amused.
Die Hard 1 & 2
Yes, Die Hard is a Christmas movie, and "Yippee-ki-yay" it's one of the best! The story provides a tense, action packed plotline, starring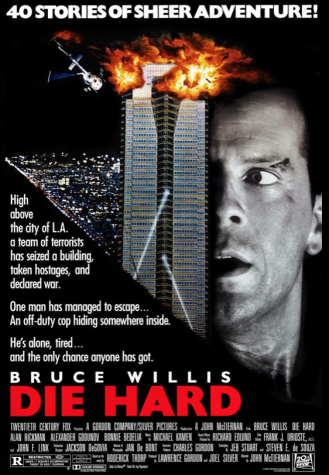 Bruce Willis as a gruff, NYPD cop, John McLane. While Officer McLane is in LA attending his wife's company's Christmas party, the company's 40 story building is taken over by an evil terrorist mastermind, Hans Gruber. Gruber and his men hold the workers hostage while McLane takes it upon himself to rescue his wife and her fellow employees. Die Hard also has another Christmas sequel, Die Hard 2: Die Harder, wherein McLane returns in his iconic tank top, this time to combat terrorists who have taken over the LA airport. These two movies will not fail to leave you captivated and in suspense. If you're feeling adrenaline deprived over the holidays have no fear, the Die Hard movies are here to provide non-stop, high stakes holiday entertainment.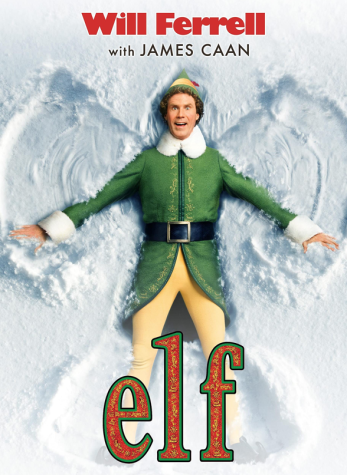 Elf
The plotline of Elf centers around a middle aged man who wears tights and eats a diet consisting only of junk food, Buddy the Elf (Will Ferell). The movie begins when Buddy departs from his homeland, the North Pole and sets off for New York City on a quest to find his estranged father, Walter. Throughout the movie Buddy attempts to connect with his father while struggling to assimilate to city life. Although the premise of the story is completely unrealistic, the lack of realism is what makes the movie so entertaining and Buddy's clueless and and wholesome nature makes him a hilarious and lovable main character.
Four Christmases
Four Christmases is an absolutely hilarious Christmas must watch movie. The plotline revolves around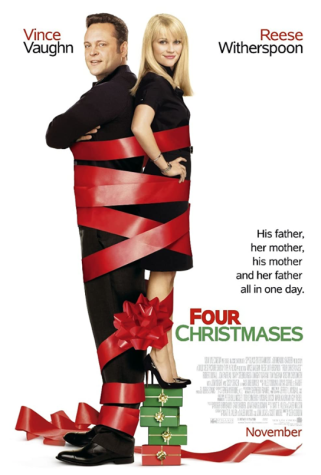 a couple, Brad (Vince Vaughn) and Kate, (Reese Witherspoon) whose parents are both divorced, resulting in their having to partake in four separate Christmas celebrations on Christmas day. The couple make individual trips to each parents' house where they encounter ever-increasing levels of dysfunction and all kinds of bizarre relatives, such as: Brad's brothers who are wannabe WWE fighters and Kate's mothers boyfriend, the very spirited Pastor Phil. Vince Vaughn delivers one of the most comical movie performances I've ever seen in his role as Brad. My personal favorite scene of his is when he participates in the church's nativity performance, at the insistence of Pastor Phil. Although Four Christmases isn't a classic in the sense of traditional Christmas movies it provides a light-hearted and humorous look into modern family dynamics during the Christmas season.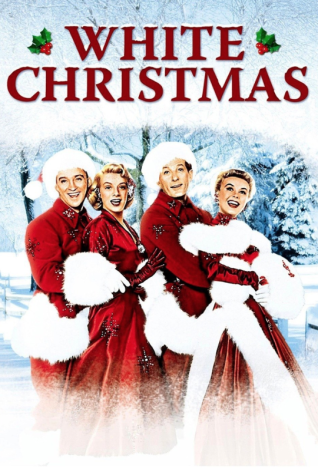 White Christmas
White Christmas is a stellar christmas classic featuring two of the biggest stars of that time, Bing Crosby and Danny Kaye as Bob Wallace and Phil Davis. Wallace and Davis first meet while serving in the army during WWII. They become fast friends and after the war ends go on to become a hugely popular and highly sought after entertainment duo. Over the holiday season the two men meet another performance duo, two sisters, Betty and Judy. The group of four travel to an inn in Vermont where the girls are scheduled to perform. Upon arriving, Wallace and Davis discover that the owner of the struggling inn is their former commanding officer, General Waverly. Feeling compelled to help their former general with his struggling business, the two men decide to put together a surprise performance and invite their entire former army division in order to raise money for the inn. White Christmas is filled with romance, great music, and an appreciation for those individuals who leave a lasting and indelible impact on the lives of others.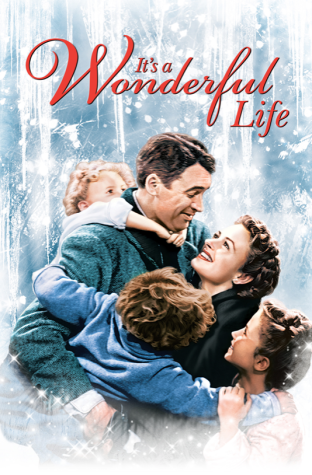 It's A Wonderful Life
By far my favorite movie of all time – not just of all Christmas movies is – It's A Wonderful Life. This movie is the epitome of an American Christmas classic, with a very impressive rotten tomato score of 93%. It's a Wonderful Life tells the story of a discouraged, loan banker, George Bailey. George encounters a catastrophic event when his Uncle/business partner misplaces a large sum of money putting his business and his reputation in jeopardy. George becomes distraught and descends into a state of hopelessness, feeling that his life has amounted to nothing and that the world would be better off had he not been born. George considers ending his life until he receives a visit from a quirky and incompetent, yet endearing guardian angel, Gabriel who shows George a version of what the lives of other people would have looked like had he not been born. Through this journey George realizes that his life was not mundane, ordinary and meaningless, rather his presence had made a profound and positive impact on the lives of countless individuals. George goes from contemplating suicide to embracing the value of life. It's a Wonderful Life is a heartwarming, inspiring story that showcases that the gift of life is the greatest miracle of all and that the richest man is not the one who holds the most money, but the one who impacts the most people in a positive way.