Country Thunder 2023 Preview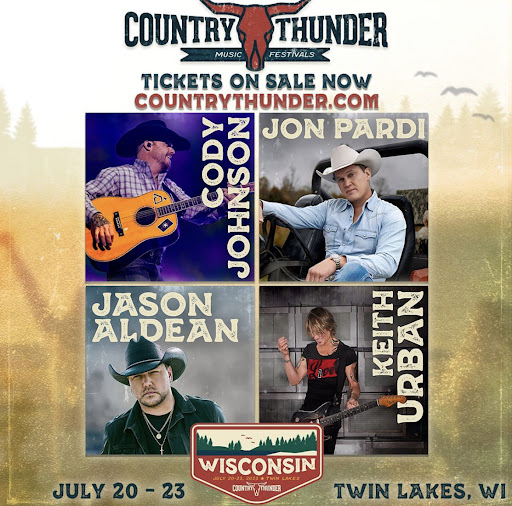 It's no lie that you will see Lake Forest High School students and alumni at Country Thunder in Twin Lakes, Wisconsin, every summer. 
This year's lineup was released just in time to ask for tickets as a gift for the holidays. The event is four days (July 20-23) full of country singers. This year's headliners include Cody Johnson, Jon Pardi, Jason Aldean, and Keith Urban. 
The first headliner is Cody Johnson. His songs will hit home and make you subconsciously sway with the crowd. His slow yet rowdy style will keep you up and at em after a long day of walking on the dirt. 
Next up is Jon Pardi. You probably know him from some of his top songs "Dirt on my Boots," "Heartache on the Dance Floor," "Heartache Medication," and "Head Over Boots." If you couldn't tell already he loves singing about cowboy boots and breakups. Pardi sings a good mix of fun, upbeat songs along with some of his slower songs. If you didn't come to Country Thunder as a Jon Pardi fan, you will definitely leave as one. 
Additionally there's Jason Aldean who is more avidly known for his songs "Big Green Tractor" or "You Make it Easy." This show has potential for everyone to enjoy themselves singing the lyrics together as a crowd. 
Lastly, Keith Urban. The Australian singer has been around since the 2000s. This show will give you some good country throwbacks to dance to, while also some lovely warmhearted slow songs. Keith Urban is known to give an active and authentic performance, leaving the audience feeling like they gained a friend. 
Although Country Thunder is ways away, it will be here before you know it!