Alpine Valley Ski Resort season preview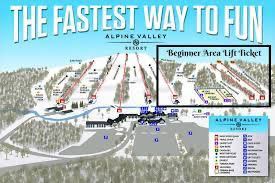 Alpine Valley Ski Resort is a local ski resort nestled in a small valley in Wisconsin. This ski resort matters locally because of how close it is to not just our high school, but of course many others around Lake County. Everyone in the area who enjoys skiing, whether it be in a competitive sense or a hobby, has Alpine Valley as their main ski destination. 
What is Alpine Valley Ski Resort?
Located in Elkhorn, Wisconsin; this ski resort boasts 100 skiable acres with 21 runs that range from beginner to advanced levels of skiing. With a vertical drop of 388 feet, this ski resort has three high speed quad lifts and a very diverse terrain park that is frequently updated. Not only is this a ski resort, but it is also a well known concert venue that has hosted many notable artists and bands such as Frank Sinatra, Jimmy Buffet, and Grateful Dead. 
What Makes This Resort so Popular?
Alpine Valley has been popular among many skiers in the midwest because of its close proximity to many communities around Southeast Wisconsin and North East Illinois. With operating hours from 9 a.m. to 10 p.m., many can take advantage of this resort at any time of the day or night. Many students flock to Alpine Valley after school on weekdays, while on the weekends you will encounter multiple families enjoying this resort. This resort also offers rentals for skis, snowboards, and equipment which is very popular among people who plan on attempting snow sports for their very first time.
How Do Students Get to the Resort?
Alpine Valley Ski Resort is approximately 60 miles away from Lake Forest, ranging from a 40-60 minute drive depending on traffic. Most students will have their parents drive them up, and many also carpool with friends. However, if some cannot access a personal car then there is a popular alternative that children around the North Shore use. Williams Ski & Patio offers weekly ski trips to many resorts through The Snowflake Club. The Snowflake Club is available for children from 8 – 18 years of age and organizes coach buses that take children to various ski resorts in Illinois and Wisconsin. With a current annual membership of  $90, many parents sign their children up for this great opportunity.
How Can I Learn to Ski?
Alpine Valley Resort has a ski instruction program for people of all levels and ages. The experienced and enthusiastic instructors offer packages and classes for individuals and families of all disciplines. For example, the "Adult Let's Get Social Class" offers a one hour group lesson, including lift tickets, rentals, and a drinking ticket. The Snowflake Club also enforces instruction upon all skiers with instructors a part of the PSIA (Professional Ski Instructors of America). With different levels of experience, each child is assigned a number that dictates their ski experience and they are required to complete classes to ensure safety and responsibility in the club. 
When is Alpine Valley Ski Resort Open?
Alpine Valley Ski Resort opened their ski resort the weekend before Thanksgiving break (November 19 – 20), however they temporarily closed for the holidays and temperatures increased to the mid-50's which has affected conditions. Nevertheless, because of the consistent snowmaking Alpine Valley Ski Resort will be opened today, November 28, 2022 with a snow base of 10-14 inches from 2 p.m. to 10 p.m.