Scouts gear up for annual Pucks and Poms game
It's that time of year again and the legendary Pucks and Poms hockey game is right around the corner. 
The Pucks and Poms game is the biggest annual event for the Lake Forest dance team and the hockey team. The dance team helps bring in fans for the game by performing their well-rehearsed routine on the ice. On the night before Thanksgiving, the Lake Forest Scouts are up against the Carmel Corsairs. 
Senior Captain of the Dance team, Bentley Frost is excited to bond with her team.
"It's our first event with our new team members and it's just a really good opportunity to bond," Frost said. 
There will be a raffle, concessions, and intermission with an opportunity for a few lucky winners to participate in the "shoot the puck" contest.
"I'm even more pumped this year knowing I get to participate in the shootout, even though I'm probably not going to make it in, the game always has a good vibe," Frost said.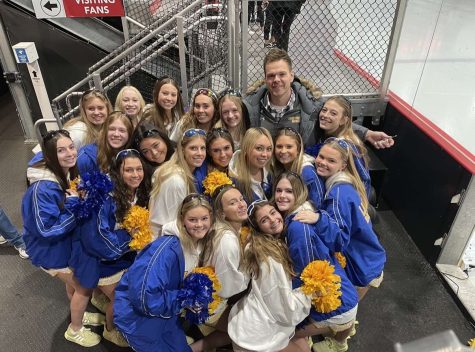 The profits from the Pucks and Poms game help raise money for GLASA (Great Lakes Adaptive Sports), an organization dedicated to improving the physical, social, and emotional health of those with physical or visual disabilities by providing athletic programs. 
Bringing in the largest crowd of the year, the Pucks and Poms game is the highlight of the season for hockey fans. 
"Normally there are a lot of people that come so it's nice to play in front of the whole town," Senior Captain of the hockey team, Robert Medica said.
The hockey players will debut new jerseys the night of the game. 
"We get a new jersey every Pucks and Poms so that'll be a lot of fun to wear during the game," Senior Captain of the hockey team, Jack Carrabine said. 
At 5 p.m. the junior varsity Blue takes on Stevenson, 6:30 Varsity takes on Carmel, and at 8:30 junior varsity Gold will play Carmel.