Students advocate for gun safety
With school shootings becoming all too common, several students have taken it upon themselves to advocate for ending gun violence. 
As the President and Vice President of the Human Rights Club, Alia Attar and Sophia Zar are passionate about creating change in our community. 
So when they were approached by some moms in the Moms Demand Action group, they knew they wanted to join and start a Students Demand Action chapter in our community, especially after a bullet was found in the library.
"We wanted to take action and become more educated on the topic of gun safety and legislation," Sophia Zar said. "Forming an LF/LB sector for SDA would allow us to take action in a real way."
The Students Demand Action initiative is made up of over 500 different chapters composed of college and high school students who advocate for more gun safety laws and educate people on solutions to gun violence. Their goal is to make schools feel safe again without the fear of shootings taking place. Students Demand Action is also involved in electing Gun Sense candidates and encouraging people to vote.
"It's so important to be well versed and educated around politics, which affects almost everything in our lives," said Attar. "We as students will use our voice in the fight against gun violence if politicians won't use their positions to do so."
While the initiative is not affiliated with LFHS, students can join and participate in events to support the group. Students Demand Action's main way of creating change is through advocacy, so fundraisers and discussions are a large part of what the Lake Forest/Lake Bluff chapter will do.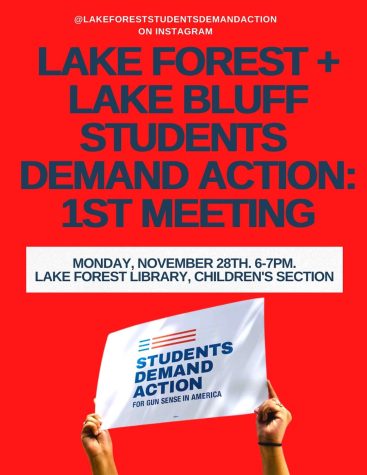 The group has several plans for the future, including their first meeting on Nov. 28 to create goals and discuss advocating for gun laws. The Moms Demand Action and Students Demand Action are coming together to form a fundraiser at Valentina and Penny's from Heaven on Dec. 8 where 10% of profits will be donated to their mission.