A Flutter of Chaos at Twitter: layoffs, impersonation and McDonalds
The world of social media changed forever when Elon Musk officially acquired the platform Twitter for a hefty cost of $44 Billion. Now, the popular social media platform is at the verge of collapse.
The polarizing South African entrepreneur is responsible for one of the most successful electric vehicle brands in the world and the owner of a rocket company.
Musk's first plan of action at Twitter was to lay off about 3,700 of the 7,500 people. Among those was the Chief Executive Officer, Chief Financial Officer and the Chief Content Officer, according to Bloomberg.com reporter Kurt Wagner. Many more reportedly quit this week after Musk gave workers an ultimatum to double down on their work ethic or take a buy-out.
Before this, Musk rolled out a new addition to the "Twitter Blue" subscription service. The new additions included a "verified" badge for anyone with "Twitter Blue", which was once commonly found with verifying celebrities and company pages. 
The new addition caused issues almost immediately. People began impersonating accounts sending completely false tweets with heavy repercussions. One of the most significant examples of these impersonations was when an impersonator offered free insulin to all under the Eli Lilly and Company name. Eli Lilly and Company's  stock was down 4.37 per cent by Friday, not even a day after the tweet was posted. It is estimated that they have lost almost $15 Billion in market cap after the tweet went viral.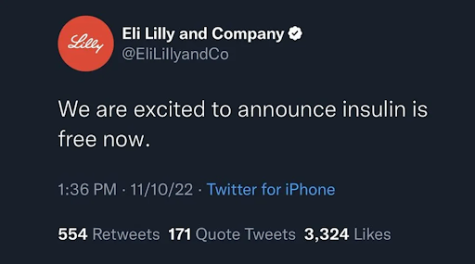 Other notable impersonations include McDonald's and Nestle, where people took a far more satirical stance. The McDonald's impersonator tweeted "Proud to announce that all McDonalds locations will now be serving Beyond Meat! Our meat is far beyond its expiration date!" A similar one from an impersonator of the Nestle Company includes the line " we steal your water and sell it back to you lol."  
While these did not have implications as damaging as the Eli Lilly and Company  impersonator, they still represented a public relations problem.  Other impersonators mocked the new style of instant sports journalism that have become synonymous with analysts like Adam Schefter and Adrian Wojnarowski. One of the these impersonators went after Adrian Wojnarowski and Kyrie Irving.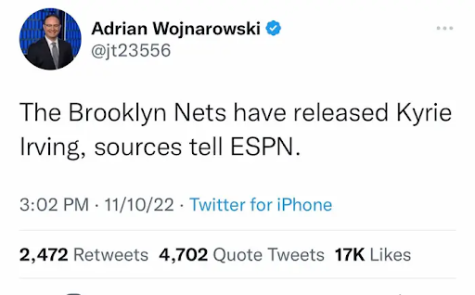 The tweet read "The Brooklyn Nets have released Kyrie Irving, sources tell ESPN". This tweed had 17K likes and nearly 2,500 retweets. These impersonators damaged the view of Twitter and social media as a whole and have shown how people fail to pay attention to the small details and sources.  
Elon Musk has continuously kept people updated on the future of twitter through his own account. On Nov. 9 Elon tweeted: "Please note that Twitter will do lots of dumb things in the coming months. We will keep what works and change what doesn't." 
Musk's ambition for the future of Twitter is apparent. He has said multiple times that "Twitter needs to become by far the most accurate source of information about the world."
Much of Musk's plans for Twitter in the future are still yet to be shared but he has described it as a platform with "incredible potential."