Taylor Swift fans frustrated with ticket sales
Most failed to get presale tickets, general sale canceled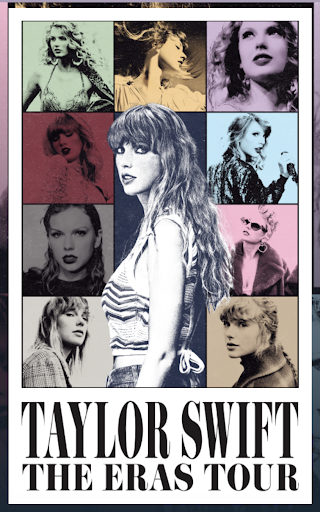 When Swifties got the email this week from Ticketmaster to sign up for the chance to buy presale tickets for Taylor Swift's Eras Tour, they rushed to sign up. But only a select few got lucky. 
At 10 a.m. Tuesday morning, the Swifties' worst fear had come true. The website to buy pre-sale tickets malfunctioned due to a "historically unprecedented demand." 
Swifties were doing anything to get their hands on the tickets; many were on their computers all day refreshing the website, and other's made themselves vulnerable to ticket scams. 
By 7th period junior Alex McCann was sweating. Her phone was at just 4% and she still didn't have tickets, despite waiting in virtual line for four hours. For most of the day, there were 2,000+ people in front of her in the queue. However, by 8th period, she secured five  tickets to the concert on June 3.
Junior Annie Davis (an ultimate Swiftie) was not so lucky.  Like McCann, she was anxiously waiting during her 3rd-period class for the 10 a.m mark. All day during the event, her screen said there were 2000+ people in front of her. 
Finally, she found herself at the front of the line. Yet, every time she clicked on a seat it looked to be unavailable. Like many disappointed fans, Davis was hoping for a second chance Friday when the general admission tickets were set to go on sale.
However, Ticketmaster announced late Thursday that the sale has been canceled.
"I was really looking forward to getting the tickets, so when my mom broke the news, we didn't get them I was really disappointed," said sophomore Raina Vora. 
Even non-swifties like English teacher Mrs. Van Skyock got caught up in the excitement of the new Era Tour, "It was a stressful process, but five hours later we secured the bag. My goal was to treat my three daughters to a good Christmas gift."
Super fans now live in fear that they may not get their hands on tickets today when tickets go on sale to the general public. 
"I thought I was finally going to see Taylor Swift after being a Swiftie for years," said freshman Cece Gordon. "But when my mom was on the website for pre-sale it glitched, and she couldn't get the tickets."
Swift hasn't gone on tour since she released the "Reputation" album in 2018. Swift planned to hit the road again for her seventh album, "Lover," but had to cancel all shows due to COVID. 
She will perform at Soldier Field June 2-4.  This is her first tour in five years where she will be performing her top rated songs from all her past albums: Taylor Swift, Fearless, Folklore, etc.