Lake Forest High School hosts annual Veterans Day Program
To honor those who have served, LFHS hosted a Veterans Day program Friday. The event was co-hosted with the Lake Forest American Legion Post 264.
The event's emcees were seniors Janel Sharman and Tom Foley. Foley, coming from the perspective of a participant in Scouts BSA, said the event was unique and a special opportunity to honor those who do so much for our country. 
"Being an emcee was important to me because through Scouts BSA I know a lot of those veterans through Post 264," said Foley. "People like Jim Holmes are people I look up to and have helped me along my scouting journey."
The National Anthem and America the Beautiful were both performed by senior Jack Taylor, who was accompanied by the LFHS band, led by Mrs. Janene Kessler. The band played opening music as well as an Armed Forces Salute. 
The first guest speaker was Captain Jim Hawkins who retired from the United States Navy and is the American Legion Post Commander. He touched on what being in the military meant to him and what it means to serve. 
LFHS hosted a project for students called "What Veterans Day Means to Me." Two students Sydney Kirages and Gabrielle Burke were chosen to present their projects that showed why they believe Veterans Day to be so important. They were awarded their certificates by Mr. Jim Holmes.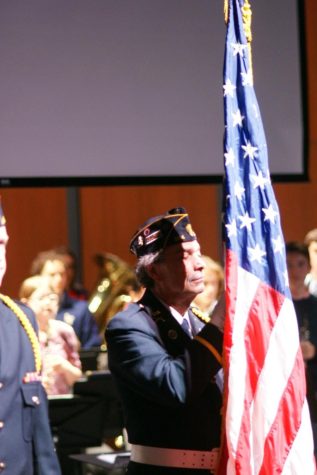 Second place winner Gabrielle Burke painted a picture she felt recognized "the strength and selflessness of the women and men who tirelessly fought for this beautiful land." First place winner Sydney Kirages created a video with a voice over expressing her passionate feelings towards Veterans Day. 
The local veteran of the year was also recognized at the event. This year, the award went to United States Navy Dental Core Officer Cornelius Lynch. 
Dr. Patrick Sassen ended the ceremony by reading an emotional email that was sent to Principal Erin Lenart from last year's local veteran of the year Eric Farr. He shared a story with her about a friend of his in the military that passed away during active duty. He wanted his story to be told but felt it was too emotional for him to share aloud. 
"I was so impressed with Eric when I met him last year, so when he sent me the email, I really believed what he wanted to share, and just couldn't, should be shared with our community," Principal Lenart said. "We can never take for granted the sacrifices that have been made."
To close, "Taps" was played by buglers Issac Poulton and Ike VanderVelde.