Rhinoceros Stomps into the Little Theater this Week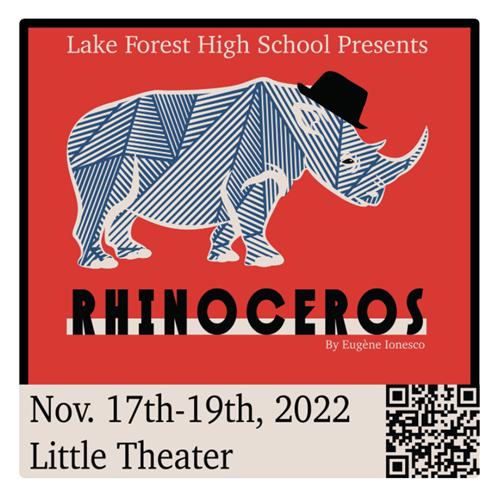 The Freshman-Sophomore play Rhinoceros is set to open this week in the Little Theater. Written by Eugène Ionesco and directed by Mr. John Wanninger, Rhinoceros tells the story of a small French town where one by one the residents turn into rhinoceroses. Bérenger watches her town transform into giant creatures as she wrestles with her paranoia and identity. Rhinoceros is an absurd, relevant, and engaging story that takes the audience on a chaotic twister of giant animals and emotional rollercoasters.
A huge amount of hard work has gone into this play, both on and offstage.The freshman-sophomore plays have never shied away from intense stories, and this year is no different. The challenge of turning the Little Theater into a realistic French town has been no match for the LFHS Tech Crew. Led by Mr. Corey Holmer and Mrs. Sara Dreiling, the team worked to make every behind-the-scenes effect as smooth and gorgeous as possible. From projections to sound, the audience will no doubt be transported to the absurd French town.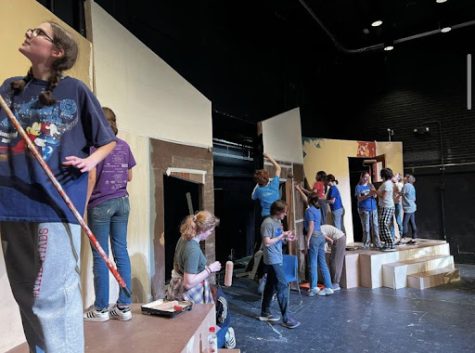 On stage, the actors never backed down from complicated text or long nights. One of the student directors, junior Ryder Gamrath, said that his favorite part was "helping the actors interpret the script and practice lines." Gamrath, along with his fellow student directors, worked hard to assist the freshmen and sophomores in bringing this show to life. 
Sophomore Jessica Taylor, in the lead role of Bérenger, shares her time in the rehearsal process.
"I love how crazy everything is, and getting to practice all the crazy things that you would see in the show," she said. "You'll leave having had fun, and you will have learned a valuable lesson."
Performances are Thursday and Friday at 7:00pm, and Saturday at 1:00 and 7:00pm in the Little Theater. Tickets can be found here. You won't want to miss Rhinoceros.