The Bears may move to the suburbs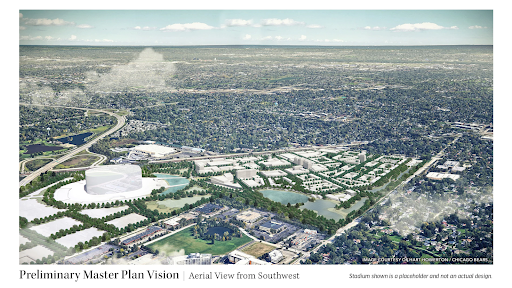 After threatening to leave for years years, the Chicago Bears appear closer than ever to be moving to Arlington Heights.
With the permanent closing of Arlington Heights' beloved and historic thoroughbred race course established in 1927, the Bear's management signed an agreement for the 326 acre lot with a value of $197 million dollars in September 2021. This project, if executed, would be the largest developmental project in the history of our state. 
The new site is not only meant for the Bears; it will also serve as a multi-purpose entertainment district with the addition of a commercial and residential district. The area is projected to include offices, restaurants, and recreational areas which will substantially increase economic activity in Cook County. This stadium would be capable of hosting multiple global events such as the College Football Playoffs, the Final Four, and even the Super Bowl. 
When finished, the area would provide more than 48,000 new temporary job positions and 10,000 long term job opportunities with an overall economic impact of $9.4 billion for the Chicagoland area. Not to mention, the generation of $16 million in annual tax revenue and property taxes for the community of Arlington Heights. The Chicago Bears have stated that there would be no public assistance requested through an increase of property taxes for Arlington Heights and the surrounding communities.
With the recent approval by the Village of Arlington Heights board of trustees for the pre-developmental plan proposed by the Chicago Bears, architecture company Hawk Howerton has released their document outlining the design of the area. In that document, the company has planned for green areas and water areas similar to the green space of Lincoln Park . However, the design of the stadium remains unsolidified. 
With a transit centered plan, the Bears will have the area more accessible to the greater Chicagoland area. A problem many have expressed with the current Soldier Field is the traffic congestion and inaccessibility with a small parking lot and city traffic. Therefore, many believe that the move to Arlington Heights will address that concern. 
"I believe that most Bear's fans live in the suburbs, consequently the move to Arlington Heights looks really good for the team and it will definitely be successful," senior Robert Montanez said.
However, some Chicago residents say Soldier Field is the only home for the Chicago Bears and the move to Arlington Heights would greatly decrease inaccessibility to see their own home team. 
 "Living in Chicago, I've always gone to games frequently and I believe if the Bears move to Arlington Heights then Chicago residents are going to be required to drive if they want to avoid whatever extensive and painful public transportation option there is," said Whitney Young High School senior Aidan Northcutt.