100-Word Stories: Why Do I Teach?
Everyone has a story to tell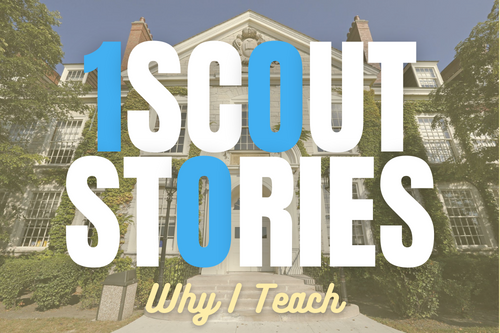 The Forest Scout is kicking off a new series: 100-Word Stories. Over the course of the rest of the year, we will share 100  funny, poignant, memorable stories from the students, faculty, and staff of LFHS. Each story will be exactly 100 words.
This week, we asked teachers to describe the moment when they knew teaching was right for them.

Frank Lesniak
Before Frank Lesniak became a dean, he worked at our school in a program that helped kids who were struggling emotionally. He worked very closely with a student who could barely finish basic tasks like changing his clothes. During that student's junior year, Lesniak constantly encouraged him to join the football team. His senior year came around and, sure enough, he joined the team. This ended up changing his life around and he even went to college to play football. At graduation, Lesniak won the distinguished educator award and the student gave a speech saying Lesniak helped save his life. (Written by Zoe Frentzas)

David Hain
There's no mistaking that Mr. Hain loves his job. He loves helping students with academic problems. He loves helping them figure out the adults they want to become. Soon after college, he figured that out for himself when he spent a summer teaching at a writing workshop for high school students. He enjoyed it so much that he dedicated the next 10 years of his life doing it. Since then, he has earned two masters degrees, taught in a variety of institutions, and established his career at LFHS. It all started when he started helping kids to  express themselves through writing. (Written by Lily Pedian)

Laura Flangel
Mrs. Flangel used to hate history class. In fact, she hated it so much she graduated high school with only two history credits. However, her eyes almost popped out of their sockets when she entered college. Professor Rosswurm started her journey as a teacher. He was a history professor who told stories that made history come alive. He hosted meaningful discussions and debates rather than just asking students to memorize facts and dates.   She knew she'd teach the same way. Today, she aspires to bring liveliness and joy back into the history classroom. Just like her professor did years ago. (Written by Mariella Haubner)

Steve Dunn
Mr. Dunn was influenced by his history-buff dad and French teacher mom, but social studies became especially personal when he studied in Jerusalem his sophomore year of college. It was an eye-opening experience. He studied at Tantur Ecumenical Institute, located on a hilltop between Bethlehem and Jerusalem; below was an Israeli military checkpoint where Palestinians traveled through before they were allowed in Jerusalem. Mr. Dunn recalls looking down a hill from a Crusader-era tower, contemplating the realities of the people below. That moment, he says, "awakened [him] to the reality that studying history was more than just an academic exercise." (Written by Alia Attar)
Jennifer Van Skyock
Mrs. Jennifer Van Skyock prides herself in learning every student's name within the first week of school. So when a student told her he went by Billy and nobody in the class batted an eye, she quickly learned his name. However, when parent-teacher conferences rolled around and Mrs. V started talking about Billy to his parents, they  interrupted asking, "Who's Billy?" After a few awkward minutes of discussion, Mrs. V smiled when she learned William never goes by Billy; her entire class was in on this prank. Funny moments like these are why she loves teaching at LFHS. (Written by Luca Ferraioli)
Mary Beth Nawor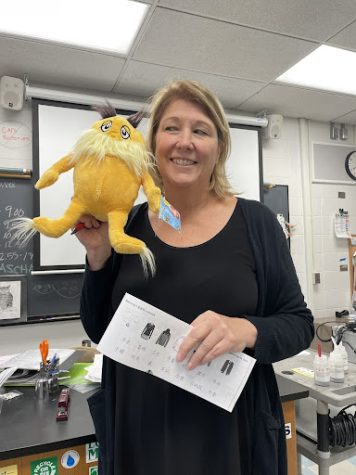 It may sound cliche, but  Environmental Science teacher Mrs. Mary Beth Nawor says her job gives her hope for the future of the planet. She is inspired by young people who bring ideas, energy, and the desire to make the world a better place. She says her generation did a lot of to damage the environment, like burning excessive fossil fuels and deforestation. The younger generation will need to correct some of these mistakes by using renewable energy, preserving wild spaces, and working against climate change. Students bring enthusiasm, fun, and creativity, and who doesn't need a daily dose of those? (Written by Bianca Storino)