Girls Varsity Swim Captains head to State
The Girls Varsity Swim Team placed third overall in Sectionals at Libertyville High School ending their season with a bang. For two swimmers, their season is not quite over just yet. Senior Captains Emma Darling and Paige Tomek earned a spot at State and will be competing this weekend. 
Emma Darling made her mark in the pool on Saturday when she swam 56.65 seconds in the 100-yard backstroke, not only winning first place but breaking a school record. 
"Emma swimming the 100-yard backstroke is always the most exciting event to watch at a meet. The whole team is always up and cheering for Emma, in awe of her talent. I can't wait to see what she does this weekend at State," Captain Ryleigh Tanksley said. 
Paige Tomek placed first in the 200-yard freestyle, qualifying for State.
"Paige qualifying at the beginning of the meet was not only encouraging for the rest of us, but it also created such a positive environment on deck that lasted for the remainder of the meet, where the whole team prioritized cheering behind the bulkhead and celebrating every swim," Darling said.  
Tomek said she is excited to have made it this far in the competition and feels grateful for her teammates' support.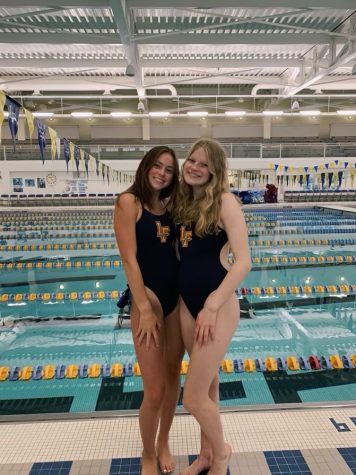 "Being a part of the team this year was amazing. The girls all worked so hard and were supportive throughout the season. I will never forget the moments screaming and crying with my co-captains as we celebrated making State," Tomek said.
Darling and Tomek have been working both in and out of the high school season to achieve these accomplishments and final opportunities for their last year on the team. 
The State meet will be held at FMC Natatorium in Westmont, Illinois. Prelims will start at 3:30 p.m. on Friday. General admission tickets can be found here. To watch Paige and Emma at State, you need to purchase the $30 combo swim ticket.