A small yet strong ensemble: LFHS Band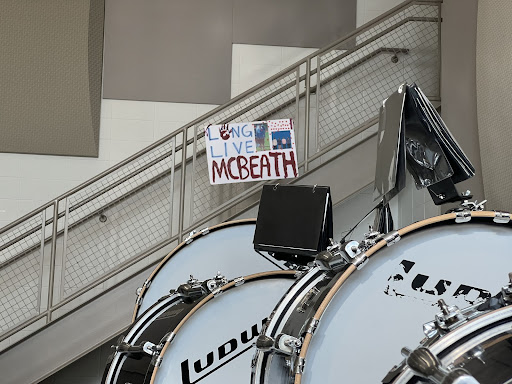 With the news of music department aid and percussion teacher Mr. McBeath having left the district, along with the resulting impacts of quarantine, a lot of the band students, particularly the student section leaders, felt a lot more weight on them in terms of responsibility this past school year. 
Natalee Stepaniants, a senior band student of eight years and clarinet section leader, said that the "drum major and center snare have always helped with housekeeping responsibilities, but now that [Mr.] McBeath is gone, they have taken more accountability" for the general upkeep of the band and its percussion section. 
Niki Singh, another senior band student of eight years, and saxophone section leader, had noticed "a little shift of responsibility among [the] percussion section," and Koen Brown, trumpet section leader and avid band presence, agreed, as he said "a lot of other students stepped up in helping Mrs. Kessler when she needed it."
Not only were the student leaders stepping up to fulfill their sections' needs, but the ensemble as whole had experienced a shift among the underclassmen and among future members of the band. 
Drum major Will Boyle, aware of these challenges; he noted, "It definitely put a lot more responsibility onto us student leaders, because when [Mr. McBeath] was there…he was able to take on another leadership role," and added that "there's a little bit [more stress on the percussion leaders]." However, he also stated that center snare Adler Hermann is "good at what he does, and the other percussionists look up to him," so although "there's a little bit that they are missing, just another authority figure, another person to look to," he noticed that "they were doing well even without Mr. McBeath."
Boyle also touched on the change at the football games, and how "having the other adult made it easier, especially on Mrs. Kessler," and that "there is a lot more of an expectation on [the student leaders] to help make sure everybody's accounted for, to make sure we're not missing anybody, especially when we're going to and from the football games, because we don't want to leave anyone behind."
Furthermore, with the Covid pandemic, there has been a trend of decreased participation among the music department, which added to the stress put on the shoulders of student leaders. Stepaniants mentioned that "last year, and the year before that, our senior class was very prominent in the band… they upheld the entire program" and now that there are "not a lot of [upperclassmen]… interest is waning."
Band director Mrs. Janene Kessler also mentioned that Covid was "not good" for the band, not only regarding numbers, but experience. "We are dependent on students getting started in the middle schools and having a strong experience there, [but] they just didn't have that opportunity because school was online," she said. "At some of the schools, they didn't have any band at all, or what they did have was just meeting online with a zoom call which is not a good way to start learning an instrument."
Singh agreed, saying that it's a major challenge that the incoming freshmen "lost a lot of playing and practice time during covid," and therefore "they are not really where they need to be in terms of technique and tone."
Kessler also mentioned that even though "the numbers at the middle schools are really down, which means that [the high school band's] numbers will be a little lower than what [they're] accustomed [to]," but that it's only helped her notice that "the students we do have are really strong, and they're doing really well…so there's not any concern from that standpoint."
Boyle agreed with this, noting that "the people who stayed in band through Covid, and in the music department as a whole, are usually some of the more dedicated people." Similarly, Stepaniants and Brown said "the people that continued band through Covid are the people that are very passionate," and "want to get better and learn," respectively. 
Overall, the band, despite their size, has always been an important factor of LFHS Scout spirit. Whether that be at school football games, freshmen orientation, or other school events, these dedicated students put forth the time and effort to display their passion for music and support for their community. As Stepaniants said, "Every event at school… it's always the band" that helps bring up the energy. 
"Band puts a lot of dedication into school spirit," says Singh, "[we're] always there for any school event…we even come before school for freshmen orientation."
Brown added to this, saying that "If [the band] wasn't there, you would notice," and that although "people sort of overlook" them, they "add an important factor to the football games and [to] other school events." 
While the drastic change of leadership and overall participation could take a toll on LFHS spirit, Boyle remains hopeful for the band, noting that "In the next two years or so, as the middle schools are less affected by Covid, and they can get more people involved in their music programs, that'll end up with an increase in involvement."
Singh, in regard to avocation for the band, mentioned, "there is something for everyone…you can do anything, and Mrs. Kessler is so open to creating a space where people can express themselves in any genre of music."
"I think encouraging people to try it out and to have a little fun with it can go a long way," Boyle said.