A dying language lives on at LFHS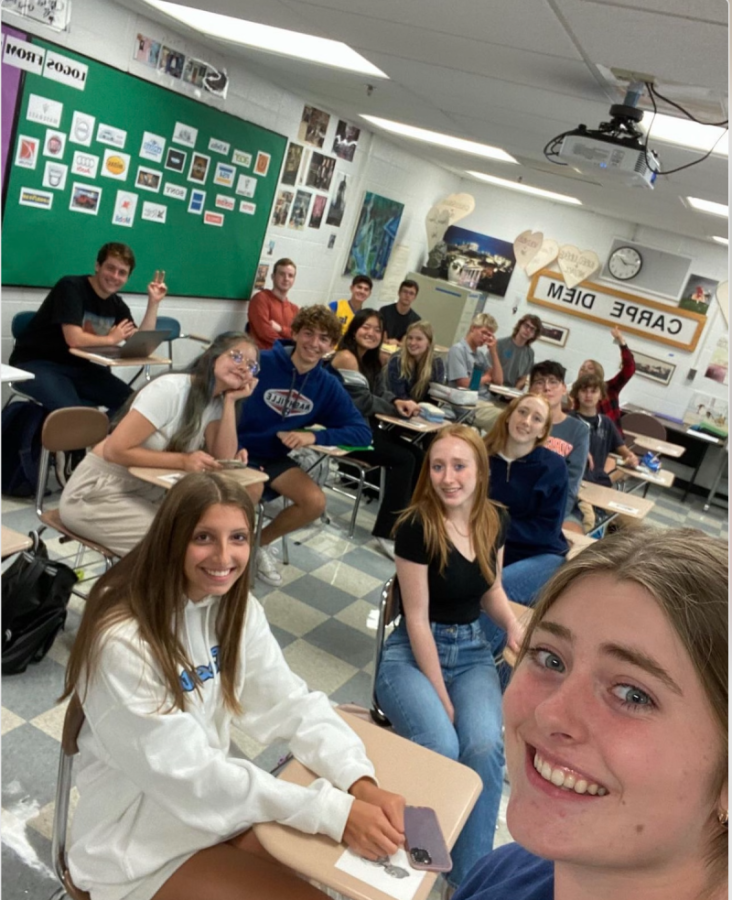 Mrs. Ariel Landvick won the Farrand Baker Illinois Latin Teacher of the Year award last month, which again brought positive attention to the long-standing program here.
Despite the success, the program is facing the same problems seen in Latin programs across the state and country.
In recent years, schools in Illinois have been cutting their Latin programs, including Vernon Hills and Libertyville high schools. While Landvick acknowledges that this decline is partially due to COVID and the Illinois population going down, there were issues even before these uncontrollable factors came into play.
Landvick says some elementary schools are replacing Latin with Mandarin and Spanish. School of St. Mary, which feeds into LFHS, cut its program entirely when its Latin teacher left. This has impacted the number of students taking Latin at the high school.
"We used to have a guaranteed influx of 10, 15, sometimes 18 kids into Latin 2, and now they're not coming," she said.
Landvick has also noticed a decrease in Latin students as schools put more emphasis on grades and performance rather than students' interests. 
"It became 'Well, I don't know if I want to go into Latin because it's not honors,'" she said. "The college and the GPA and the honors were driving where they went, not necessarily personal interest."
While Latin 1 does not offer an honors level, all other Latin classes do. Moreover, Landvick and her students have noticed many academic benefits to learning the language.
"For kids here … you don't have benefits just in my class, you see it in your whole life. It's more of an interdisciplinary subject where, yes, you will get language, but immediately you will also get English, you will also get history, you will also get art. You're going to get sort of a more broad knowledge and way of looking at things, and you will see the benefits right away in other places," Landvick said.
Senior AP Latin student John Turelli says he has noticed the advantages that Latin gives him. 
"It's helped me in English classes with historical and mythological allusions," he said. "Practically every rhetorical strategy or literary device that we talk about in English classes, I've already learned in Latin."
Senior and former Latin student Will Boyle has also seen the effects of Latin on his academics.
"It has more of a historical aspect to it, and it can supplement people's learning of English. I definitely think the people who do learn Latin are getting such a benefit out of it, and even if the programs are small, they are beneficial," he said.
Boyle has also observed the importance of Latin in everyday life. 
"Classical culture has such an impact on modern society, and so much harkens back to that, whether it's the Renaissance, Neoclassical architecture, or our system of government," Boyle said. "So much of the Western world all harkens back to Ancient Greece and Ancient Rome, and Latin class has helped fit modern society into a broader cultural context."
Turelli also considers Latin as an aid to his personal growth.
"There's this saying, 'Fiction is the lie that reveals the truth,' and because Latin is so old and so far back, it's distant enough to me where it can reveal some really complex human emotions," he said. "It's helped me value the importance of artistry and creativity in literature. It's helped me understand the importance of imagination, and mythology, in particular, has helped me understand the importance of fiction and storytelling, and humor, even."
Turelli also describes Latin as being "an escape" from the more stressful parts of life, something Landvick has noticed to be true for many students.
"There's still always going to be kids that like mythology, there's still always going to be kids that like history, and there's still always going to be kids who don't do modern language because the thought of having to do interpersonal [education] is so frightening to them," she said.
AP Latin student Elizabeth Kuehnle says she respects the classroom culture created in Latin.
"Without Latin, I would have missed out on so many friends, mentors, epiphanies, and so much more over these past ten years," she said.
Despite the challenges, Landvick says she isn't too concerned about the immediate future. 
"I am hopeful right now because we do have a sizable Latin 1, I have two strong sections, and eighth grade is huge. So if you put eighth grade and mine together, we're going to be close to 80 students coming in. Now, that used to be the norm for us, it used to be that we would have 80-90 kids in the whole Latin 2, 2H together," she said. "It's interesting because we've been waiting for these kids to come since they were in fourth grade. In fourth going into fifth, there were as many or more kids that signed up for Latin than signed up for Spanish. It has never happened before, this is it, we've been waiting for them for all of these years, and they are finally coming."
She also acknowledges that LFHS has always had one of the strongest Latin curriculums in the area.
"I would say overall, Lake Forest, for all 32 years I've been here, has always been a strong backer of Latin… they understand the value of it," Landvick said. "I think Latin will always have a presence here, I'm never worried about Latin dying out here." Though she's not sure it's going to be the "powerhouse" it's been in previous years. 
Students encourage others to take Latin not only for the curriculum but also for enjoyment. Turelli tells students to "Take it, and put the work in, but have as much fun as you can."