Voting in the Midterm Elections is essential: How To Get Involved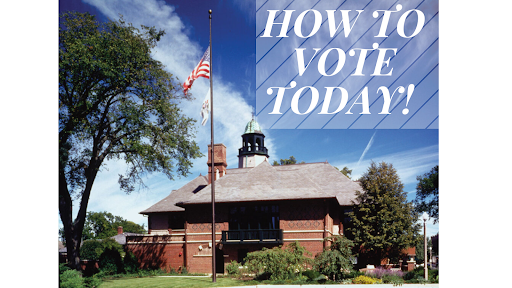 This past fall during students' lunch periods, The League of Women voters from Lake Bluff and Lake Forest came to Lake Forest High School to give students the chance to register to vote for the upcoming Midterm elections. Despite the seniors who are eligible to vote, there appeared to be little interest in registering. It is possible students weren't aware that they could register to vote or did not bring the proper paperwork to register. Or maybe it is because many individuals didn't care to vote, putting it off until later, telling themselves that they will eventually vote. 
Feelings of confusion and hesitancy towards voting throughout young individuals are more common than you think. Wanting to vote, and actually voting are two very different things. As a young generation, we need to utilize our right to vote. Not only is voting a great opportunity to practice civic engagement, but voting also allows for a chance for meaningful change to actually be implemented locally, and even throughout our country.
However, there are still many LFHS students who are able and eager to vote in the upcoming midterm elections. Bev Adamczyk, the Co-President of The League of Women voters from Lake Bluff and Lake Forest, says how she was "delighted to have the opportunity to come to the High School to register voters. We thank the high school for opening their doors. And we always would love more involvement, especially from students, in getting the word out to come prepared to register to vote." In addition, Adamczyk says that she chose to join the League of Women voters because she not only wanted to be involved in her community, but she also " understands the importance of the role that the Government plays in all of our lives." Adamczyk also says that the League appealed to her because "the League was a non-partisan organization that promoted everyone's participation in the political process." 
Senior Alia Attar says that although she is not of voting age yet, she feels that voting is "both a responsibility and a privilege we have as young Americans, something we should not take advantage of." In addition, Attar feels that voting this year is especially important due to the recent events that have unfolded in our community. Attar also says, "I don't think voting should be seen as a solution to our Nation's problems. We have to take further action to see the change we want in practice." 
A survey from the PEW Research center from 2016 asking individuals why they did not vote in the presidential election showed that 15% of individuals that didn't vote didn't vote because they felt they were too busy and that voting conflicted with work or school. 
To make it easier for seniors who have not had the time to research candidates or have not had the time to register to vote, the information you may need to know about voting for the Midterm elections in Illinois are below. 
Why voting this year is important: 
Democrats are fighting to retain the majority in the U.S. House and Senate, while Republicans are fighting to gain majority in the U.S. House and Senate. In addition, Amendment Number 1 will be on the Illinois ballot this year, asking voters if the proposed amendment should be added or not. Labor unions and many individuals who are supporting The Workers' Rights Amendment are hoping to expand working conditions that are not currently covered by state law. Ilsos.gov explains how if the amendment is approved, "The new section will guarantee workers the fundamental right to organize and to bargain collectively and to negotiate safety conditions, wages, hours, working conditions, and economic welfare." 
The election will be filling 35 seats in the House of Representatives and 35 of the 100 seats in the Senate, as well as several local positions. A sample of the Lake County ballot can be found here, to provide a sense of the options. 
A table showing the historical party control in Illinois from 1992-2022. Source: ballotpedia.org

Here are the easiest and most accessible ways to vote in Lake Forest or Lake Bluff: 
You can either vote by mail, early at an early voting location, or on election day. To vote by mail you must request a ballot by Nov. 3, and can either send it through mail or bring it to a drop box location. Voting early can take place at any of the locations listed here. If you would like to vote early and register at the same time, you can go to Lake Forest City hall between 9 a.m. and 4 p.m.on Nov. 5 or 6. To vote on election day you must go to the assigned sight based on your address. You can log in this website to find your specific voting location. This website also provides information on each of the candidates.