Learning more about Profe Yavetsky
One Spanish teacher known as 'Profe' by his students has taught for 33 years, 25 of which have been at LFHS.
What do you like most about teaching? 
Teaching is a very inspirational profession I think, but it's also a very difficult one. Some people who aren't teachers often don't realize how difficult it is. What I like the most is the way my students grow. When I get a class in August and see what my students become by June of the next year, it is amazing to see their transformation. 
How many pets do you have and which is your favorite? 
I have 2 cats. They're both girls, one is Phoebe and the other is Sophie. We adopted Phoebe 9 years ago, and I guess I'm a bit more attached to Phoebe since we just got Sophie. We just adopted her from a neighbor who was taken to a nursing home and couldn't take care of Sophie anymore. Phoebe and Sophie don't get along, but I hope it will work out with time.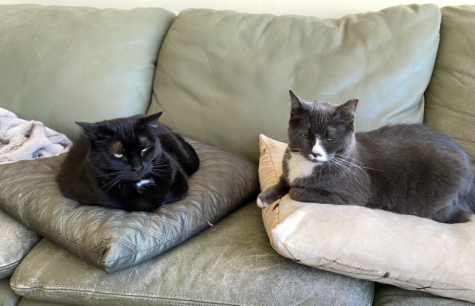 Where did you get the name Phoebe from? 
My wife and I were thinking about Phoebe from "Friends" who is one of the main characters. Phoebe came to mind because she was singing her song "Smelly Cat". Of course, Phoebe is not smelly, it was just a correlation to the song. 
Where do you see yourself in ten years? 
I see myself in a nursing home in a wheelchair. Just kidding! In ten years I see myself in good spirits and health, enjoying my free time, playing music, traveling, and working out. Maybe somewhere in a different place with a warmer climate, like Spain or Portugal. I don't know, I haven't completely decided yet. A lot of events have taken place in the world since I decided to retire. It's going to be an adventure! 
What has been one of your biggest accomplishments in life?
I think my biggest accomplishment in life was my move to the United States. I moved to the United States when I was 27 years old in 1990. I had 300 dollars in my pocket, one suitcase, and a guitar. 
What's the biggest lesson you've learned from being a teacher here at LFHS?
That's an interesting question because usually, teachers are the ones that are giving lessons to students. I learned how to be strict, rigorous, and compassionate at the same time. There's a middle ground between being rigorous and nice, forgiving, and compassionate. I think by the end of my teaching career, I've found that middle ground, maybe not for all students, but for most of them.