The Life of a Two-Sport Athlete Brings Pain and Joy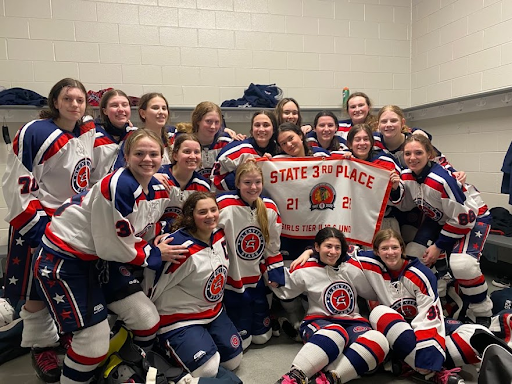 The long hours, the injuries, the fatigue …. I've wanted to quit too many times to count.
But without sports and my teammates, I would not be the person I am today. They have seen the good and the bad, the laughs and the tears, the anger and happiness. 
Balancing hockey and swimming means early mornings and late nights. Sometimes I barely have time to go home and eat something small before practice or getting assignments done. 
Of course, the commitment sometimes hurt my grades. As school and sports collide, it can become overwhelming very quickly.  I struggle to finish homework on time and sometimes have next to no time to study.
People sometimes suggest I quit one or the other. But they don't know what happens in those indescribable moments, the moments that keep me coming back.
They don't know the feeling of sitting on that bench waiting for your next shift in a game or waiting for the whistle to blow so you can dive into the cold water. They don't know the feel of your heart beating out of your chest as you close on the finish. 
They don't know what it feels like  when you stand up on the block and see your teammates at the other end, cheering you on. Or when you go for your flip turn and push off the wall and you see your teammates through the water,  urging you to go faster, motioning their hands towards the other end of the pool. 
They don't know the feeling of the wind through your cage when you are skating hard in a game. They haven't felt the adrenaline that flows through you when your skate first stabs the ice. 
They don't know the feeling you get when you score in a game and everyone comes to give you a hug. Everyone smiling, telling you good job, before you go head back to the bench for a high five from the coach and other players. 
These are the moments that help me push through the tough practices and the meets where I don't place. The events where I try so hard to  beat the time from my last race but finish seconds off. The times I want to quit because I "failed." 
But that's the thing: I don't quit. I fight. I push through. That's the inner fight of an athlete.
We're a Family
It might be cliché but a team is like a second family.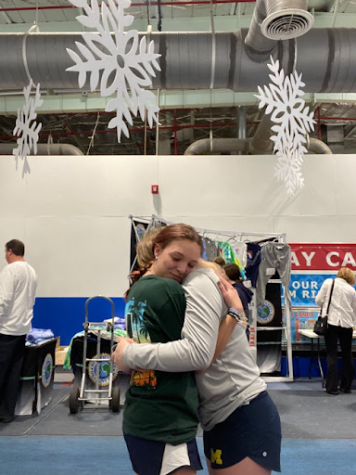 Walking into the locker room with all the girls sitting in their spots and the speaker blasting our music is always the best after a tough game or after doing the 60-second drill five times during practice. We never hear the coaches knocking on the door, but they always come in and share that moment with us.
The moments – win or lose – keep me coming back, too.
 It was the State Tournament and we were ready to beat our rivals: The Northshore Warhawks. 
When we walked past them, we definitely got some looks. But all of a sudden I felt arms wrap around me.
I turned around and saw Claire, a friend I met when I first joined Glenview stars when I was 10.
We became best friends when we played together and have remained friends to this day. We are enemies on the ice. Sisters off it. 
By the end of the second period it was 3-2.We kept the lead throughout most of the third period when in the last three seconds the other team scored, tying the game. I immediately felt my heart drop and tears come to my eyes. I looked over at my teammate, who knew just what to say to get us back in spirits.
"Don't stay down. Let's stay up and do what we came here to do. Let's play our game and win this thing." 
It took five overtime periods but we delivered. Everyone screamed as they skated to the net for a whole team hug. It was one of the best feelings of my life.
Moments of Doubt
Even with all those moments of celebration, there are still times when I want to quit,  moments of loss and pain. Moments that almost take the choice away from you.
Late in the third period of our semifinal game in St. Louis, I was pushed from behind and hit the boards. I felt a sharp, unbearable pain in my left ankle. I cried like I never have before. I worried that I would never  skate and play hockey again. 
I could see my dad looking at me through the glass.  The look on his face made me realize that maybe it was really bad. My coach came over asking me what happened, trying to make me laugh and distract me from the pain to calm me down. 
I was on the ice for at least five minutes before my coach lifted me up, and my teammates grabbed both of my arms to put them over their shoulders so they could skate me to the bench. 
My dad drove me to urgent care and on the way he asked why I was crying. I  asked "What if I never play again?"  He told me I would be ok, but I wasn't sure. What if I couldn't swim either? No skating?! No diving and racing?!
Who would I be without the pool and ice?
I had a high ankle sprain, two sprained lateral ligaments and a fractured fibula.  I beat myself up for getting hurt and now having to sit on the bench with a boot for the rest of the season. I wanted to be back on the ice so bad, and I thought it was over. 
But I didn't quit.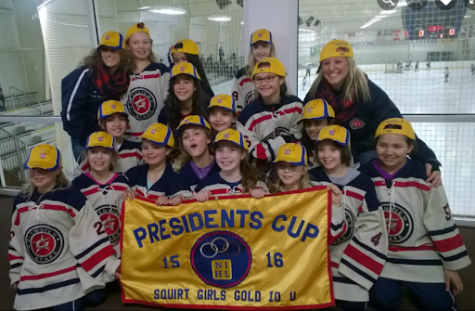 I started to do physical therapy with my old hockey coach. I gave her a hug and asked if I could skate again. She told me I could skate right then and there if I wanted to. 
Testing my left for the first time again was terrifying. I wanted to quit, but I couldn't lose my second family and all the emotions that come with the game. 
People are going to make comments about you or someone else that is just how the world is. Girls are going to comment about your gameplay and say things to you on the ice. For example players have told me I sucked or my gameplay sucks, that I shouldn't be playing. As much as it hurt to hear that, I used that hurt and anger to my advantage and became a better player. 
In the end, no one can take away the games I love. It's not their choice; it's mine, and if I want to play, I was going to play.
No one can tell me otherwise, and I live by that. Luckily, my family has my back.