Block Day Schedule: Should LFHS Go Back to the Way Things Were?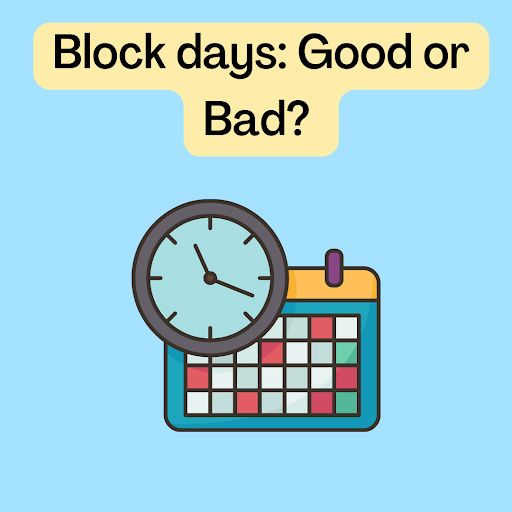 During the 2020-2021 school year, LFHS implemented a schedule that looks much different from what it is currently. This schedule includes "block days" four days out of the week, a day where a student only has four of their classes; each class lasts for an hour and twenty minutes. 
Currently, Lake Forest goes by the "Blue-Gold" schedule. On Mondays, Tuesdays, and Fridays, students have all 8 periods, each for 45 minutes, with Wednesdays and Thursdays being block days.
For current juniors and seniors, this "covid" schedule was used early in their high-school careers, while current sophomores and freshmen are only familiar with the current Blue-Gold day schedule. 
The phenomenon of the block day is fairly new. During the 2017-2018 school year, the block day was introduced to the school for the first time. This transition of schedules, from the Covid schedule to the current, has induced opinions among the student body as well as staff as to which schedule is best fit for LFHS.
One thing that nearly everyone enjoys about the block days is the extra time devoted in the morning. Block days start at 9:00 compared to 8:15, 45 minutes of extra sleep for students, and extra prep time for teachers. 
"It was nice to be able to have a good hour and a half in the morning where we had extra prep time and we didn't jump in right at 8:15," said science teacher Mrs. Amy Rambo, in regards to the Covid schedule.  
Extra sleep is highly beneficial to students' alertness in school, and was certainly a positive benefit from the Covid-schedule. 
Junior Amani Yousuf says that sleep is "really important for success," and that the covid-schedule allowed her to feel more rested and productive during the day. 
Teachers and students alike acknowledge the extra time allotted to complete work.
"I like block days here because it's an 80 minute period of time where kids get settled and they can accomplish something," said study hall advisor Mrs. Nelson.
Many wonder if 80 minutes is simply too long for kids to sit down and truly focus. However, study hall advisor Mrs. Neal actually observes an increase in productivity among students during the block days.
"For kids, a block day is a long time to sit in a study hall to do their work, but they seem to do it…they can take a break whenever they want but most of the time they actually don't," Neal said.
One of the most overlooked, yet key benefits of the Covid block day schedule is the extra day(s) to complete homework. When a student has 8 classes worth of homework to finish before the next school day, students can find it to be overwhelming. Yet when the week is composed of mostly block days, kids only have to focus on homework for four of their classes each night, and have an extra day built in to complete these assignments.
" I feel like I get so much homework with the schedule with all the classes," said junior Isabelle Chong. "On block days I get an extra day to work on it for the next class."
Other students tend to like block days more because they break up the week and provide homework advantages in school life. 
"I like block days more because I have easier classes on one day so it's a nice break," said junior Sarah Constantine.
Many teachers agree that the Covid-schedule allowed for a system that was more balanced in terms of workload.
"During the covid schedule, I thought it got you in a rhythm and groove where you were heavy on a day, light on a day, and then you caught up on your Wednesday," said Wellness for Life teacher Mr. Busse.
The block days do not go without difficulties, however. While the later starts and longer lunches are a good opportunity to slow down amongst a week of chaos, instructional time is ultimately lost. 
During the Covid-schedule, around 40 minutes of instructional time a week was lost, certainly putting stress on teachers to get through content at an extremely quick pace. 
"I feel like we need those 3 Scout days," said Rambo. "I can't give students the sufficient content and skill learning that I'm supposed to." 
As to what schedule is best fit for LFHS, there are many different perspectives, and it depends who you ask. However, among a crazy transition of schedules over the years, one thing remains constant: block days provide many benefits to both students and teachers.