A Summer at the Pavillion: Recapping Ravinia's 2022 Season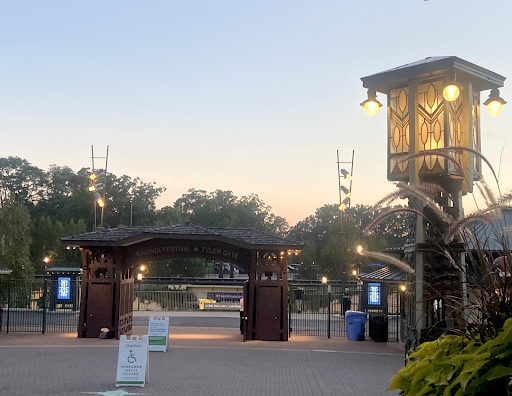 Unlike most high schoolers working at their summer jobs, I spent many nights at work watching endless shows performed throughout Ravinia's 2022 concert season, whether it was Diana Ross or Pitbull taking the stage. 
This summer, I joined one of my best friends as an usher at Ravinia Festival, in hopes to watch more live music, while also making some extra cash. As an usher, I greet patrons and show them to their seats at Ravinia's Pavilion, with the added bonus of seeing my favorite artists live and up close. 
Each year, the festival's lineup features over a hundred musical performances, ranging from a variety of pop, rock, jazz, and classical music. 
The Ravinia festival grounds are a unique setting for community and culture to meet. Unlike most concert venues, seating at Ravinia is split up into two sections: the Pavilion and the lawn. Guests have the choice to watch the show either in the intimate Pavilion stage, only seating about 3,000 people, or picnicking on the vast lawn, where you can share the melodious experience with family and friends.
Out of the many nights I worked (and watched), there were a couple of striking performances that distracted me from my tasks as an usher. These shows had me singing, dancing, and adding many new songs to my repertoire. 
Chicago Symphony Orchestra
The Chicago Symphony Orchestra, or CSO, has been a returning guest at Ravinia since 1936. The symphony begins their residency at the beginning of July, and performs through mid-August, playing melodies varying from Brahms' German Requiem to the scores of Steven Sondheim in West Side Story. The CSO makes Ravinia their home every season, as they end each summer residence in tradition with the Tchaikovsky Spectacular.  
Although symphonies tended to be more relaxing compared to other shows, I was always stunned hearing the talent of a world-class orchestra, and recognizing the music scores which I usually listened to while studying for my next test. 
The CSO doesn't just contribute to the unique culture of Ravinia, but also has introduced initiatives to build connections with the community. As the CSO is essential to the Ravinia district, they have gone beyond the festival to spark outreach within the Highland Park community in recent months.
This year, the CSO was involved in supporting the Highland Park Community July 4th Shooting Response Foundation by dedicating their Pastoral and Alpine Symphony performance to residents in Highland Park. Ravinia welcomed guests for free to create hope and healing through the serenity of the music. 
Additionally, the orchestra and festival also partnered up to create Breaking Barriers, a celebration that highlights women conducting on the podium. Marin Alsop, chief conductor of the CSO recognized the importance of diversity and inclusion in classical music and helped create the program by handing the stage to world-renowned female conductors, such as Laura Jackson and Jeri Lynne Johnson.  
Ziggy Marley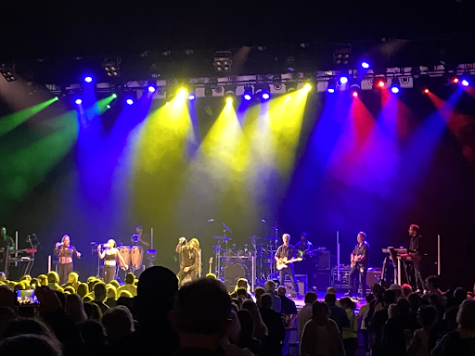 Jamaican singer-songwriter Ziggy Marley is known for his joyful tunes and lyrics that promote peace and social equality, and for being the son of highly influential reggae superstar Bob Marley.
At Ravinia, he paid tribute to Bob Marley and the Wailers by performing the best and most iconic songs from his late father's discography, including: "No Woman No Cry," "Jamming," and "One Love."
Bob Marley's music had always been a staple in my household since I was a child, playing on repeat whether in the car on road trips or in the backyard during a family dinner. Seeing Ziggy Marley gave me a sense of nostalgia that many of the audience members also felt as the Ravinia artist sang with his father's distinct sound and bright presence.
His performance not only evoked comfort as he sang to the audience that "everything's gonna be alright," but also the same sense of spirituality that his father infused in his songs. Marley danced along to the instantly recognizable hits and it was clear that he too felt the harmonious atmosphere.
Ziggy Marley's voice and overall energy was as unifying as his legendary dad's. His performance style that resembled his father's marked the show as one of my favorites. 
Sting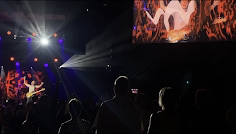 A returning Ravinia artist, Sting, frontman of 80s new-wave band The Police, performed for two nights on the last weekend of
August. As an Englishman in Highland Park, Sting sang his bestselling songs, from The Police's captivating "Every Breath You Take," to the instantly-recognizable "Shape of My Heart." 
Sting's shows were a full production, and he hit all the marks; between his smooth, classic vocals paired with his solid bass playing, Sting also mesmerized the audience with his charisma. Another notable part of Sting's set was his band; they brought the energy as they backed Sting up in the spotlight. Even so, Sting highlighted the show stopping voices of his background singers, making them an integral part of the night. 
Despite Sting's famed persona, he ended the night with the song "Fragile", using the song's message to respond to the tragic Highland Park shooting, and gun violence as a whole. As Sting is known for his prolific lyrics alluding to politics and philosophy, he made sure to express these ideas even outside of the music, contributing to the great sense of community at Ravinia. 
Stevie Nicks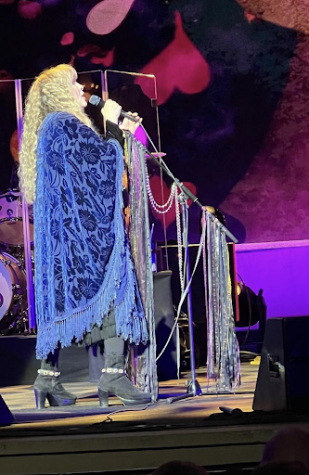 To conclude the summer, Stevie Nicks, the season's headliner, brought her enchanting lyrics and rich, powerful vocals to the Pavilion for two nights on Sep 8 and 10. 
Like many, I had been counting down the days until I saw the two-time Rock & Roll Hall of Fame star sing her best hits, as both a solo artist and member of 70s rock band Fleetwood Mac. I listen to Stevie Nicks almost everyday, as nothing compares to her haunting verses set along an alluring melody. Seeing her live took my love for Nicks to the next level. 
Nicks opened the set with her arguably most famous song, Fleetwood Mac's "Dreams," among the mysterious "Rhiannon," the catchy "Edge of Seventeen," as well as the simply beautiful "Landslide". However, she also covered some of music's most iconic songs: "Free Fallin'" by Tom Petty, and "Rock and Roll" by Led Zeppelin, showing her appreciation for her rock and roll peers. 
Even at 74 years old, the legend still captured the hearts of the audience; Nicks wore her signature velvet shawls, decorated with a fringe trim as she spun across the stage, feeling the mystic music. Though I was working, I still made sure to spin a couple of times along Nicks, as she danced in the heart of Ravinia, only a distance away.  
Nicks brought authenticity to the spotlight, still donning her mysterious yet gracious demeanor. In between sets, she interacted with the crowd, expressing her love for the audience as she had a casual conversation with a fan in front of thousands of people. 
Nicks' performances were truly the most memorable part of my job at Ravinia, and my summer as a whole. 
As an usher, I got to enjoy the tunes and entertainment offered consistently at Ravinia, and am planning on working next summer as many nights as I can so I can catch all of my favorite artists.