Rylie Mills Getting Attention At Notre Dame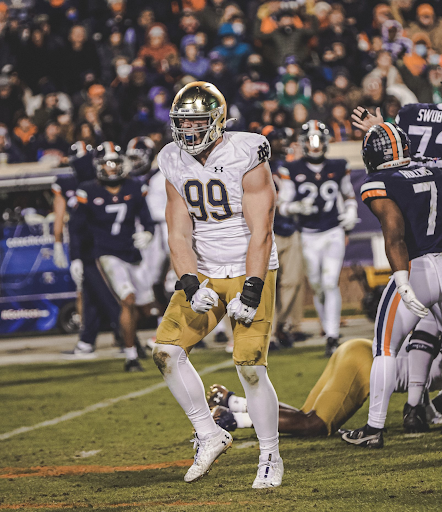 Rylie Mills, the highly-recruited 6'4″, 292lb defensive tackle, is tearing up the gridiron at the University of Notre Dame. 
While on the LFHS football team, Mills had a very impressive sophomore and junior season, but sat out half of his senior season due to an injury. He put up 36 tackles for loss, 58 tackles total and 8 sacks during his high school career, ending it with 14 offers from schools including Rutgers, Ohio State, LSU, Notre Dame, Wisconsin, and Alabama. 
"He was pretty comfortable at Notre Dame. The coaches and overall academics were something that suited him," said Lake Forest Football Head Coach Chuck Spagnoli. 
During his freshman season at Notre Dame in 2020, Mills played in five games, including playing against the top-ranked Alabama. He came out of the season with a total of 7 tackles and 0.5 sacks in those 5 games. He had a standout sophomore year, coming away with 16 tackles and 3 sacks in nine games. His best game so far has come against the University of Virginia. Mills had a huge part to play in an impressive 28-3 victory, where his four total tackles and two sacks helped hold a sneaky dangerous offense to just a field goal. 
Mills is being projected as a possible NFL level player  – his large frame has stuck with him since his high school days, and he has only continued to get stronger and more explosive. 
On Sept. 3, Mills played against Ohio State University, finishing with three total tackles. Mills was routinely double-teamed by Ohio State's offensive line in an attempt to keep him silent. The Fighting Irish lost 21-10, but surprised the country with a strong defense. Notre Dame is currently ranked number eight by the Associated Press and are being considered playoff contenders this year.