Spirit Week Best Dressed – Monday
Day one of spirit week is here… happy PJ day! Today the standout look goes to Bentley Frost. She nailed it, from the matching set, vibrant colors, and my favorite part, the personalized back. This was the most perfect pajama look I have ever seen and it was just so perfectly on theme.
Okay now that we have talked about the best look of today- get ready for tomorrow. Day two of spirit week is Class Distinction Day. grade so here are some ideas on what to wear for your grades theme. 
Freshman, Jersey Day- Freshmen start raiding your closets for jerseys now, the possibilities are endless. I love it when students keep it local and rep a Chicago team (I'm talking hawks, cubs, bulls). If you don't have any don't fret, you can wear a school jersey or even a T-shirt of your favorite team. From there I would keep it simple with the bottoms.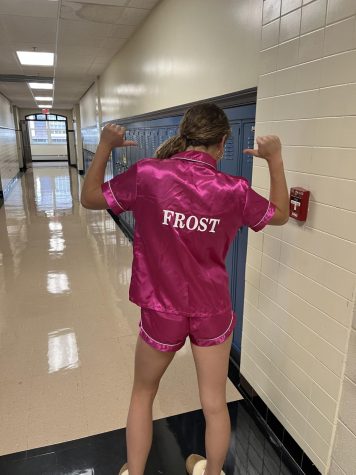 Sophomores, USA- It's time to get patriotic. Hopefully, you went all out for the football theme this past week, and know where every red, white, and blue article of clothing you own is. My recommendation is just to throw everything in those colors on a call it a day.
Juniors, Country Club- Tuesday the juniors will be keeping it classy in their country club attire. Girls put on your tennis whites and wear a skirt and a tank top with a cable knit sweater draped around your shoulders. Boys, simple khaki pants paired with a button-up and a sweater would be perfect. Bonus points if you bring a tennis racket as an accessory!
Seniors, Togas- Seniors bizarrely wrap themselves in white sheets, and walk through the halls claiming their greek togas are a time-honored LFHS tradition, so skimp on tradition. I consulted a Lake Forest alum on how to make a good toga. Her advice is to not be afraid to use duck tape, and tie those sheets tight. From there you should be good.