Comeback of Smith's Men's Store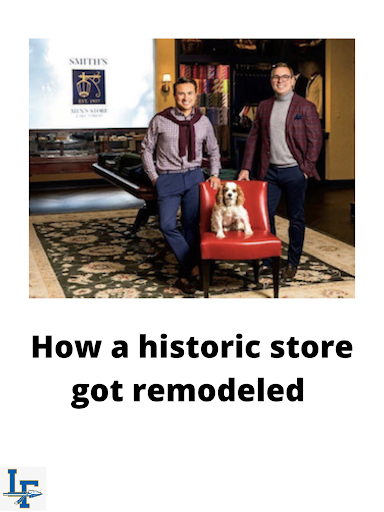 When a historic store in the heart of downtown Lake Forest was about to close, not many people noticed. 
Smith's Men's Store had been on its last legs after opening back in 1937. It was originally being run by Brooks Smith until all the way until the late 1980s when John Tadel took over the store. 
That is when Trey Gonzales and Kip Helverson then swooped in and decided to revamp the store. Although the location of the store has moved a couple of times, the same service and products have always been attainable at the store. 
"We purchased the name and a few of the fixtures in August of 2019. After a gut renovation of the existing space, we reopened the weekend before Thanksgiving in 2019," said store owner Trey Gonzales. 
Smith's Men's Store was off to a strong start with the holiday season starting and people looking for gifts for their husbands, brothers, fathers, and sons. Yet shortly after the November opening, the global pandemic hit. When the store opened in November 2019, nobody knew what was going to happen less than six months after Covid hit.
"The uncertainty of when Covid would be over was the hardest part about owning a small business during 2020," said Gonzales. "We had to come up with creative ways to generate sales while the store was closed," said Gonzales.
Using different methods like Zoom and Facetime, the Smith's staff was able to generate enough sales to cover their monthly expenses and keep the store afloat. 
Around April in 2021 when everything started to slowly open up, Smith's became one of the most popular stores in town. With that, they needed to hire more employees to keep up with the rise in customers. Eventually, they turned to so they started to hire local high schoolers for the extra help. 
"The work environment is always so positive and makes me excited to work every day that I am scheduled," said senior and Smith's employee Mark Cervieri who has worked there for a year. 
High school students who work at Smith's have helped to attract a wider audience for the store, and it creates a wide audience for the company to market products to. The students who work at Smith's have essentially become walking advertisements for the store when wearing their favorite pieces around the school halls as they attract more interested shoppers which causes other kids to be attracted to the store. 
"I really enjoy shopping at Smith's because they offer a wide variety of pieces of clothing that allow me to dress up or be more casual," said senior Jack Carrabine. "It doesn't matter the season that we are in, if it is summer or winter Smith's always has the best clothing options at a very reasonable price."
Based on the store's popularity, how popular the store currently is, and how they have expanded, it doesn't look like we will be losing Smith's Men's Store anytime soon. There are always different ways to improve the store and keep growing it, but for that you will have to keep your eyes and ears open around town.