Community Still Healing After Highland Park Shooting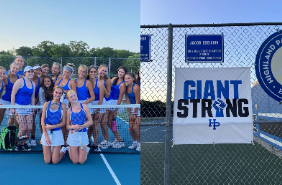 Like the local Lake Bluff parade, the Highland Park Fourth of July parade is an annual family event where the community comes together to celebrate a day of patriotism and community.
That sense of community was shattered at 10:14 a.m. when a 21-year-old Highland Park man used a high-powered rifle to shoot more than 70 rounds, killing seven people and injuring many more. Just 15 minutes after the parade started, a day of joy and community pride turned into one of fear and mourning.
Now almost two months after the shooting,  news attention to the event has died down. However, the emotional and physical toll remains. 
"Whenever I saw mass shootings on the news, I always thought to myself, that's devastating, but when it happened so close to home it was completely different. I felt sick to my stomach, almost like I was physically ill," senior Viola Swartout said. 
Like many residents of the North Shore, the memories and fear linger for Swartout.
"Every time I cross the intersection at 41 and Western, it crosses my mind," she said. "There are little day to day things that will never be the same, like driving down Central Avenue or getting breakfast at Walker Brothers. I'll most definitely struggle to feel comfortable at a parade going forward."
"
The first time after the tragedy I had to take a deep breath going into the Walgreens"
— Mrs. Elaine Metz
2021 graduate Carly Walker was working at Bright Bowls on Central Avenue at the time of the shooting. She and her co-workers ushered more than 100 parade goers inside the food pantry to take shelter. They brought down water, colored markers, and fidgets while moms sang songs to the children. 
"I remember going on my computer to watch Netflix… It didn't process… For the rest of the day nothing processed. I remember telling myself I was just in a mass shooting," Walker said. "The next few weeks after it was a lot to handle." 
A few days later she and her dad delivered smoothies to FBI agents and news reporters. It took her several more days to even shed a tear. 
"I was keeping this strong facade, but I was so hollow inside," Walker said. 
Graduate Lilli Carrasco had a bullet graze her cheek. A  Go Fund Me was created to support the medical and therapy costs of her treatment. The cause has raised over $27,000. 
Staff Member and Highland Park resident Mrs. Elaine Metz waited two years to bring her daughter to the parade because of her struggle with special needs. She described the first 10 minutes as being filled with so much happiness, but then the mood quickly changed when everyone started yelling, "Run, there's a shooter."
The way Metz looks at downtown Highland Park and life as a whole was permanently changed. 
"Walking through Highland Park for the first time was very difficult but important. The first time after the tragedy I had to take a deep breath going into the Walgreens," Metz said. "My goal was to go to the Labor Day Buffalo Grove parade but I could not go." 
The recent soft lock down here after a threat against a local business brought back the familiar feeling of fear to Metz.
"I was really upset by the soft lock down. It was very difficult for me to know something was going on in Lake Forest; it took me to a hard place," Metz said.
 The community has found ways to come together in order to help the town, as well as individuals, heal. For example, Bright Bowls hosted a "week of healing" with yoga, volunteers from Paws for Patrick, and other organizations that were complimentary for the community in order to provide support. 
"It's going to take awhile to find closure. Closure is not going to take a week," Walker said. "My boss worded it best when she said we're not going to move on, we're going to be moving forward." 
Inside LFHS, students and staff show show support for Highland Park by raising money and awareness. 
At a recent tennis match against Highland Park, LFHS players wore orange ribbons to show support. 
Metz created an online clothing store called Stronger Together to raise money for The Highland Park Community Foundation July 4th Shooting Response Fund. The sweatshirts were inscripted with "LFHS hearts HP" to represent the support Lake Forest has for their neighboring community, during this time of healing. The fundraiser is now closed but made close to $400.
"Living in Highland Park I knew how much support they needed and how hard it is to do normal things like go into town," Metz said. "Little acts mean so much."
She hopes that sports teams, clubs, and other organizations can come together to show small moments of support. 
"I've realized life is too short. It made me realize I don't want to hold onto any negativity. I even reached out to some friends I haven't talked to in awhile," Metz said.