Summer Lookbook
Since the summer is starting to fade and school is now in session, I can't stop looking back on the pictures taken and the outfits worn. Everyone slayed the summer with cute and unique outfits, making the world their runway. With that being said, let's take a look at the best outfits of summer! 
Junior, Chloe York
The dress is from Anthropology! I walked into the store while shopping one day and was like, "I have to have this dress". I went to Italy this summer and thought it would be perfect for that, so I guess that was my inspiration for it! I love the yellow silk, it's so summery, and it reminds me of one of my favorite movie looks of all time, which is the yellow dress from "How to Lose a Guy in 10 Days."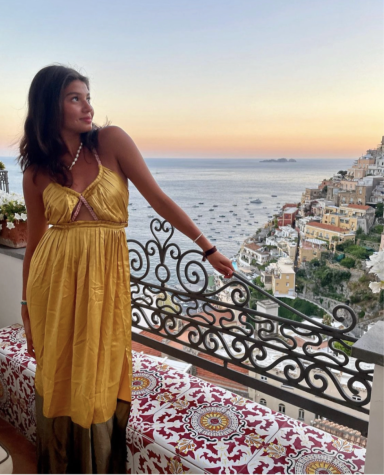 Sophomores, Grace Donovan (left) and Raina Vora (right)
Grace-
My dress is from Zara, and my boots are from a cowboy boot store in Texas called Cavenders. I liked it because it fit the southern vibe; I was inspired by my surroundings of being in the south with everyone wearing hats and boots around us! It was super hot out and the dress was super cute for a day like that and my boots go with anything so I thought it'd look good with the simple white dress!
Raina-
My dress is from Isabella's cabinet and my shoes are from a boutique in Florida. I'm also wearing a necklace that my grandma bought me for my birthday! I liked it cause it had a nice pop of color and it matched Grace's outfit since she was wearing white! We were in the south so I decided to wear it cause I was inspired by everyone around us!!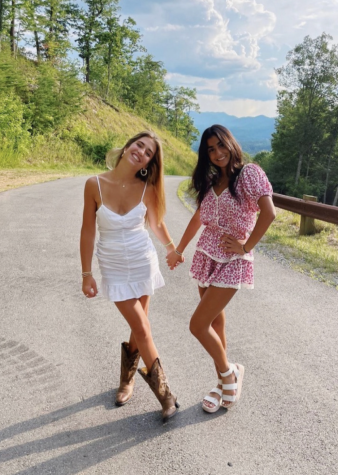 Senior, Sophie Delhey
My shorts are Agolde, my top is a vintage polo set from Urban Outfitters, and my glasses are from dmy by dmy. My inspiration was Hailey Bieber. I love the top and felt like it was so Hamptons- esc, which is where I was in the photos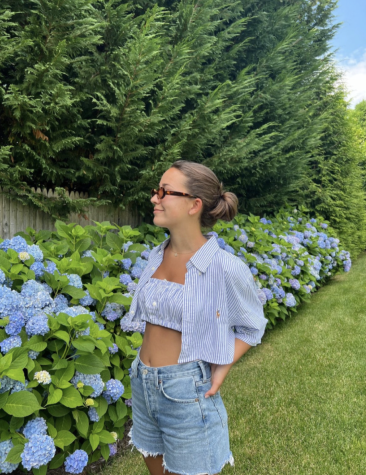 Senior, Posy Connery
I wore this Amur blue halter mini dress to a Dolce Vita-themed party for a wedding in Lake Como this summer. I loved the statement color which stood out with the dramatic ruffling around the collar. To accessorize, I went with a neutral but still fun shoe which was a classic white pearl strap heel. I wore my hair in a slicked-back pony so the halter and the back of the dress were visible. This is definitely one of my favorite dresses I have ever worn because of its uniqueness and dramatic flair!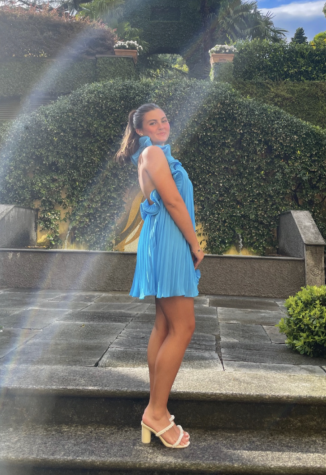 Sophomore, Harriet Pierce
 I am wearing pink pants from Zara, these are such fun comfy pants that really make an outfit come to life. Since the pants were the excitement. I decided to pair them with a plain white tank from Revolve. To add something else I really focused on the gold jewelry and with that a watch to give it a chic look!