Scout Nation Bringing Back School Spirit Post Covid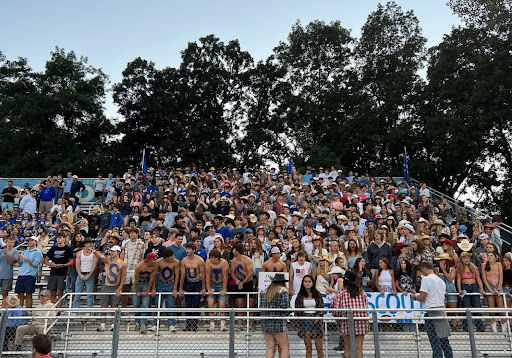 With the first normal school year since 2019, Scout Nation, a club that focuses on promoting school support and unity, has been working hard to get school spirit back to the place it once was.
"School spirit was anything but easy during Covid," said senior and Scout Nation leader Henrick Goldsberry.
Due to the lack of in-person events these past few years, there has been a great decline in school spirit. Besides family members, the stands have been empty. 
The graduating class last year started to bring the spirit back to Lake Forest High School, and this year the new leaders of Scout Nation are trying to build off of their success. 
"Anyone that is not an incoming freshman knows that the Class of 2022 was very spirited which brought the class together. We lost a lot of that energy this year," said senior and Scout Nation leader, Rylan Stark. 
Scout Nation is trying to recruit underclassmen to the club to increase the number of freshmen and sophomores participating in school spirit. 
They are also trying to put systems into place so it's easier for future years. For instance, they want to be able to plan ahead. This includes setting game themes early, so they can order items in mass quantities to boost students' involvement in themes for the games. 
"School spirit unites our school as a community and is something everyone can be included in and feel a part of," said Stark. "It's always fun collaborating with the band and getting everyone together." 
Being away from one another for so long, school spirit allows us to come back together and support both our peers and our community.
"I think it isn't all about just representing your school and showing support. I think it has a good way of getting players fired up and helps us win," said Goldsberry.
The football home-opener on Aug. 27 against St. Francis was Scout Nation's first event of the year and ended up being a huge success. 
Social Media was a tremendous contribution to the successful outcome of the first home game. The game was promoted more than any previous LFHS sporting event and Scout Nation's Instagram increased by 10,000% in engagement. 
The game ended up having a huge turnout because of this. 
"The crowd was the biggest I've seen at a game in a while. It was awesome, " said Dean Frank Lesniak.
Scout Nation hopes to use this as momentum to further increase Lake Forest High School Spirit for the rest of this year and many years to come.