LFHS Reads event will return for second year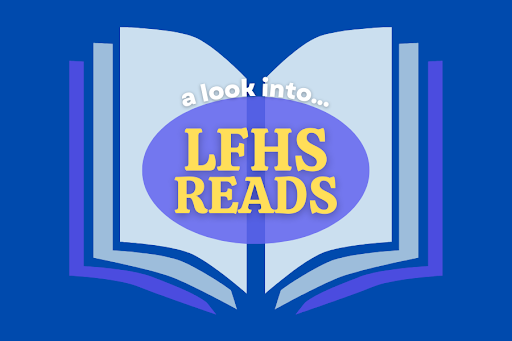 A swirl of first club meetings for the year fill the announcements alongside the mention of game days and the daily 'Happy Senior Day!' There is a certain excitement to seeing your favorite classmates return to clubs and activities as the year starts right back up. You can maybe even remember the goodbyes of the last meeting and promises to come back.
There are some activities that never quite end when the bell rings on the last day of school. In fact, the heart of LFHS Reads occurs when you are sitting poolside with a book you picked up as part of the program. It started last May when students and staff  picked  books to read over the summer and will culminate Sept. 1 when the groups come together in the library to talk about what they read.
"I think that the biggest benefit is just reading with maybe people you normally wouldn't…that really what (Librarian) Ms. Pausch and I were thinking about when we started…how do we get people to connect through reading?" said English Instructional Director Ms. Carlson.
 Carlson and Ms. Pausch developed LFHS Reads as an opportunity for a school-wide reading program.
"Ms. Pausch and I started talking about this three years ago and about how school wide reading had not been a point of emphasis really … there seemed to be an opportunity that we hadn't taken," said Mrs. Carlson.
Now on its second year, the program provides a free copy of the selected title and serves breakfast who attend the early morning meeting. 
"I really like LFHS Reads because it's a great way to dive deeper into a topic you're passionate about, and an even better way to meet new people who share an interest with you!" said senior Kate Johnson.
Similarly senior Natatlie Goeks, recommends attending the meeting "because it gives you a chance to see something from the book in a completely different light." 
Offering books such as The Stranger by Albert Camus and Fable by Adrienne Young, the program opens the opportunity of hosting a book group to teachers, classes and clubs.
"What seemed to be the best approach was to have the book leader … choose [a book] they really like and that would get the students  into reading…," said Carlson. LFHS Reads acknowledges the variety of students interests and strives to offer a space for every type of reader. 
It is easy to sign up for a club or commitment and not follow through. However, Ms. Carlson encourages students to attend the meeting even if they haven't read cover to cover. 
"Everybody who's leading a group is asking questions where everybody will have a chance, even if you haven't read," said Carlson. 
This year's LFHS Reads meeting will take place Sept. 1 from 8-8:45 am in the LFHS Library. Free breakfast will be provided for all of the attendees.