Q&A with track superstar Izzy Marsico
How is the team doing? 
"The team is doing pretty good; we lost a lot of seniors in the beginning of the season and we weren't doing as good, but now we found our certain relay groups and we're getting a lot stronger. We're doing better at conference and bigger meets than we did last year, so I would say it's pretty good right now. 
How did you feel when you had your PR of 5:01? 
"That wasn't my best race. In the first lap I went super fast with a time of 1:10. The second lap was a 2:22 and that was an 800m time that most girls had and it was in the mile so I was staying with the pack. In the third lap I had a 3:39 and my coaches told me before the race, 'Oh if you run a 3:45 you break five minutes which is the school record.' So I thought 'Oh my god, I'm gonna break it.' The first 200m I was doing good when I moved up the pack and the last 200 was not good because four girls passed me. I did get the PR which was awesome but the last 200m was not good so I wasn't as happy about the race as I should've been. I really thought I was gonna break five minutes by a good amount and I just missed it so it kinda sucked."
So you think you slowed down at the end of the race?
"Yeah because girls passed me, then I got very mental in the last 200, and I wasn't really thinking about pushing because obviously I was tired, so I think in settled and kind of gave up."
What do you like most about track?
"The meets are super fun because I get to do multiple events. In cross country it's one event and it's in grass but the track is flat obviously, which is way better than running on hills and grass."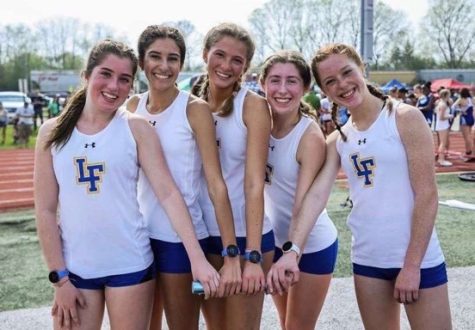 Has there been a coach that impacted you in your track career?
From Deer Path, Coach Sostre. She was so positive and I loved her. I thought she was a great coach and she was always there for us. She was the best.
Is there any rival schools that you like beating?
Grayslake Central is one because there is one girl that I competed against in middle school, and we went back and forth with wins. Freshman year she beat me, then in cross country sophomore year I beat her but now she does more sprints. Lake Zurich is another big one. I have friends from that school too and at conference she beat me in the mile, but I beat her in the 800m.
How is the team chemistry?
I would say its pretty good but since there is a distance group and a sprinters group its kinda split up. Our group is pretty close and we're all friends outside of track. We really are a big friend group so I would say our team is pretty close. 
Are there any pre-game rituals that you have?
I eat a banana and a granola bar before every race so that could be one. I normally do my hair in a french braid and that's kind of a good luck thing. That is kind of about it, but I listen to music before every race as well. 
What do you like to do outside of track?
"Outside of track, I would say just hanging out with friends."