Post AP Exam "Spa Day" inspires classroom connection
Dr. Mara Dukats' AP Lang classes organized a "spa day" after their AP Exam to encourage students to form a tighter-knit classroom community.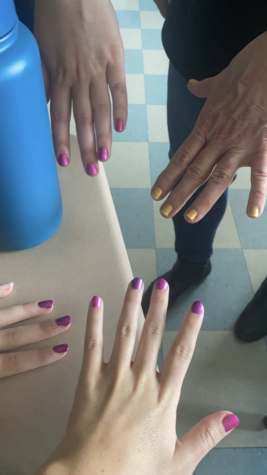 The four-hour-long exam was stressful for many students who took the course, and the spa day was an effort to celebrate all of their accomplishments throughout the year and bring the class closer together.
Some students brought in snacks, while others brought in face masks and nail polish. An itinerary was also created to ensure that each activity was thoroughly participated in. Junior Aiden Marquez led the class in a guided meditation, speaking in his "drunk porter" voice, a character from the book Macbeth, which the class read earlier this year. 
"It was so much fun because I felt like our class bonded more," junior Lolo Eveleigh said. 
In addition to the meditation, junior MaryGrace King gave a tribute to her AP Lang class with a speech titled Ode to Ap Lang.
"During the year, I had written multiple "odes" to AP Lang on the subjects of our beloved vocabulary website, Membean, as well as the dreaded STAR assessment, so I only saw it fit to write a final 35-line ode to the class and read it on Spa Day," King said. 
The actual "spa" part of Spa Day consisted of face masks and a few manicures. Even Dr. Dukats joined in on her class' fun and put on a panda face mask. 
"[My] favorite part was definitely the face masks and Dr. Dukats getting so into the whole thing," junior Caroline Lee said. "Her loving it made it so much more fun."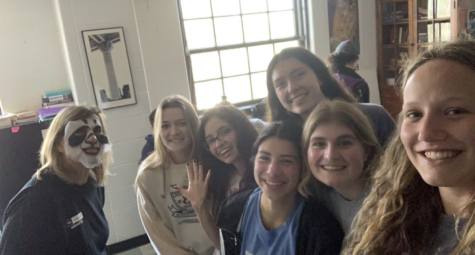 The celebration was entirely planned by students and put together without the help of a teacher. This was Dr. Dukats' first time hosting a "spa day" party and said  that she would want to host an end-of-year celebration again in the following years. 
"So much of it is creating the classroom community and I have to remember that [my students] haven't gotten a lot of that at the high school," said Dr. Dukats. "I'm glad we did it."
Spa day came to an end with the class reminiscing on their favorite stories from the class. 
"We talked about our favorite memories from the year, such as the STAR assessment fiasco of September 1st, Koen and I sword fighting during Macbeth, and 'discussions about tearing down the establishment' as put by Aiden Marquez," King said. "I must say it was a very emotional experience."