Sociology assignment on white privilege draws controversy
Daily Caller story included several inaccuracies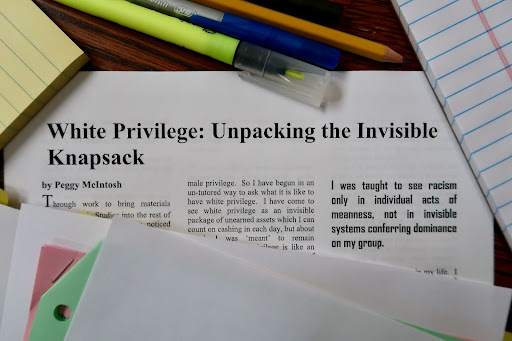 The nationwide debate over how to teach race in the classroom came to LFHS this spring when online newspaper The Daily Caller published an article April 26 headlined "Illinois Teacher Reportedly Forced Mostly Wealthy Kids To Complete 'White Privilege Self-Assessment.'"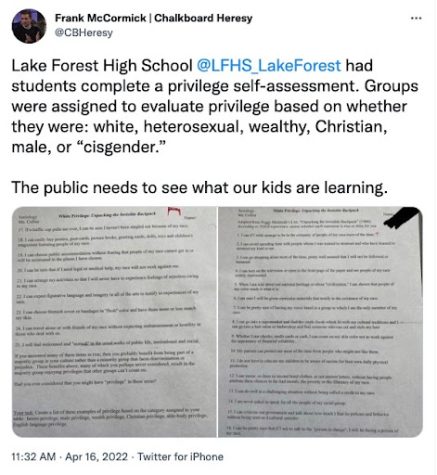 In the article, alumnus Henry Dolan criticizes the assignment given by Sociology teacher Mrs. Cindy Collier claims that she had been his African-American studies teacher. In addition, the article stated  "Principal Dr. Erin Lenart told the Daily Caller the school is in favor of the survey and studying 'privilege' in the classroom."
All three of these statements were inaccurate, according to Lenart and Collier.
"Students were asked to reflect," Collier said, "but not 'forced' to complete, share, or submit anything," unlike what the headline suggested. "It was an ungraded discussion. Students didn't even have to fill it out. It was meant to be more of a reflection."
The main objective was for students to gain a wider perspective on the circumstances they have come across in their personal lives, Collier said.
In addition, "I have not, in my 19 year teaching career at LFHS, ever taught African American Studies, despite what is stated by Henry Dolan in that article," Collier said.
When Lenart was asked by The Daily Caller for a quote, she responded by saying that the administration believes that studying "privilege in a sociology classroom makes sense." The article was updated, stating that she simply believes that privilege is acceptable to study. "We re-emailed The Daily Caller, saying we support privilege in a sociology classroom, and I even had it bolded.  Then they just put 'in the classroom'. It was very disappointing to me."
The Daily Caller is a right-wing news and opinion site founded by Tucker Carlson, who now hosts a popular nightly show on Fox News.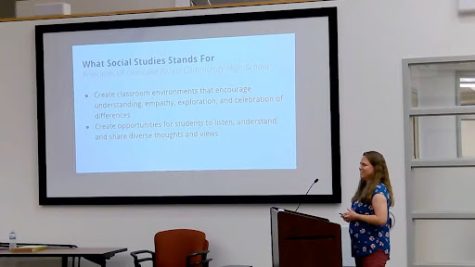 Both Collier and Lenart said there is a time and place to cover controversial topics like white privilege, and a sociology classroom is one of them.
"The study of privilege, in general, in sociology is important. If you do a simple Google of sociology, it's there; it's not just in the textbook that we have. It's pretty much in every course syllabus," Lenart said. "I don't understand how you wouldn't study privilege in sociology."
How and why to discuss privilege – and race in general – in the high school classroom has grown into a nationwide debate. More than 40 states have introduced laws restricting how schools talk about race or sexism in the classroom. Many of the laws focus on critical race theory, which opponents label as divisive and responsible for unfairly characterizing white students as oppressors.
Last year, a Loyola Academy teacher was criticized for a similar assignment as the one used in Collier's classroom.
"I think it's part of the national conversation. This wasn't an issue for years. It's because of the culture wars currently in our politics that it's become a lightning rod term," Collier said.
At last week's Board of Education meeting, the Social Studies Department shared a presentation, including a section highlighting how their department works through those challenges, including building trust, providing choices, conducting heavy research, and making a positive learning environment.
Despite these obstacles, challenging topics can still be discussed in a productive way, Lenart said.
"I believe in the opportunities that public education provides to students, and with diverse thinking," Lenart said. "Keeping the dialogue open, being receptive to all sides, listening, and bringing your whole heart and head to a conversation is all so important."
Students also showed interest in learning about controversial topics that might just be skimmed over in other courses.
"It's a sociology class. It's the way that our society and people from different cultures and races interact together. I wasn't taken back by it or surprised when we started talking about racism," said junior Annie Perry, a student in Collier's sociology class.
According to opponents, including Florida Governor Robert DeSantis, critical race theory (CRT) discussions sow hatred. "We are not gonna use your tax dollars to teach our kids to hate this country or to hate each other," DeSantis said.
A recent curriculum change by a New York school, according to an article by the New York Post, teaches white students that "they're born racist and should feel guilty benefiting from 'white privilege,' while heaping praise and cupcakes on their black peers."
Some opponents even believe that teaching CRT could result in the literal downfall of the country. "If kids are taught from the beginning that America is irredeemably racist, then they fall right into the progressive army and join the fight to undo our constitutional republic," Fox News writer Kimberley Hermann said in a Fox News column.
However, students were not meant to feel called out or criticized by the lesson, Collier said.
"Privilege is the idea of all these unforeseen ways in which you accrue advantage over time for no work of your own; you just happen to be in an advantaged group," Collier said.
Understanding privilege was at the heart of the worksheet, Perry said, as its goal was to spread awareness.
"It was more to make us understand what white privilege is, rather than to make anyone feel bad," Perry said.
This idea of privilege is a component in many sociology classes, including the one at LFHS. The worksheet was based on a 1989 article by American activist Peggy McIntosh, which was directly from their sociology textbook.
"I understand the appropriate places to be teaching these topics. I'm not just going to force it into courses where it doesn't belong," Collier said.
"
This is the dark side of that kind of thing. You're putting people out there to just get attacked.You're not actually solving the perceived problem.
— Cindy Collier, Sociology teacher
Within the first week of class, students are tasked with completing a "social identity profile" which allows them to identify the social groups they are a part of and the role that they play in their lives. This project is also not collected and rather for the student to reflect on their own life.
"So when you've got race, sexual orientation, gender being discussed, you would think that's a clue that they're topics we're going to talk about," Collier said.
"In the future I am going to be more explicit and put on the syllabus, 'Look at the table of contents of the book, and if you're not comfortable talking about these topics, this isn't the course for you.'"
Lenart encourages parents to talk with a student's teacher first. "They are master teachers; they are thoughtful, and they are open to dialogue and discussion about their work because they are passionate about it," she said in the Board of Education meeting.
Collier agreed, emphasizing how there were better ways to address the concerns.
"If they were truly worried about their child's education, they would come to the people who could actually change what was happening. Instead, it's about politically riling people up and anonymously putting this on social media and letting people comment on it who aren't even connected to the school. It's about the time frame of what's happening around us," Collier said.
Because of  the Twitter post and article, Collier even received hate mail from people across the country.
"This is the dark side of that kind of thing. You're putting people out there to just get attacked," Collier said. "You're not actually solving the perceived problem."