The Forest Scout's 2022 Female Athlete of the Year: Taylor Cekay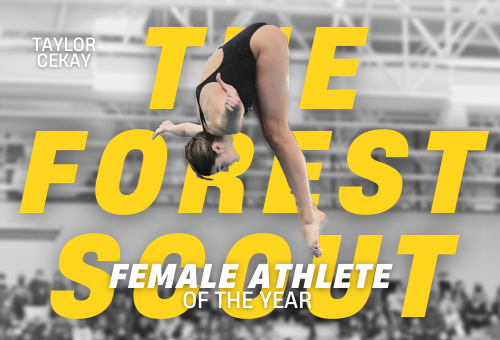 Senior Taylor Cekay, The Forest Scout's Female Athlete of the Year, is one of the few who can say they have completed 12 competitive seasons as an athlete at LFHS.  Despite the grind of playing a sport every season of her high school career, Cekay has done it in style: breaking school records in both diving and gymnastics and racking up awards for sportsmanship.
Cekay met some of her closest friends through sports growing up, keeping her hooked on competing.
"Starting gymnastics and soccer was just a fun activity to get my energy out when I was little. As I got older, met some of my best friends, and was becoming better, there was really no reason to stop," Cekay said.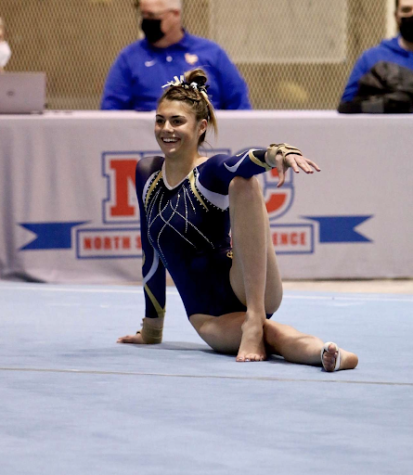 Growing up in an athletic family , Cekay has had the constant support of both of her parents throughout her different sport endeavors. However, it is her older brother whom she specifically credits for her drive.
"My older brother has also been a huge inspiration with his success in his football career in high school and college. Just seeing firsthand that hard work and taking risks pay off if you keep going really stuck with me and got me through tough days with all of these sports," Cekay said.
What began as just hobbies and activities have now led Cekay to break six diving LFHS records, and bar, all around, and team records for gymnastics.
As she got older, however, it wasn't just an easy no-brainer to continue with all of these sports. Cekay points out that her mom had to convince her to continue pursuing diving – not wanting her talent and "gift" to go to waste.
After her four years of high school and a sixth place finish at this year's State tournament, it was diving that at the end of the day was her favorite. Showing clear leadership and compassion for her teammates and others, Cekay will be an irreplaceable aspect on the team.
"She is a dedicated athlete who runs on a team-first mentality. She competes for her team, always. Her sportsmanship has earned her the NSC Sportsmanship award multiple years in a row. Taylor not only cheers for her teammates but for every competitor on the floor of the competition–even if she has never met her competitor," Gymnastics Varsity coach Britanny Moccia said.
Coach Moccia has coached Cekay since she was a freshman on the gymnastics team.
"She consoles, motivates, encourages, cheers for, and lends a helping hand to every student, athlete, coach, and person she is around. These attributes have claimed the respect of her teammates so much so they nominated her as their Team Captain multiple years in a row," Moccia said. "Taylor leads by example and is the ultimate depiction of what leadership on a team looks like."
Gymnastics skills go hand-in-hand with diving, making the transition a natural one. Having a strong core and strength from twisting and flipping in gymnastics helps with the rotation and positions in diving.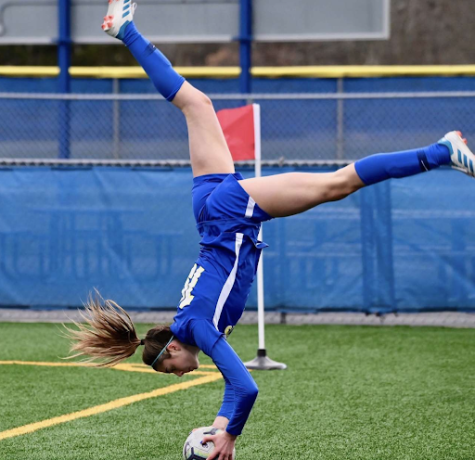 "It was just something that was so natural to me that I felt so confident doing. It was the only sport that I never got nervous for because I was just excited to show people this ability that was almost effortless to me because of my gymnastics background," Cekay said.
Working closely with the same coaches in diving all throughout her time at LFHS, she has most certainly made a legacy for herself.
"It comes as no surprise to me that Taylor has achieved what she has in the sport of diving. Her work ethic, tenacity, and fierce competitiveness set her apart from the rest of her competition. From the first day I coached Taylor, I knew that she had something special and she was finally able to show it with a 6th place finish at the state meet this year," LFHS diving coach Patrick Shultze said. "Without hesitation, I can truly say that Taylor is a once in a career athlete. It has been a true privilege to work with this young woman over the past four years, and I am a better coach for it."
Clearly a goal-oriented person, Cekay had no idea what was in store for her athletic career coming into high school, yet was optimistic to see what would come of it.
"Going into high school I always knew that I wanted to participate in sports all-year round," Cekay said. "Before high school, I was playing sports all year round anyway, so I knew I wanted to continue with those in high school and see what I could achieve."
Participating in both team and individual sports, Cekay had to overcome different struggles throughout the years to keep moving forward and improving in order to become the best athlete she could be.
"Gymnastics and diving are mainly individual sports and with that everything is completely mental. If you want to do a new skill you have to convince yourself to do it and not let fear stop you," Cekay said. "All I want to do is make my school proud and it all falls on me if things don't go my way. With soccer I almost feel relaxed with the fact that I have my team by my side to help me. But also I'm definitely not a soccer star and I fight really hard in practice and games to blend in with the girls on my team because they are all so talented."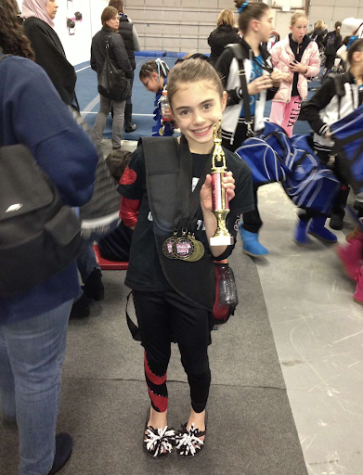 Girls Varsity Soccer coach Ty Stuckslager said he saw Cekay improve in both her mentality and her technical skills, making her a great aspect to the team.
"I remember Taylor when I coached her in a U12 soccer game and watched her head in an Emersen Waddle cross, not just once, but twice. Since that game, many positive attributes that she possessed at that age are still apparent. She is the consummate team player. She would always rather see team success over personal success," Girls Varsity Soccer coach Ty Stuckslager said. "She also is very supportive and celebrates the successes of other individuals and brings up the spirits of those who might be down. Taylor is always willing to help the team out in any way and will play any position that is asked, even if it is one she is not familiar with. To sum it up, her positive attitude, willingness to work hard and her growth mindset set her apart."
Cekay was chosen to lead the diving and gymnastics teams as a senior captain this year. With each new season and experiences come new lessons to be learned and taught. Being such a strong participant in these sports, it was no question she gradually became the one that teammates looked up to.
"My favorite part of high school sports was seeing everything I've worked for pay off by going to some state finals, winning a state medal, and making the varsity Soccer team," Cekay said. "I have learned so much through the years, but most importantly to be a good sportsman. When you fall, don't qualify for a big meet, or make a mistake on the soccer field it's so important to not let that destroy your attitude, confidence, and most importantly your team. Keeping a smile on your face and fighting through it all makes the biggest difference for you and everyone around you."
After graduating from LFHS, Cekay will be attending Tulane University in the fall. Not committed to play collegiate sports, she is starting to consider intramural and/or club sports at the University.
"I've talked about it with my mom and she thinks I'm going to be incredibly bored. I honestly have no idea what to expect with going into this new environment. But I'll definitely pack some full piece swimsuits in case I want to try and get back on the diving board," Cekay said.