The Forest Scout's 2022 Person of the Year: Andrew Terkildsen
Marathons, Napoleon, programming – Yale-bound senior is a true Renaissance man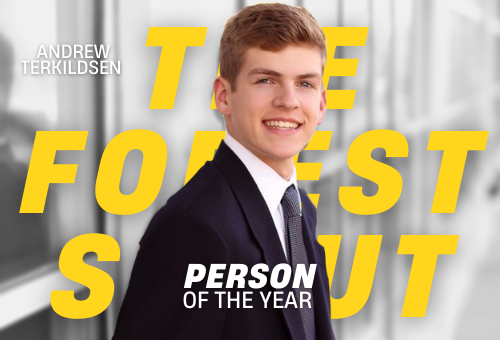 In his novel the The Big Leap, psychologist Gay Hendricks encourages individuals to challenge their "zones of genius," or areas in which they are naturally gifted and passionate about.
A Yale-bound computer science and history guru, Varsity athlete, musician, and marathon runner, it seems as though senior Andrew Terkildsen has already unlocked multiple zones of genius.
Since 2017, the editorial board at The Forest Scout has selected one student to be Person of the Year, an outstanding individual awarded for both their school-related achievements and the content of their character. This year, it was obvious that Terkildsen was more than deserving of this recognition.
Despite being in Linear Algebra, the most advanced math class the school offers, Terkildsen struggles to find an academic moment he believes to be too challenging.
"Academically, my motivations have always been from my family," he said. "My parents ingrained in me from an early age that education is the most important aspect of your life."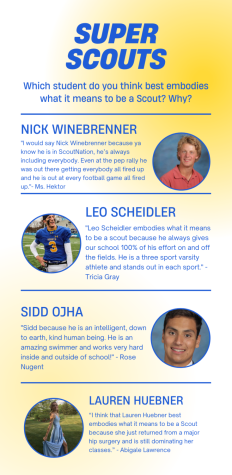 It is evident he has adopted his parents' principles. This year, Terkildsen and senior Jack Doheny designed Money Up, an IOS application that enables users to budget and allocate their expenses on a regular basis.
Terkildsen had to learn an "entirely new challenging programming language," which he "figured out all on his own practice and research," computer science teacher Mr. Steve Aronson said.
The project was due Nov. 1, but Doheny said Terkildsen organized pre-sunrise meetings throughout the summer.
"Andrew did an amazing job developing a timeline for our project, breaking down when we would need to do what, and was an invaluable resource for both his professional-level of coding prowess as well as his Navy-Seal-level of consistency and determination," Doheny said.
The duo won third overall for their district in the Congressional App Challenge, the "most prestigious prize in student computer science."
"He is ready to be a professional programmer as he walks out the door of this high school," Mr. Aronson said.
Also fueled by his intellectual curiosity, Terkildsen pursued an independent study of French military leader Napoleon Bonaparte outside of his regular classes.
Starting in June, Terkildsen kicked off his research with a casual 1,000-page read of The Age of Napoleon recommended by history teacher Mr. Thomas Gigiano.
"
He is ready to be a professional programmer as he walks out the door of this high school."
— Mr. Aronson
Terkildsen's investigation integrated two fields: the psychology of leadership and Napoleon's historical role in the French Revolution. The result in January was a 52-page analysis of Napoleon's leadership qualities.
Mr. Gigiano said Terkildsen's analytical skills are "superb."
"One of the ways to study history is the chronology of it, here's what happened," Mr. Gigiano said. "But he took it and analyzed that on a deeper level, in this case a psychological perspective."
Terkildsen is also a powerhouse in athletics. He has been a valuable member of Varsity Tennis since freshman year and Junior Varsity Swim since sophomore year.
Tennis teammate senior Sahil Conjeevaram described Terkildsen as a "sponge" his freshman year, as he rapidly learned from the upperclassmen and coaches.
By his sophomore year, Terkildsen developed into a leader both on and off the court.
"When our sophomore season got canceled from COVID, Andrew did a great job staying in touch with all the kids on the team and even organized safe ways for team bonding," Conjeevaram said.
Terkildsen is now a senior captain, and teams up with senior Jake Terry for doubles matches. The successful pair has rightfully earned the nickname "Tiebreak Terk and Terry."
Terkildsen is also a model athlete on JV Swim. He had a shoulder injury this season, but refused to let this obstacle inhibit his growth as a swimmer.
"Instead of sitting out in practice or just kicking with a board, Andrew used a snorkel and would kick with no board lap after lap which is incredibly hard," senior teammate Jensen Borowski said. "He set his mind to swimming the 500m this season, and continued to beat goal after goal."
Despite his success as a student and athlete, Terkildsen said the musical group in which he plays the trombone, The Band Boys, has been "one of the best parts of senior year."
Terkildsen is grateful his preparations for the 2022 Talent Show enabled him to make lasting friendships.
"Going from a group of kids in a band, to a friendship we have been able to use to spread through the community has been quite the experience," he said.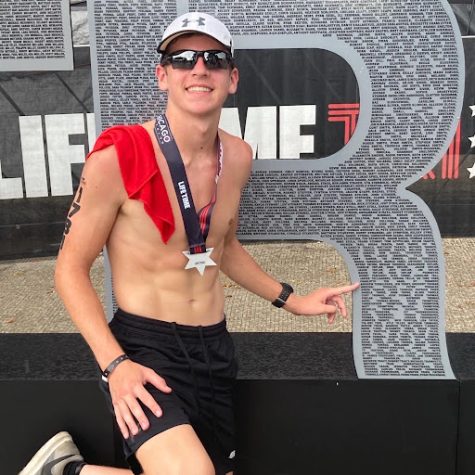 However, Terkildsen embarked on his musical journey long before The Band Boys. 
"My passion for music started with piano in third grade and has grown into an important part of my life," he said.
On top of his academic, athletic, and musical pursuits, Terkildsen devotes his energy to greater causes. For two years, he has participated in a marathon to raise money for his charity of choice, the Midwest Veterans' Closet.
Taking inspiration from ex-Navy Seal and marathon runner David Goggins, he ran 48 miles in under 48 hours. He raised over $2,000 in 2020 and nearly $5,000 in 2022.
Motivated by the cause, Terkildsen was undeterred by the difficulties he encountered.
"The most challenging part was the second 2 a.m. run where the temperatures dropped to the 30s and I was 32 miles in and I was running on about three hours of sleep," Terkildsen said about the 2022 marathon.
"
He is always looking out for you, always pressuring you to be the best version of yourself, for the sole purpose of seeing you succeed."
— Jack Doheny
Senior Bobby Vedra said he was honored to join Terkildsen, the "living embodiment of motivation," for the 2022 4x4x48.
"We never stopped once or slowed down the entire race, and even finished the last mile in about six minutes because we were full of energy," Vedra said. "I never would've been able to finish without him."
There is no obstacle too intimidating for Terkildsen, but perhaps what is most inspiring is his humility and ability to support others.
More than six years ago, Conjeevaram, Terkildsen, and senior Tony Bosnjak were on a bus coming back from a long Brewers game. Conjeevaram and Bosnjak fell asleep on Terkildsen's shoulders, but he let his friends rest there.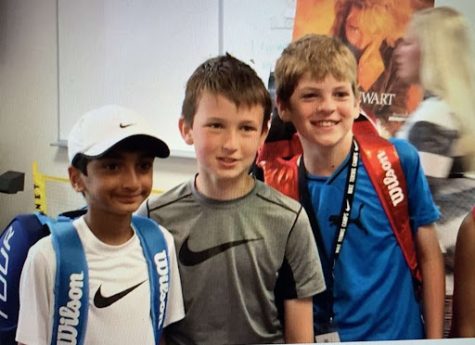 "He didn't move for the whole two-hour bus ride because that's the type of friend and person Andrew has always been," Conjeevaram said.
Doheny said that Terkildsen is so humble, "you really have to poke at him to reveal anything that could possibly come across as braggadocious."
"He is always ready to celebrate your successes," he said. "He is always looking out for you, always pressuring you to be the best version of yourself, for the sole purpose of seeing you succeed."
It's no surprise Terkildsen will be industrious his last summer before college. He looks forward to visiting NSI (New Student Indoctrination) at the Great Lakes Navy Base for the NROTC Unit, a vacation in Greece, and working on his family's farm in California.
He will attend Yale University in the fall where he will study computer science.