Soccer Stars Has Room For Everyone
Junior Brennan Riley, a passionate soccer player, wanted every athlete, regardless of who they are, to have the opportunity to play his favorite game. 
So, he founded Soccer Stars. 
Riley said his outlook to "focus on the good" in the world was impacted by growing up with a sister with Down Syndrome.
"My inspiration  was seeing my sister and other kids with disabilities have a lack of social opportunities, and I knew that it was difficult to get these kids outside and moving," Riley said. 
Senior Lucy Rogers, a regular coach for Soccer Stars, said Riley's passion and energy is the driving force behind the program.
"Brennan always brings such a positive energy to Soccer Stars. He is a natural-born leader and works hard to connect with all of the players" Rogers said.  
Beyond just a soccer game that improves and encourages physical activity for these kids, Soccer Stars is also a safe space where coaches work to teach social development to the players. 
"Soccer Stars functions as an athletic extracurricular, an opportunity to strengthen social skills, and a way to meet new people and create  lasting friendships," Rogers said. "Many of these students look forward to soccer stars all week long."
Sarah Alzamora, the mother of Soccer Star Maria Alzamora, said Maria "is always looking forward to soccer stars every week." 
The impact of Soccer Stars on the players and coaches extend off the field as well.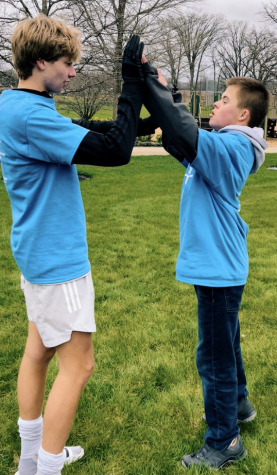 "Soccer Stars has been wonderful for our entire family! There is a bond that they have with one another that transcends past the soccer field,"  Mrs. Alzamora said. 
Whether a player is a lead goal scorer, the best teammate or biggest cheerleader, each participant has a special place on the team. 
"[Maria] is always happy to score a goal but she will also be the  first one to congratulate a friend for making a goal as well." Alzamora said.
Soccer Stars creates an atmosphere that ties together the community of special needs kids in Lake Forest. 
"Soccer Stars has helped Maria meet new people in the local Down syndrome community and strengthen existing relationships. These relationships have been a joy to see blossom for both Maria and the buddies," Mrs. Alzamora said.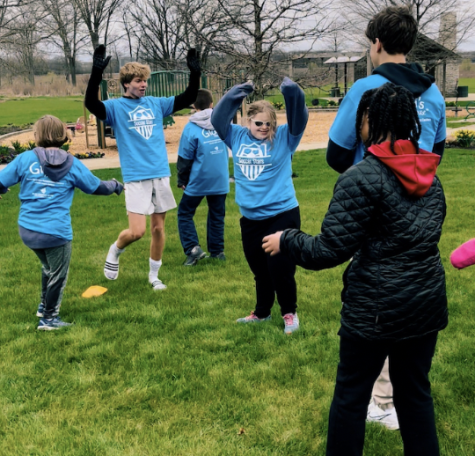 Soccer Stars is also a unique program because it is offered to students of all ages and to students outside of LFHS.
"I think Soccer Stars is a great opportunity to connect with other students that have special needs, including those that don't go to LFHS," Rogers said. "It provides students and athletes with the chance to meet new people and form lifelong friendships."
Junior coach Zach Rubenstein said the players just can't get enough.
"It seems that not a moment goes by where someone isn't smiling or laughing," Rubenstein  said.