We must do more to help 1 million Uyghurs detained in Chinese "re-education" camps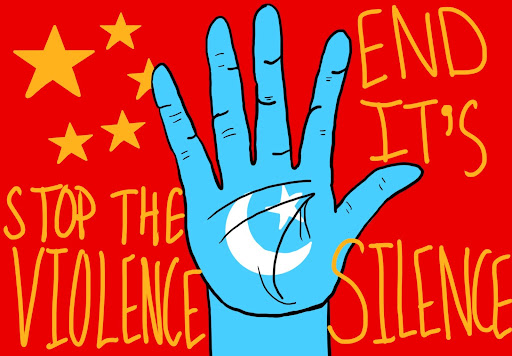 Rahima's nightmare began when Chinese government officials discovered that she had WhatsApp downloaded on her phone, an app prohibited in China since 2017.
The mother of four soon joined an estimated one million Muslims detained in a re-education camp in the Xinjiang region of China without trial.

Rahima and Gulzira, a second former detainees of  re-education camps, shared their narratives in China Undercover, a FRONTLINE documentary that investigates the Chinese Communist regime's mass imprisonment of Uyghurs and other Muslims. Uyghurs are a predominantly Muslim ethnic minority group living in the Xinjiang region of China.
"I was forced to sit on a hard chair twice for 24 hours. I was only given water once, and went to the toilet where I sat," Gulzira said.
"You were like a zombie in the camp, like someone who had lost their mind," Rahima said.
They are just two of over a million Uyghurs who have been detained against their will (and without trial) in a large network of what China calls "re-education camps" in the northeast region of China. China claims that its system of "re-education" camps is in place to mitigate the separatism and Islamist militancy in the region. These "trainees" are mainly taught Chinese Political Theory and Mandarin.
China's government also claims that "requirements on respecting and safeguarding human rights are strictly followed, the dignity of the trainees are fully respected, and insults and cruelties of any form are strictly prohibited." However, many former camp detainees, including Rahima and Gulzira, have alleged that they were tortured. There is also evidence that Uyghurs are being used as forced labor, and women are forcefully being sterilized – in an effort to eradicate the Uyghur population.
These cruelties are not just saved for adults like Rahima and Gulzira. Toddlers as young as four are victims as well. In fact, children often face harsher conditions in these camps than adults. Aysu and Lütfullah Kuçar described the 20 months they spent separated from each other and their families to NPR.
The two children, who were taken away from their family at ages four and six, say that their heads were shaved, and teachers frequently hit them and made them hold stressful positions in dark rooms.  When the children were finally sent back home to Turkey, they were malnourished and had forgotten how to speak their two native languages: Turkish and Uyghur. These children are from Turkey but were forcibly abducted and sent to a re-education camp by Chinese government officials during their family trip to China.
"That was the heaviest moment in my life. Standing in front of my two Chinese-speaking children, I felt as if they had killed me," says Abdüllatif Kuçar, their father.
Several countries, including the United States, Canada, the Netherlands, and the United Kingdom have accused China of committing genocide, as defined by international convention as the "intent to destroy, in whole or in part, a national, ethnical, racial or religious group."
Unfortunately, not much is being done to help the Uyghurs in China. The United States should build an international coalition to put strict measures in place to close the loopholes and stop importing Uyghur-made products from China, sanction Chinese officials and organizations that are involved with or support the re-education camps, and cease any assistance given to China in their surveillance and repression endeavors (many of facial recognition software and apps the Chinese government uses wouldn't function without the support of American firms like Intel Corporation).
And, as a community, we can support and raise money for groups like Save Uighur, whose goal is to liberate Uyghurs from the oppression they face at the hands of Chinese government officials.
Tanishtha Chandra and Aiza Mirza are 8th graders at Deer Path Middle School.