The Famous Boat Race Surfaces After Two Year Hiatus
Physics students raced their handcrafted boats Monday
The physics boat race returned Monday after two years due to the pandemic.
All senior physics classes, besides AP, participated in the spirited race. The race was an all-day event, besides 7th period. 
The groups have about three months to prepare for the event. They typically began by creating a three-dimensional drawing showing the dimensions, shape, joints, and reinforcements of the boat. Groups also made a list of materials, including the type of cardboard, glue, tape, fasteners, wood, and waterproofing material, that we planned on using on our actual boat. 
The next step was to create a 1/10th scale model of the boat. This model was tested by physics teacher Mrs. Jessica Nardulli, who confirmed the designs.
The final task was to build the actual boat, and students had to cut cardboard, waterproof the cardboard, seal it, and some even painted theirs for decoration.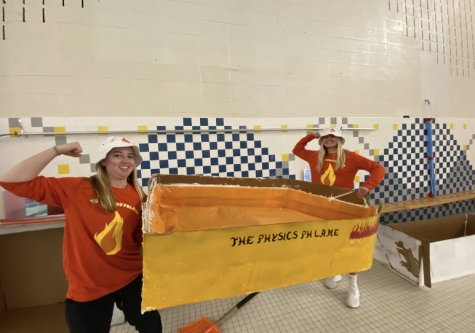 Grading is based on the boat's ability to float and stay afloat, having an accurate waterline that will meet the side of the boat with the passenger in the boat, team journals, and then additional awarded points. It is 10% of physics students' semester grades.
There were seven boats total. Each team put their boat in the water, and one team member went in the boat to navigate it. The goal is to make it around the pool without sinking, but the boat with the fastest time wins the race.
In second period, all teams successfully made it around the pool. Once all teams made it around, for extra credit, some chose to participate in a race from one end to the other and back.
"I would say once my team member got into the boat, and it didn't sink, I knew it was going to be a success," said senior Brielle Daum. 
There were students from different science classes, including AP Physics, in the stands to watch the competitive race. 
"Some of my friends had been working on those boats for a while and it was really fun to see them in action," AP Physics student Mimi Gordon said. "It was hilarious seeing them race at the end because some people completely fell in."