Day of Silence protests spark community conflict
Conservatives and pride activists debate LGBTQ+ education in schools
A small group of conservative parents gathered in front of Deerpath Middle School Thursday morning to protest the Day of Silence. They were met with opposition from LGBTQ+ allies who wanted to show support for the Day of Silence. Police officers stood nearby while tensions between the groups resulted in yelling and name-calling.
The Day of Silence is a national student-led demonstration where LGBTQ+ students and allies take a vow of silence in protest of the discrimination and harassment that members of the LGBTQ+ community face in schools. The annual day is coordinated by GLSEN, an organization that works to ensure the safety and support of LGBTQ+ students in schools.
Although the protest Thursday centered on Day of Silence, the conflict represents a nationwide debate regarding LGBTQ+ education in schools.
The country has seen a wave of state level legislation seeking to limit classroom instruction of LGBTQ issues. At the forefront of this legislation is Florida's "Parental Rights in Education" bill dubbed the "Don't Say Gay" bill by its critics, which bans teachers from holding classroom instruction about sexual orientation or gender identity.
Set up on the side of Deerpath Road just outside of DPM, protesters chanted "Teach math, not sex" and "All Democrats are demented" and held banners that read "Stop Leftist Indocrination" and "Save the Children."
Deerpath Middle School's Alliance Club, a club designed to be a safe space for LGBTQ+ students and allies, asked the school's administration if they could participate in the National Day of Silence taking place today. The administration approved.
Conservative protester Kristin Strom said LGBTQ+ topics are family discussions that don't belong in schools.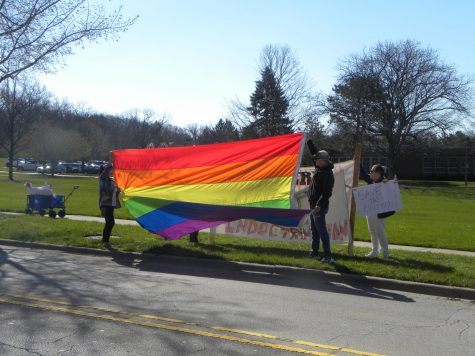 "If you have a trans child, that's a family health issue that's not part of school curriculum," Strom said. "We really represent the parents and community members, including taxpayers, who are just so angry about the sexualization of the children from the teachers and administration." 
Another protester, Robert Metz, said that parents need to stop using kids to push their political agendas
To counter the conservative protesters and express support for the Day of Silence, parent allies waved pride flags and held signs with messages including "I see you. I love you. I accept you."
"I'm here because I am really proud of DPM's LGBTQ+ Alliance Club and allies and want to support them in their Day of Silence," Dana Anderson said.
A mental health care provider, Anderson said she is "very aware" of the increased risk of suicide in LGBTQ+ members who are often "bullied, discriminated against, and abused in terms of physical violence and sexual violence."
"It is super important to me to decrease the stigma and increase the mental health care of folks often not supported by parents, not supported by their community," she said.
An anonymous pride activist said LGBTQ+ youth need inclusive sex education in schools because it "helps them to understand that they are not alone."
"It doesn't matter if you teach queer history or not," they said. "We are always here, and LGBTQ+ and trans kids are always going to exist."