Super Scout Has Been in the Stands for 40 Years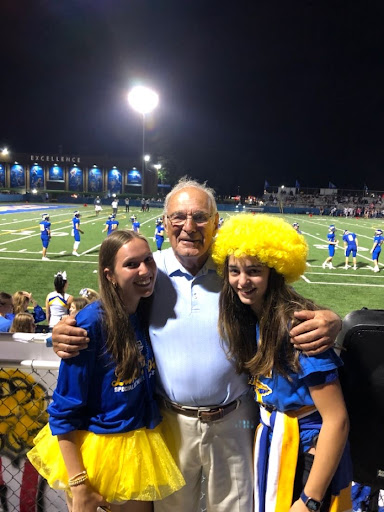 He's not the loudest fan. He doesn't paint his face. Or scream at refs. Instead, he enjoys bringing friends and colleagues along with him to support the Scouts, win or lose.
For almost 40 years, Dr. Michael Camino has been showing up to games for just about every sport, even when he doesn't know the players, even when he is the only fan in the stands. A grandfather of two current student athletes, he lives and breathes the blue and gold.
"It's definitely fair to say he's at a new game every week," said his granddaughter senior Caroline Mower.
"He always finds a friend [to join him] for home games," Mower said. "If it's not one of us or one of his close friends, he will bring one of his patients or someone he was talking with on the golf course. I can't count the amount of times I've walked up to him in the stands and been introduced to a random stranger that he has some distant tie to. If the football team is having a good season, he feels the need to bring everyone and anyone."
Like all true fans, he remembers both the ups and downs.
He can quickly recall his three favorite seasons: The 10-0, 1987 football team, the 27-3, 2014-15 boys basketball whose three losses all came from eventual state champion, Stevenson, and the 2021 Boys football team, who lost in the Sectional finals to state champions Cary Grove.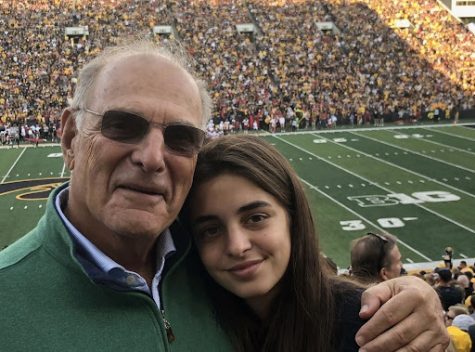 "When they beat Deerfield in 1987, but then lost to Belvedere after our half back got injured in such a close game. This year as well when they beat Prairie Ridge on one of the last plays of the game. Those were both so memorable," Camino said.
It's not just the fan favorites, though. He also loves attending the intramural sports and sports that traditionally don't get many fans, like tennis, golf, and wrestling.
"The girls and boys intramural games are so much fun to watch. I'm probably the only parent or grandparent who goes to those, but there's no referees, and it is just great basketball and a lot of fun."
Camino, who attended St. Ignatius High School,  says he does it for "the love of the game" and his love for the community.
"Watching the kids play and watching the great school spirit keeps me young at heart. And I just love sports. Just like the students, I love the school and love supporting the school," Camino said.
For some people, it may be difficult to keep track of all the sporting events each week, on top of keeping track of his own job as a dentist, but Camino just keeps it simple.
"I used to use the paper to find the games and results, and now they don't have that, but now I just call the athletic department each week and ask what the schedule is for that week," Camino said.
He often knows about the games before his granddaughter.
"Before I even know there is a basketball game, I've already gotten a text from him asking if I'm going. He talks about it all the time, he knows the standings, playoff predictions, etc," Mower said.