The Journey of Lake Forest Volleyball's Best: Finn Lacey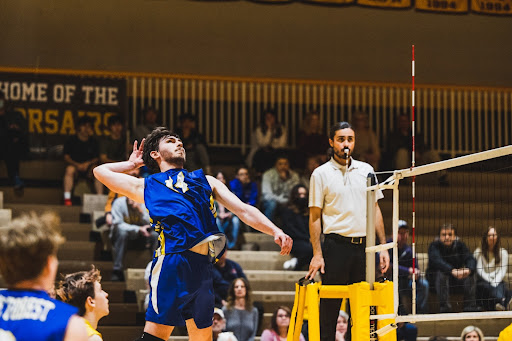 The boys volleyball season has begun, and one player has emerged who will likely be a deciding factor in the outcome of this season: senior Finn Lacey.
Lacey has been playing volleyball since sixth grade, where he started in middle position. The middle is typically reserved for the tallest members of the team, who are able to block the ball the best. Recently, however, Finn Lacey has become an outside hitter.
"Switching to outside required a completely different skill set which has been a fun challenge," Lacey said. 
After a successful freshman season, Lacey, among many others, were looking forward to growing and continuing their volleyball careers the next year. COVID, however, cut the season short before it was ever able to start.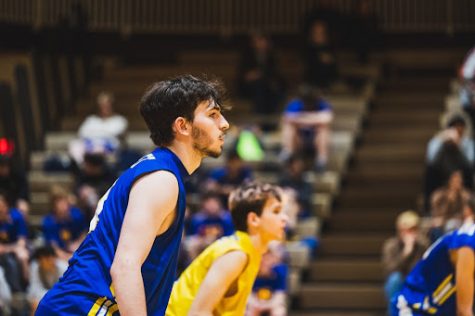 "I was pretty sad," he said. "I'm always excited for a new season to start so when I found out it wasn't going to happen I was bummed out."
Despite losing out on his sophomore season, Lacey bounced back quickly. He joined Adversity Volleyball Club and immediately focused on refining his skills, improving at his new position. 
To be able to compete with the best of the best at volleyball, many coaches suggest participating in club volleyball. In doing this, improvement comes naturally as players are able to play and practice much more often outside of the two to three month school season. 
Many people, however, choose not to partake in club volleyball because of the time commitment and dedication that it takes to participate consistently for a team.
"Practices can be from two to three hours, three days a week, and our practice facility was also half an hour away," Lacey said. 
The hard work and time that Lacey has put in has been very beneficial. While developing his volleyball skills, he has met many people who have helped him along the way.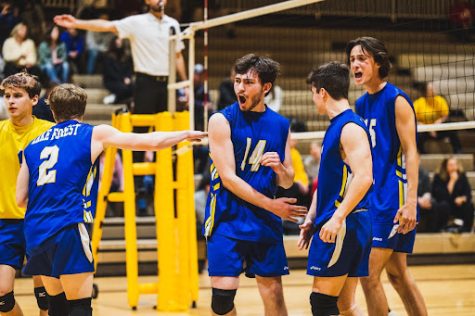 "My coach at my second club, Chicago Bounce, believed in me and trusted me to make mistakes as long as I was trying to make the right play, Lacey said. "That took a lot of pressure off me to be perfect because I am a perfectionist and would get frustrated when I made a mistake."
He has also been motivated by former LFHS volleyball players Thomas Tustison and Chase Breidenbach.
"They helped me grow a lot last year and became like big brothers to me," Lacey said. "They taught me to be more disciplined in all of my work and have taught me to always be the first one in and the last one out."
Lacey has used advice from others and his vast volleyball experience to help lead the Scouts to a 1-1 conference record thus far, however, he has greater expectations. 
"I feel really good about the team," Lacey said. "We're getting better every day and I see bright things in the future. I can see us pushing far in the state tournament."
With tons of new faces on the team this year, and coming off of the COVID year, the team has had to make many lineup and strategy adjustments. 
Despite this, the team has developed a chemistry that has allowed them to stick together, and work off of each other as they improve.
"We all are friends on and off of the court," Lacey said. "We go out to dinner after every game and almost every practice, and everyone has a drive to get better every day."
Coming off of a year where only parents were able to attend games, the student section at LFHS volleyball games has been active and has some of the most support the volleyball team has ever seen.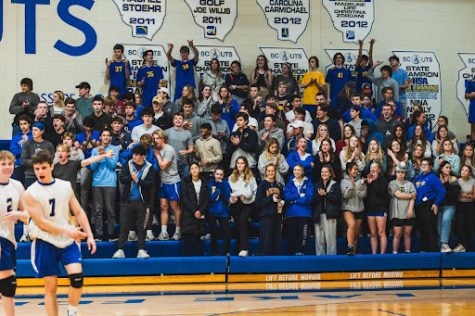 "The fans have made a huge difference. Volleyball in the past hasn't really had big crowds," Lacey said. "The energy is electric after every kill and I think we play better the more fans that show up."
Lacey, along with the rest of the seniors, look to continue a long list of leaders and talented players within the LFHS volleyball program, which has seen many big names recently including Kevin Lamp, Andrew Boschmann, and Thomas Tustison. 
"They will be some big shoes to fill but we want to make our own legacy at Lake Forest," Lacey said. 
Finn Lacey will be attending Fairfield University this coming fall, and hopes to continue his volleyball career there.
"Fairfield does not have an official volleyball team, but they do have a club team that plays other schools on the east coast, which I am planning on playing on," Lacey said. "The best part about volleyball is that it is a lifelong sport. I hope to be able to play it for a very long time."
Senior Jahari Scott, one of Lacey's best friends, has been by his side throughout this journey. He has noticed and supported all of the hard work that Lacey has put into the game.
"The kid has always had a passion for volleyball. He lost his sophomore season because of Covid, but unlike most people, he took that time to grind and get better at the sport. He came out of Covid insanely better after playing club at Adversity. Then, he moved to Chicago Bounce over the summer, and I don't think anyone expected him to be this good and lead a team that we typically don't hear much about, but he's proving that the boys volleyball team is going to go far this year." Scott said.