Prom returns to front lawn but few restrictions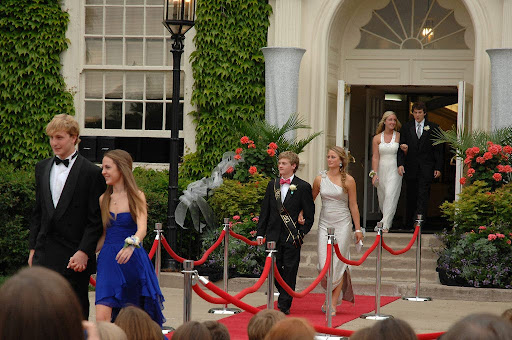 With prom sales beginning  next week, students are one step closer to this long-awaited event.
The event will take place on the front lawn on Saturday, May 21. The theme is "A Touch of Class," inspired by the Roaring 20s and the Great Gatsby.
Tickets, which go on sale April 11, cost $95 per person and tables seat 10.  Students may access tickets through the LFHS website, or scan the QR on the Save the Date invite mailed to students' homes. The sales are scheduled to close on April 29.
According to Lauren Peters, a prom co-chair for the Prom Committee, students can choose who will sit at each table. Attendees will designate a "Table Captain" who will list all 10 people for the table, and name two other tables they would like to be seated by. Requests for the "Table Captain" must be mutual.
The schedule for the night will start with registration, which will take place from 5-6 p.m.  Next on the docket is the famous Prom Red Carpet ceremony, which will start at 5:30 p.m. Following will be dinner from 6:30 p.m – 8:30 p.m. Prom will close with dancing and dessert at 11 p.m.
The typical LFHS Prom has been slightly derailed the past two years because of the COVID-19 pandemic. Many students do not know what a typical prom even looks like.
"
The lengths Ashleigh Malec and Julie Couch are going through to make sure this event is excellent and represents the vision of the students is truly awesome."
— Lauren Peters, prom co-chair for the Prom Committee
Prom normally takes place in a local hotel about 30 minutes away. Attendees would arrive at LFHS, walk down the iconic red carpet, and then take large party buses to get to the hotel. At the venue, dinner was served along with dancing and fun.
However, at the height of the pandemic in 2020, prom was canceled altogether, devastating the students who wished to experience it. Last year, prom took place on LFHS' beautiful, large front lawn instead of the normal hotel-setting to increase spacing, and so that students would not have to wear masks.
Last year's prom was filled with many mixed emotions. Some students enjoyed the outdoor setting, while others didn't. Prom attendees were sent through several stations including food, dancing, and photos, all broken into small groups to allow for social distancing. They were served individually packaged food that "was very unpleasant," according to senior Gabriella Nerger.
The Prom Committee is hoping to make this year's prom much less restricted compared to last year.
This year, students will eat, mingle, and dance like they did before COVID. No restrictions. Although the venue isn't at a hotel, students can enjoy the night with their beautiful high school just a glimpse away.
A large concern students have is the potential for rain. Of course, the Prom Committee is hoping for weather to be sunny and 70 degrees, but they must always plan for the worst. Peters said preparations for rain include large white tents on the front lawn that are totally rain proof. Additionally, to keep students dry on the red carpet, the high school invested in umbrellas.
It's crucial for students to consider weather swings when planning their look for the night. Not only are rain and chilly temperatures factors attendees should take into consideration, but students should also note that prom will take place on grass. When choosing shoes for the night, settle on the perfect combination of comfortable and stylish.
The Prom committee is also working to improve the food options for this year. The event will serve food from Belvedere Catering Company, and will offer appetizers, main course options, and dessert options. The food will be served in a buffet style.
Student Activity Director Ashleigh Malec and Program Coordinator Julie Couch have worked long hours to make this event successful and enjoyable for all LFHS students and attendees.
"Those two women are amazing. The lengths they are going through to make sure this event is excellent and represents the vision of the students is truly awesome," said Peters. "You kids are incredibly lucky to have them in your corner."