Preparation For Spring Break
Tips and ideas for a seamless spring break trip
Spring break is just around the corner, and a packing checklist or item wishlist may have crossed your mind in the midst of your pre-break homework load. Whether you're heading to the snow or a beach chair under a palm tree, being properly packed is never a bad idea. 
Nothing puts a damper on your week off like the consequences of overpacking, underpacking, or simply bringing the wrong things. Here are a couple of tips and ideas to make your vacation less stressful, more planned out, and more exciting with the addition of some new pieces you love!
Step 1:
Gathering new items that you're excited about is always a fun way to enhance the events in your trip. A vacation is the perfect opportunity to jump out of your routine of jeans and sweaters to a patterned matching skirt set or a statement accessory that's been catching your eye on Instagram ads for months. 
My Instagram feed has been filled with advertisements of colorful bags, funky glasses, and flowy skirts for months, making it easy to create a wishlist for the anticipated spring break trip. 
Here are some ideas of items to pack and where to look for them. 
Multi-use scarves
Bang for your buck. These accessories can be worn so many different ways: As a shirt, headscarf/headband, hair tie, or as an accent on your bag or jeans! Bringing one on spring break can serve multiple purposes for a small amount of space in your suitcase. 
Where to look:
Princess Polly
Revolve
Urban Outfitters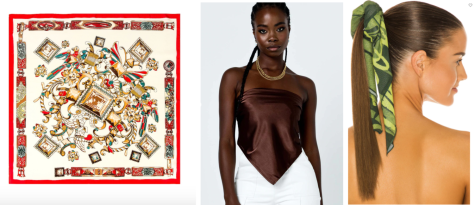 Matching sets
Coordinating sets are always a good idea. A sleek matching outfit out to dinner, a coverup set to the pool, a PJ set to bed, a workout set to the gym: the possibilities are endless!
Where to look: 
Sabo Skirt
Peppermayo
Verge Girl
Showpo
Isabelle's Cabinet
Charcoal Clothing
Shopbop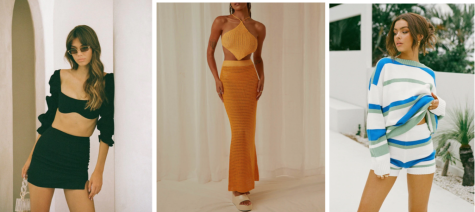 Colorful jewelry
There's no time better than spring to bring out a pop of color. Gray Chicago winters tend to steer me into the tans, whites, and browns, but I'm ready to wear just about every color of the rainbow at this point. 
Where to look:
BaubleBar (lets you customize!)
Vintage (thrifting)
Adina's Jewels
Auburn Market
Park's Jewels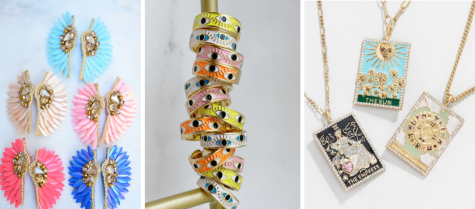 Sunglasses
Sunglass trends seem to keep adding new shapes, colors, designs, and patterns. The oversized aviators are getting increasingly popular. Smaller circles, rectangles, hexagons, and just about any other crazy shape you can think of have been all over magazines in various colors. 
It doesn't look like there's a specific trendy pair you should be in search of, so have fun with these accessories and try something new! 
Where to look:
Urban Outfitters
Nasty Gal
Free People
Asos
Princess Polly
Amazon
Step 2: 
Now that you've checked a couple of items off your wishlist, go to Target to get those necessary items that you don't have yet or are running low on. Miles away from home is not the place to run out of toothpaste. 
Step 3: 
Plan out your outfits for each activity you may be doing on your trip. Going for a morning run, hanging by the pool, and going out to dinner all require different outfits. 
Trying on your outfits and planning them out at home beforehand can save a lot of time- and I mean a lot. 
Side note: Travel day counts! Take time to think about what you will wear while traveling, and what you will do to pass time on the plane, in the car, or during any other waiting period. 
Step 4: Fold everything as neatly as possible and assemble a toiletry bag. Tightly packed, folded clothes will save space for an extra pair of shoes or a backup outfit. 
Step 5: Relax! Hopefully, you have enough planned out that you won't have the stress of the "unknowns" in the back of your mind. 
I know it's easy to procrastinate packing and end up throwing items in a suitcase; however, planning things out and taking the time to organize your thoughts and your travel items can make your trip twice as enjoyable.